Distributed Resource Scheduling (DRS) in VMware
VMware Distributed Resource Scheduler (DRS) allows balancing of Virtual Machine resources to ensure optimal performance capacity by continuously monitoring utilization across resource pools, and intelligently allocating available resources among virtual machines according to business needs.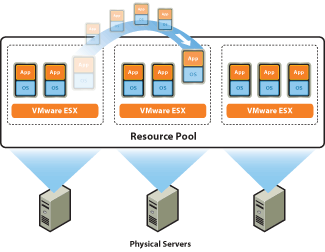 VMware DRS allows you to:
Improve service levels for all applications. VMware DRS continuously balances capacity and ensures that each virtual machine has access to appropriate resources at any point in time.
Easily deploy new capacity. VMware DRS will seamlessly take advantage of the additional capacity of new servers added to a resource pool by redistributing virtual machines without system disruption.
Automate planned server maintenance. VMware DRS can automatically migrate all virtual machines off physical servers to enable scheduled server maintenance with zero downtime.
Dramatically increase system administrator productivity. Enable system administrators to monitor and effectively manage more IT infrastructure.
VMware DRS is a component of the VMware vSphere platform.
Business Continuity and Disaster Recovery
All of our Enterprise Cloud Virtual Machines can be protected by Veeam Backup & Disaster Recovery , which is an Award Winning Backup Replication and Disaster Recovery solution
Deploy Your New Mission Critical Cloud Server Today
FASTDOT's Enterprise Cloud Server are excellent choices for:
IaaS Cloud Stack for reselling virtualised environments
Mission critical financial institutions running MetaTrader / Forex Trading Solutions
Implementing mission-critical SAP, Exchange, Sharepoint, Zimbra or MS SQL Database Server
Security with high-grade ISO 27001 qualifications.
Businesses looking to upgrade to a dedicated server, but not looking to spend thousands of dollars on hardware and datacenter hosting costs.
Setting up your own external Exchange or MSSQL database server powered by the resources of a Tier 3 data centre.
Small or large dynamic websites needing to move away from restrictive shared hosting environments.
Web hosting resellers looking to take their business to the next level.
A cost-effective method for delivering dynamically scalable "Infrastructure as a Service" (IaaS Hosting) and "Software as a Service Hosting" (SaaS Hosting) solutions which can scale up or down with your evolving business needs.
Customers who require Mission-Critical hosting environments with dynamic scalability where 24/7 uptime is absolutely critical to your business needs
Get Started with VMware Cloud Hosting
Your new VMware Virtual Servers will be commissioned shortly.