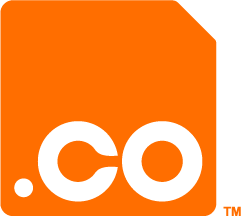 .CO Domains
.CO was originally the ccTLD assigned to Colombia but has since been adopted as an alternative commercial domain available to anyone. They are a great alternative to .com, as they can be used to represent any online ecommerce site, company or corporation.
.CO is a globally recognised web address that gives businesses and other organisations new options in branding their web site. Because it's still fairly new, there are still a lot of great .CO domain names still available for registration, making it an ideal choice for businesses or companies whose desired domains are already taken within the .COM name space.
Check if your domain name is still available!
.CO Domain Information
Domain Features
Description
Commercial
Auto Renewal
Registration Period
1 year
Online Control Panel
Annual Price
$35.00
Basic DNS Management
Instant Activation
Advanced DNS Management ($15/y)
*
.CO is a popular domain extension that offers a unique branding opportunity for businesses, organizations, and individuals. Registering a .CO domain name can help you establish a strong online presence and stand out from the competition. Here are the key steps involved in registering a .CO domain name:
1. Choose a Registrar:
Select a reputable domain registrar like Fastdot that offers .CO domain registration services. Look for a registrar that provides competitive pricing, reliable customer support, and user-friendly domain management tools.
2. Check Availability:
Use the registrar's domain search tool to check the availability of your desired  domain. Enter the name you want and see if it is currently registered or available for registration. If your chosen domain name is taken, you may need to consider alternative options or variations.
3. Registration Process:
Once you have confirmed the availability of your desired .CO domain name, proceed with the registration process. Provide the necessary information, including your contact details and payment information. Review the registration terms and conditions before proceeding.
4. Domain Settings:
During the registration process, you will have the opportunity to configure various domain settings. Set the desired DNS (Domain Name System) settings for your .CO domain name. These settings determine where your domain points to, such as your website or email service provider.
5. Privacy Protection:
Additionally, consider opting for domain privacy protection if it is available. This service helps to keep your personal contact information private by replacing it with the registrar's contact details in the public WHOIS database.
6. Complete Registration:
Finalize the registration by submitting your payment and confirming your order. Basically upon successful registration, you will receive a confirmation email with details about your newly registered .CO domain name.
7. Domain Management:
Access your domain management panel provided by the registrar. From there, you can manage your domain settings, update DNS records, set up email forwarding, and make any necessary changes to your domain configuration.
It's important to note that domain registration fees vary depending on the registrar and the length of the registration period you choose (typically 1-10 years). Ensure that you renew your .CO domain name before it expires to maintain ownership and continuity of your online presence.
By registering a .CO domain name, you can create a memorable web address that represents your brand or business effectively. Take advantage of this versatile domain extension to establish a strong online identity and connect with your target audience.