Online shopping has experienced unprecedented growth in 2020, partly due to lockdown orders and other preventive measures during the COVID-19 pandemic. This has opened up new product opportunities and greater volumes of orders for online retailers, along with the need to increase online platform functionality.
Strategies have had to change, including updates to stocking patterns and inventory amounts as supply chains both local and abroad have experienced serious disruptions. Fulfillment centers and shippers may be working at reduced capacity, creating challenges in delivering products to customers in what they would deem a reasonable amount of time. Shopping patterns have also changed, with customers initially leaning more toward necessities and shying away from impulse purchases.
That said, with a little creativity and technology, ecommerce retailers can maximize their potential to accommodate this rise in activity and be poised for continued success if and when it subsides.
Why You Should Connect Your ERP Through Integration
One of the best ways to build and maintain success online and keep up with the ever-increasing demand for digital ordering functionality is to add integration to enterprise resource planning and accounting systems (commonly referred to as "ERP"). At its most basic explanation, ERP integration can help businesses easily receive new orders, fulfill them, and provide customers with real-time access to account information for increased customer service and satisfaction.
ERPs already fulfill the modern retailer's need for data management and orchestration by automating processes on the backend, providing planning and forecasting, and ultimately enabling innovation. They can also give teams across the business access to view and leverage real-time customer, product, and accounting information. In turn, this information access fuels streamlined business processes, creating more effective services and solutions.
The magic, however, isn't housed solely in the ERP. It's in having an ecommerce ERP integration strategy that ensures the ERP connects to all necessary enterprise systems.
ERP integration can automate and supercharge many of the core functions your teams need. Touchpoints for ecommerce ERP integration include order, tracking, inventory data, customer data, credit card processing, and more. Connections can be unlimited with multiple sites marketplaces, databases, shipping and 3PL partners.
These are the most common benefits of an ecommerce ERP integration:
Integration eliminates data silos and provides accurate data to all departments
Integration and automation reduce costs as lengthy processes are eliminated
Real-time, customer-specific data is available between the ERP and the ecommerce site
Improved customer satisfaction and engagement with accurate and readily available data
1. Data Integration = Data Quality
Businesses thrive on data, and ecommerce businesses are no exception. They need to know what a customer purchased, how they arrived at the site, the specific channel they purchased from, and even more detailed background information on manufacturing costs and shipping taxes. This is where ERP data integration shines. It doesn't just capture data; it also integrates it.
Accurate decision-making is based on accurate data, which means you need to ensure that duplicate data is removed and all system data is correct. ERP integration pulls data back in to update, so customers can change their names, addresses, or other contact information without having to manually chase down correct information. Integration can help protect businesses from making decisions based on bad data.
2. Integration and Automation Reduces Costs
ERPs can automate lengthy processes, improving efficiency and supporting more informed business decisions. The more integrated business data is with the ERP software, the better information is collected and presented to transform the business. Increased efficiency and better decision-making will result in reduced costs and greater ROI.
3. Understand Customers Better
Data integration improves marketing intelligence. Integrating data means that the ERP system can be used to report data on what customers are purchasing, who is referring them, where they are coming from, additional product purchases, at-risk customers, and purchasing trends. All this data drives better marketing decisions.
4. Improve Customer Relationships
An integrated solution can improve your customers' experiences. Contributing factors that improve their experience include order confirmation, tracking, and self-service options where users can track past orders, returns, payments, etc. Additionally, a business can quickly react to problems, such as the need for a product that's out of stock.
Perhaps the biggest benefit of integrating ERP systems with ecommerce is the ability to provide customers with timely information about orders. Customers can shop with confidence knowing they have real-time access to order status, tracking information, and even accurate inventory quantities on the online store they're ordering from. On the back end, teams are no longer required to manually update all this information, causing delays due to time constraints or even mis-keyed information and errors.
How to Overcome the Challenges of ERP and eCommerce Integration
Integration projects can be complex, and each project has a unique set of challenges. Some of these challenges will be identified before integration begins, while some won't occur until after the integration project is in process.
1. Ensure Goals and Operations are Aligned
Since objectives differ from business to business, integration needs will differ as well. It's important to ensure that goals and operations are aligned, and that the appropriate ERP is in use (or selected for implementation). List out all requirements, noting which ones may be custom integrations, so that you can be sure the selected solutions are able to perform such connections.
ERP integration is also typically not a "one-time" process. The goal is for the business to expand, resulting in new goals and activities. As new databases require connection to the ERP, or existing data point specifications increase, integration will need to be updated as well. This is to ensure data transfers correctly between the ERP and other systems, preventing integration failure.
2. Standardize Data Across Applications
Integration efforts continue with data standardization across applications. Since each application will provide data in different formats, you may find that a unique data point from one system is not accepted by the ERP as-is, necessitating a standardization across applications. Each time a new system is integrated with your ERP, make sure the APIs, or Application Programming Interface, of both systems will accept the data transfers. Once the data standardization challenge is addressed, ERP integration will be considerably smoother.
3. Consider Future Needs
ERP integration needs are fairly standard from business to business, though some organizations have unique needs. With many businesses, the integration needs change once the benefits and possibilities become clear. So, it is important to look beyond the current pain points and be sure the integration platform is able to scale to support expansion.
Integration with Automation is Key
ERP integrations serve multiple needs, but the common denominator is saving time. Businesses that have successfully implemented an integration used a pattern or logical sequence of steps to solve a specific task and save time. Some common ERP integration patterns include:
Migration: This involves a one-time move of a specific set of data from one system to another, usually involved with the implementation of a new ERP system or platform and leaving the old platform behind.
Broadcast: This is moving data in real-time (or near real-time) from a single source system to multiple destination systems. Essentially, this updates a one-way sync from 1:1 to 1: many. In practice, a broadcast pattern could update inventory levels across multiple sales channels.
Aggregation: This entails taking or receiving data from multiple systems and copying/moving/funneling it into one system. This pattern merges data into one application and negates the need to regularly run multiple migrations. Furthermore, it promotes data accuracy by removing the opportunity for duplicate data.
Bi-Directional Synchronization: This is uniting multiple data sets between one or multiple systems, letting those systems behave as one system while still maintaining the existence of different data sets. Ultimately, this pattern helps maintain data integrity across the synchronized systems while the different systems are performing different functions, all on the same data set.
Correlation: This is similar to the bi-directional pattern. But, while bi-directional data patterns create new records for information that exists in one system and not the other, correlation only synchronizes data that is found in both systems.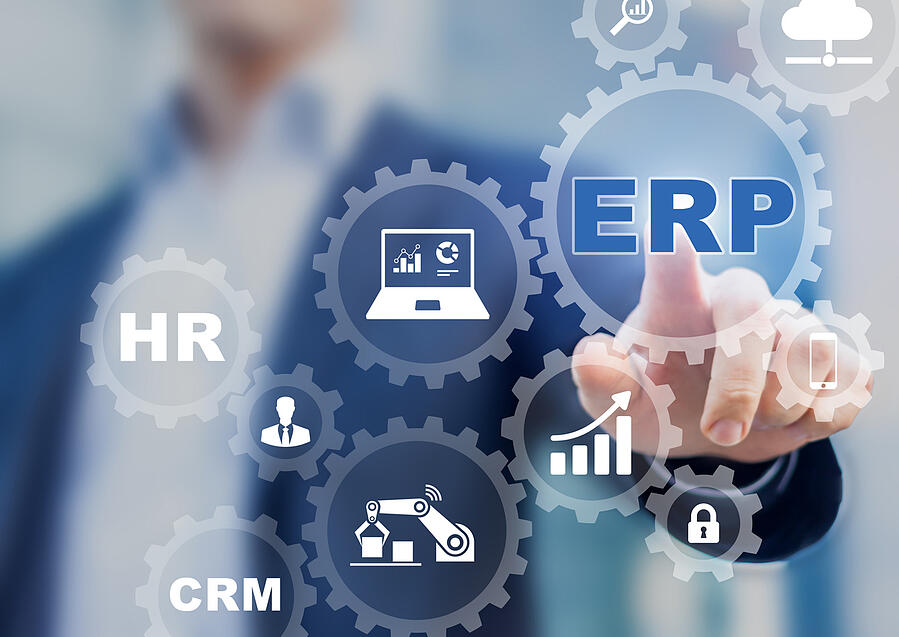 There is a level of complexity needed with ERP integration because there is more involved than replicating data from one system to the other. Businesses need both data integration and automation of the creation of forms and sending of communications to fully realize the saved time and return on investment.
For instance, the data from an ecommerce order can be imported to the ERP system, but in order to set up a sales order in the ERP, there needs to be an automated process in place. Within seconds, the solution should look for a valid customer record. If there is no customer, then the solution should generate a new customer record. Once that is done, a sales order should be created, and the product SKU sold must match what is on record. If model numbers are even slightly different from system to system, a cross-reference must be created so that inventory levels accurately reflect this new sale. Next is payment, which is recorded from the storefront customer, but then must be recorded in the ERP's accounting module as a customer payment record that can be posted as a bank deposit.
To ship the product, shipping methods must then be matched, addresses validated, sales tax recorded, and shipment confirmation sent out back out to the platform to generate a communication to the customer. Even in this "simple" example, there are multiple touch points in the ERP that must be mapped. With integration, all of these processes can be automated in order to take place in less time and with higher accuracy than is humanly possible.
Multiple kinds of business software can be integrated with ERP using different patterns that best serve the needs of the business. For online retailers, however, ERP integration with their ecommerce solutions, no matter the pattern, is critical.
Much of an ecommerce retailer's customer data originates at the ecommerce site, where the business does its largest portion of interaction with intended customers. Data from these interactions can include leads, customers, orders, transactions, and shipping stats. All of this data is useful, whether in whole or in part, to various areas within the organization. Integrating the ERP with your ecommerce store is what will ensure that all necessary data is available to those who need it across the business.
Build ERP Connectivity Now
ERP and ecommerce integration is critical to meeting increased on-line shopping demand while reducing costs. With better data, reduced costs, and improved customer relationships, your business can only improve with ERP integration. However, choosing an integration partner is the first step to a successful project and continued success.