We all have a brand or two that we're passionate about. We proudly wear their logos on our T-shirts. We engage with them on social media. We drink their coffee, buy their computers, or eat their donuts — and wouldn't consider any other option! We talk about them with our friends and families and happily participate in their reward programs.
But why? Are their products or services really that much better than the competition? Maybe. Or maybe it's because we feel engaged, valued, and appreciated.
Building this type of customer loyalty is a long-term investment, but it's well worth the effort. When you've built a community around your brand, you benefit from a group of people who will purchase time and time again, become ambassadors for your products, and become emotionally invested in your success. And that is invaluable.
How to build a community
1. Know your audience well.
Start by knowing the people that make up your audience, or community. Do your research and learn about who they are, where they spend their time, what they care about, and what irritates them.
This information should influence every aspect of what you do, from the products you create to the language you use on your site, to your marketing strategy. After all, you can't meet your customers' needs and make them feel special without knowing who they are.
For more information about finding your audience and identifying their pain points, read our First Customer series.
2. Give more than you get
The key to creating an engaged community? Give more than you get. Focus on providing value to each and every customer. Creating excellent content is one method of achieving this. Write blog posts, film videos, post photos, and design product guides that answer customer questions and keep them informed.
For example, if you sell fishing gear, you could write articles about choosing the right bait or share a video about how to take care of a reel. If you roast coffee, you might post brewing tips or a guide to choosing the right coffee pot.
3. Deliver unique products and consistent customer service
Of course, to make your customers happy, you have to master the basics. If your products aren't what customers need or are poorly made, then you won't be able to earn their trust.
Deliver excellent customer service. If someone has a problem, rectify it quickly and politely. Answer questions before they're asked through FAQ pages and blog posts, and respond promptly to customer queries. Ensure that your product descriptions and photos are accurate and that you ship quickly. All of these little things add up to a company that people appreciate.
4. Use social media
Social media is an invaluable tool to build a community because it helps you engage both potential and existing customers in a place that they're already spending time. Here are just a few ways you can do this:
Stay active and involved
Post valuable content to your social media accounts regularly. Yes, you can share promotions, new products, and special deals. Share helpful content like tips on how to get the most out of your products. When someone comments on a post, whether it's positive or negative, respond thoughtfully.
Create a Facebook group
Depending on what you sell, you may want to consider creating a Facebook group for your customers. This can be a place that you share information, but also a place where people can interact with you and with each other.
Don't focus on selling here. Instead, focus on providing value for your customers. Answer their questions. Encourage interaction. Have weekly topics, games, or quizzes. The opportunities are endless!
Take a look at our own WooCommerce Community Facebook group for inspiration.
Get customers engaged
One of the biggest benefits of social media is engagement. When people are engaged, they feel more of an emotional connection to your brands and products. They feel like they're valued.
There are a lot of fun ways to create engagement. You might add quizzes and polls to your stories or host giveaways every month. Or, encourage people to submit their own pictures and videos for a chance to be featured on your profile or to win a prize.
For example, Daelmans Stroopwafles dedicates an entire section of their Instagram stories to recipes, pictures, and videos created by fans, which makes their customers feel special.
BAM Bamboo Clothing created a challenge that asks followers to take a picture of themselves doing a handstand in an unusual place or after accomplishing a major goal. They feature all of these on their website and even have their own hashtag: #BAMSTAND.
What fun challenges and celebrations can you invent around your brand?
5. Create a forum
Forums can build community for several different purposes:
To provide support. If you sell a tech product or something else that might need regular support, a forum is a great way to provide this. While you can answer customer questions, you may also want to allow other customers to do the same so they feel more involved. You could even offer reward badges for those with the most helpful answers. Regardless, offering support in an accessible way keeps people happy and coming back.
To encourage interaction. Forums allow people to discuss topics and share ideas. Do you sell food? Have a board where people can share recipe ideas using your products. What about T-shirts? Customers can post photos of how they're styling your clothes. This provides a fun experience that makes people feel invested.
To make customers feel special. If your forums are just available to existing customers, it makes them feel like they have something that others don't. It's like they get a built-in reward!
While there are a variety of forum options, bbPress is an excellent one, created by the WordPress community.
6. Offer memberships with exclusive benefits
Memberships are exclusive by nature. Members are special; that feeling is what keeps people coming back.
Think about the benefits you want members to have. Access to your forums? Free shipping? Exclusive products or designs? Unique content, videos, or courses?
Craft Can Directory has a beer club membership that includes new beers every month, along with free delivery, points that can be redeemed for products, and beers available only for members. Check out our post about creative ways to offer memberships for even more ideas.
Creating a membership program is easy thanks to WooCommerce Memberships. Restrict content to members, drip content to them over time, offer exclusive shipping options or discounts, and more.
7. Reward loyal customers
You're probably familiar with the idea of a loyalty program — you earn points with every purchase and can redeem those points for rewards like a free product, free shipping, or discount code. By surprising and delighting your customers with these rewards, you start to make your brand about more than just products. You turn it into an experience, and one that connects with your customers' emotions.
For example, Atlantic Patio, a patio furniture company, has a Sand Dollar Rewards program. Each dollar spent earns customers one point, which can then be redeemed for future purchases. But shoppers can also earn points by contributing photos to the Inspiration Gallery, referring a friend, reviewing a purchase, engaging on social media, and taking other similar actions. This keeps them involved and turns it into a fun game!
You can create a similar rewards program with the WooCommerce Points and Rewards extension. Or, if you just want to send a free gift based on customer purchases, the Free Gifts for WooCommerce extension is a great option.
8. Embrace your local community
People enjoy giving back and engaging with their own community and love to shop with businesses who do the same. That's not to say that you should only get involved as a marketing tactic — people can also sense that from a mile away — but don't be afraid to share what you're already doing in your area.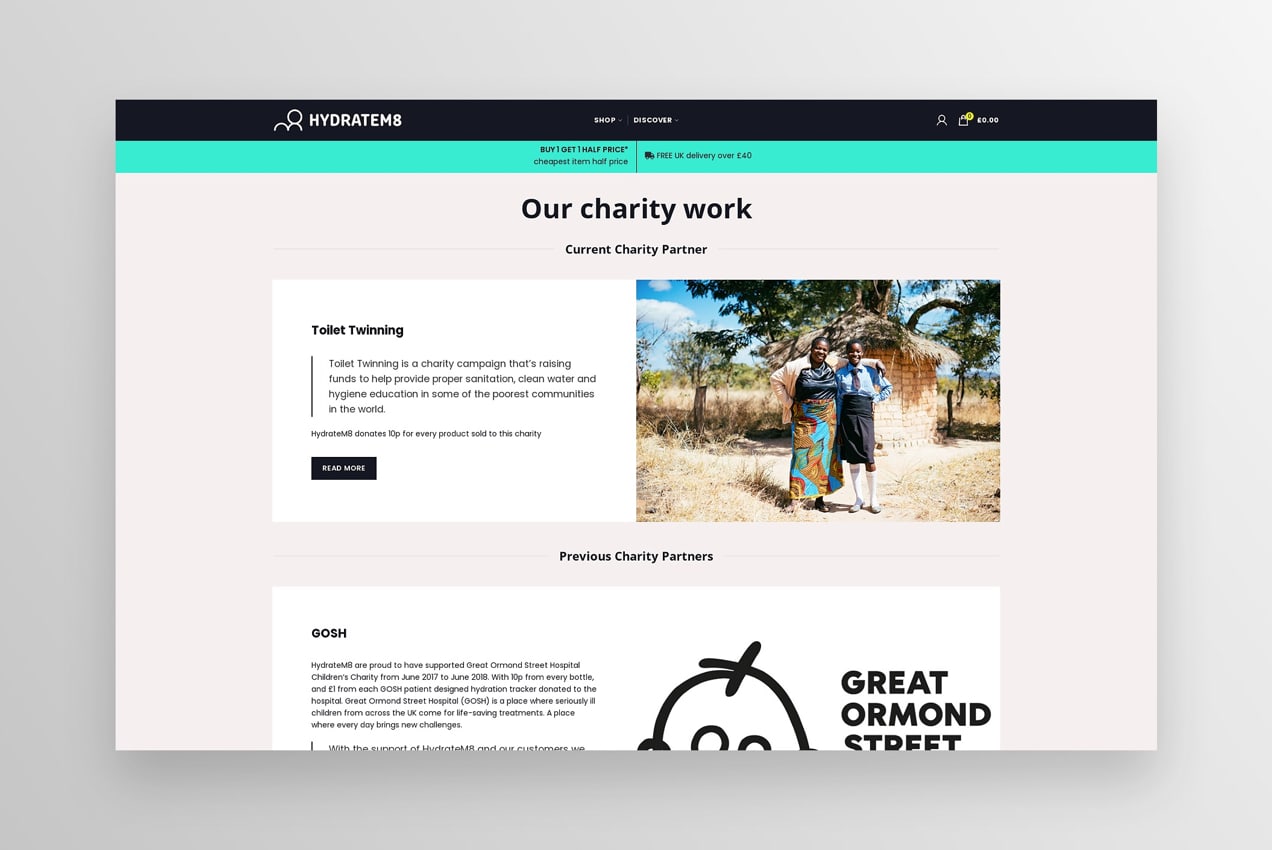 HydrateM8 has a page on their website dedicated to their charity work. They have a rotating charity partner who receives a percentage of each sale made. So when someone makes a purchase on their site, they can feel good about where their money's going and feel like they, too, are making a difference.
So donate a percentage of sales to your favorite charity. Host local (or virtual) events that bring people together. And empower your customers and employees to get involved, too.