Zen Cart is a free, user-friendly, open source shopping cart developed by a group of like-minded shop owners, programmers, designers, and consultants with the goal of creating a powerful, yet easy to use e-commerce package for any type of businesses.
You can trust FASTDOT to help you grow your e-commerce site with our performance-driven, secure hosting environment, all backed by our 99.9% network uptime guarantee.
Zen Cart Hosting Features
Zen Cart is an all in one package, giving you an easy to use shopping cart with many powerful features for selling your goods or services online.
Adding shopping cart software has traditionally been a task for a web developer or hired IT specialist, but as more business owners opt to developer their own web site many are turning to turnkey solutions that require minimal programming or even computer knowledge. Zen Cart's primary claim to fame is its flexibility and user-friendliness. Its Cascading Style Sheets (CSS)-based template design means even relative novices in the world of computers can quickly set up a professional looking e-commerce website.
In addition, the software supports dozens of currencies, payment methods and languages, as well as a host of plug-ins that let you customize the look and performance of your online shop, generate detailed performance and customer service reports, and even give discounts based on customer age, affiliation, or cart total.
Localized tax information, customer account access, and shipping information can all be configured from the main control panel, making setup and maintenance a snap. There's even a What You See Is What You Get (WYSIWYG) editor for editing templates, so you can drag-and-drop to customize your pages without entering a single line of code.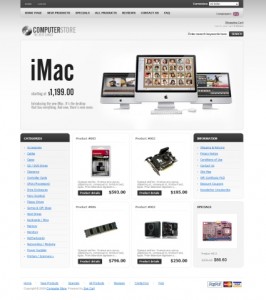 Zen Cart has a bundle of powerful features, including:
Multiple language support
Unlimited category depth
Multiple sales and discounts
Multiple display modes
Multiple shipping options
Multiple payment options
Newsletter manager
Discount coupons
Gift certificates
Featured products
Quantity discounts
100% Zen Cart Hosting Compatible
FASTDOT supports all the Zen Cart Hosting requirements:
Apache 2.x or above
MySQL 5.0 or higher
PHP 7 or higher
SSL, OpenSSL, CURL
What Is Zen Cart?
Zen Cart is an open-source software and e-commerce application that can be installed on your web hosting account. It's free and distributed under GPL2, which is a widely-used free software license.
Developers love it because it can be modified and changed to suit practically any application. It can also be extended and improved with additional modules.
History of Zen Cart
Zen Cart was started in 2003 as a fork from another established e-commerce tool, osCommerce. The fork resulted in a templated layout system, something which osCommerce lacked. This was a forward-thinking move that would let users customize Zen Cart and blend it more easily with their websites.
The modern Zen Cart has many features aimed at improving conversions, including guest checkout and quick newsletter subscription. If you already have an osCommerce shop, you can obtain scripts to convert your data into Zen Cart format, prior to finding a Zen Cart hosting plan.
Zen Cart Hosting Features
Overall, Zen Cart allows you to build a functional online store on their e-commerce platform. There are six main things you can do using the Zen Cart e-commerce solution:
Accept customer credit card payments using variously integrated payment gateways
Take advantage of a variety of Zen Cart templates to customize your store
List detailed descriptions of products in your store including images and pricing
Create a customized e-commerce shopping cart
Manage discounts or coupon codes
Show advertisements and banners in your store to advertise related products
Structure of Zen Cart
Zen Cart is written in PHP and uses the MySQL database for data storage. It comes with a number of gateways set up and ready to go, so you can install it, set the preferences and start selling within a matter of hours.
The software can be used to sell digital content (such as PDFs and mp3s), physical goods and recurring subscriptions. There's a search function which optionally uses the product catalogue to give predictive results; this optional extra is a premium feature.
Shoppers can create product reviews and ratings. They can also supply their own images and send items to friends. Zen Cart also supports a variety of languages and currencies.
Get Started with your eCommerce Hosting Today
Web Hosting Requirements
Zen Cart is lightweight and will run on practically any hosting plan, so there's no need to spend a fortune in the beginning. You'll be fine hosting Zen Cart on a shared server hosting plan. It's installed using Softaculous, or manually if you prefer.
Bear in mind the potential impact of a traffic spike, since every page in Zen Cart queries the database over and over, and you'll quickly hit a bottleneck on a cheap plan. Plan for a little headroom.
Plan Types and OS Support
That might mean starting with a low-end managed VPS rather than a super-cheap shared hosting plan. While shared hosting is advertised as having "unlimited" resources, your host will expect usage to be within reasonable limits. Ultimately, you need to ensure your site is not going to go offline.
A plan on the Linux OS is going to be your most straightforward option, since the key requirements for Zen Cart are Apache 2.x, PHP, and MySQL. This is known as the LAMP stack, and it's something that Linux hosts tend to offer by default. If you want to run Zen Cart on Windows or Mac OS X, that's also possible.