Our VMware Virtual Machine solutions for Windows are built on the industry leading VMware ESX & vSphere virtualization platform. VMware offers the highest level of manageability, stability and performance available for virtualized environments.
FASTDOT's VMware VPS Hosting environment utilizes our high-speed network infrastructure and clustered high-performance Dell servers to ensure superior performance at all times.

VMware ESXi Hosting

FASTDOT is a certified VMware Hosting Partner and Professional Solution Provider and Service Provider for VMware. Virtualization under VMware ESX & VMware vSphere delivers a true bare-metal hyper-visor, installed directly onto the physical hardware to provide an abstraction layer between virtual & physical resources.
VMware is the industry leader in virtualization technology and VMware Virtual Machines provide a number of superior performance features when compared to Virtual Private Server (VPS hosting) environments, such as Parallels Virtuozzo. Virtualization under VPS Hosting environments such as Virtuozzo is known as "Host Virtualization", which only provides access to physical resources through a Host Operating System.
VMware virtualization is superior as each Virtual Machine provides you with your own dedicated Operating System with direct access to the physical hardware and your own guaranteed resources. Each Virtual Machine is completely isolated to achieve a true dedicated virtualization environment. In short this means customers no longer have to worry about the downsides of "Host Virtualization" VPS Hosting environments, such as having their hosted service overrun by another customer on the same hardware.
VMware Virtual Machines are also easier to scale up and down at any time, adding resources such as additional RAM or Hard Drives without downtime. Virtual Machines also deliver better availability than Dedicated Servers, as they can be migrated from one server to another with zero downtime. Security is also increased as each Virtual Machine is completely abstracted from the physical hardware and isolated from other machines.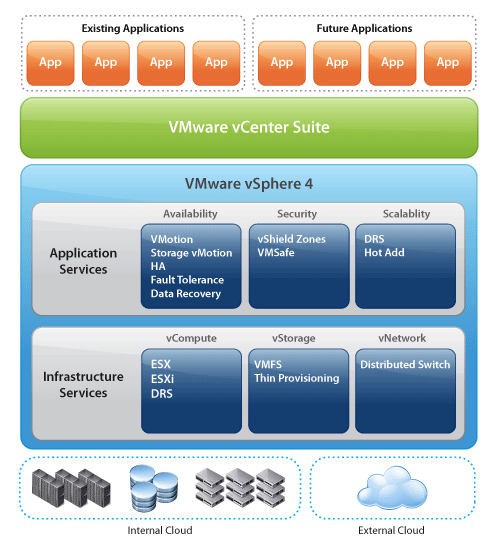 VMware VPS Hosting marks the future of dynamically scalable Mission-Critical hosting virtualization
Whether you're after a Mission-Critical vps hosting environment for your ASP.NET web application, an external Microsoft Exchange service or Microsoft SQL Database server, or a fully fledged external Windows file server for your business needs, FASTDOT's Virtual Machine solutions offer you a powerful mission-critical hosting environment at a fraction of the price of a full dedicated server.
FASTDOT's Virtual Machine packages provide you with state of the art technology. Allowing you the full functionality of a dedicated server, but fully virtualized, translating to a cost effective and dynamically scalable virtual hosting solution with outstanding performance. You have full control over your Virtual Machine with full administrator access via Remote Desktop and the ability to fully customize and configure your Virtual Machine as you require. FASTDOT's VMware VPS Hosting Servers are an excellent choice for:
Businesses looking to upgrade to a dedicated server, but not looking to spend thousands of dollars on hardware and datacenter hosting costs.
Setting up your own external Exchange or MSSQL database server powered by the resources of a Tier 3 data centre.
Small or large dynamic websites needing to move away from restrictive shared hosting environments.
Web hosting resellers looking to take their business to the next level.
A cost-effective method for delivering dynamically scalable "Infrastructure as a Service" (IaaS Hosting) and "Software as a Service Hosting" (SaaS Hosting) solutions which can scale up or down with your evolving business needs.
Customers who require Mission-Critical hosting environments with dynamic scalability where 24/7 uptime is absolutely critical to your business needs.
For Mission-Critical hosting environments with additional High Availability options please review our Enterprise Cloud Hosting Servers from $399.95 Those solutions will offer access to our high-performance Fiber Channel Storage Area Network (SAN) for on demand scalable storage. The FASTDOT Enterprise Cloud Hosting solution is aimed at delivering a dynamic virtualized hosting environment offering Infrastructure as a Service (IaaS) hosting. This allows businesses to scale their hosting requirements to ever-changing business needs & demand.
FASTDOT Enterprise Cloud services will also provide multiple features unique to the VMware ESXi platform and unavailable with a Dedicated Server.
Such as VMware HA (High Availability) Combined with the blazing speed and performance of SAN storage, these Enterprise Cloud Hosting solutions will also offer failsafe redundancy. If any server fails, VMware's High Availability features will ensure all virtual machines running on a failed server automatically restart on another server within the cluster – with zero downtime or impact to your hosted applications or software!
Get Started with Windows VPS Hosting
Your new VMware Virtual Servers will be commissioned shortly.