Do you know that 81 percent of brands all around the world have adopted some form of affiliate marketing? For ecommerce businesses, it is more complicated than ever before to encourage conversions and sustain revenue. The right marketing strategy for your Magento Store is a key factor in succeeding at these and other aspects of business.That's where affiliate marketing comes in. It becomes an alternate stream of income that boosts sales of your business with very little effort.
An affiliate program or associate program is a kind of advertising where a merchant rewards one or more affiliates (publishers) for each customer making purchases via the publisher's marketing efforts.
So affiliates earn a commission from the merchant by promoting their product or service on their site or social channels. If customers make purchases through a link put on your affiliate site, the publishers will get a small commission from the sellers.
There are many benefits of using affiliates as your second income stream.
The most out-standing advantages are maximizing your earning potential quickly from the visitors to your e-store, through little cost and effort.
Here are some other benefits of affiliate programs:
Boost sales dramatically for your Magento Store
Reduce customer acquisition costs
Enhance brand visibility
Expand the size of targeted prospects
Increase conversion rate
Improve SEO rating as there is more traffic to the website
The affiliate bounty is usually fixed and easy to manage
How Does an Affiliate Program Work?
Four participants in the affiliate marketing model:
Merchant (Advertisers/Merchants): The companies selling products or services
Affiliates (Publishers, Partners): They can be bloggers, active social media posters, niche content site or personal website owners, or mass media sites, among others.
Consumers: The person or entity that purchases products or services of the merchant via the affiliate's links
The affiliate network: The system that handles all tracking, reporting, and payment between affiliates and merchants. It also helps brands access a network of members to find suitable publishers.
You can imagine a typical affiliate process as follows:
Businesses provide their affiliates with a unique ID or an affiliate link (URL).
Affiliate partners promote the brand's products or services on their sites in banners, blog posts, review posts, etc. These posts attach a promotion link and encourage readers to click on.
After clicking on the link attached to the affiliate's post, customers are led to the merchant's website through a tracking link. This link ensures that the publishers are credited for referral sales.
Customers purchase products on Magento Store.
The transaction is credited to the affiliate after the purchase is verified to connect to that affiliate ID.
The publishers receive a bounty/commission for their referral purchases.
That's the core of what lies behind this new type of marking for your business.
This guide offers store owners more details about what they need to prepare and set up an affiliate program successfully.
How to Add an Affiliate Extension in Your Magento Store?
The Mageplaza Affiliate extension was created to help you achieve your business goals in a fast and effortless way – more traffic, more quality leads, and more sales.
Before exploring the use of an affiliate program on your online store, let's go through the simple steps that let you install Magento extensions with ease.
Preparation
Some essential notices before installing: 
Install Mageplaze Core module along with your purchased modules in your Magento Store.
It's recommended that you duplicate your live store on a staging/test site and try installing it in advance.
Backup Magento files and the store database.
We highly recommend you backup all the themes and extensions in Magento before proceeding to the installation step. This ensures  stability, and reserves information for your site, especially when working on a live server.
How to Install Affiliate Program on your Magento Store
Download SFTP clients like FileZilla or WinSCP
Download the Affiliate extension for Magento 2
Extract the package and connect it to your server via SFTP clients
Unzip the extension package and unload them into the Magento root directory
To complete the installation process, enter the following at the command lines
php bin/magento setup:upgrade

php bin/magento setup:static–content:deploy
If you got the error notification: Mageplaza_Core has been already defined, read this solution. 
You can see the full installation guide here.
Configuration Affiliate Settings in Magento 2
Go to the Admin Panel. Choose Stores > Configuration > Mageplaza Extensions > Affiliate > Configuration
Now, you are ready to set up all the features and create multiple affiliate campaigns for your online shop.
Follow us for an in-depth look at the uses of all 5 configurations below:
General
Enable: Yes = Enable the features of the module
Cookie Expiration: Enter the time that the cookies of this program expire
Allow overriding cookies: Yes = Override Affiliate code when many affiliates refer a customer
Allow using Affiliate Code as Coupon: Yes = Allow Affiliate Code as Coupon code on the checkout page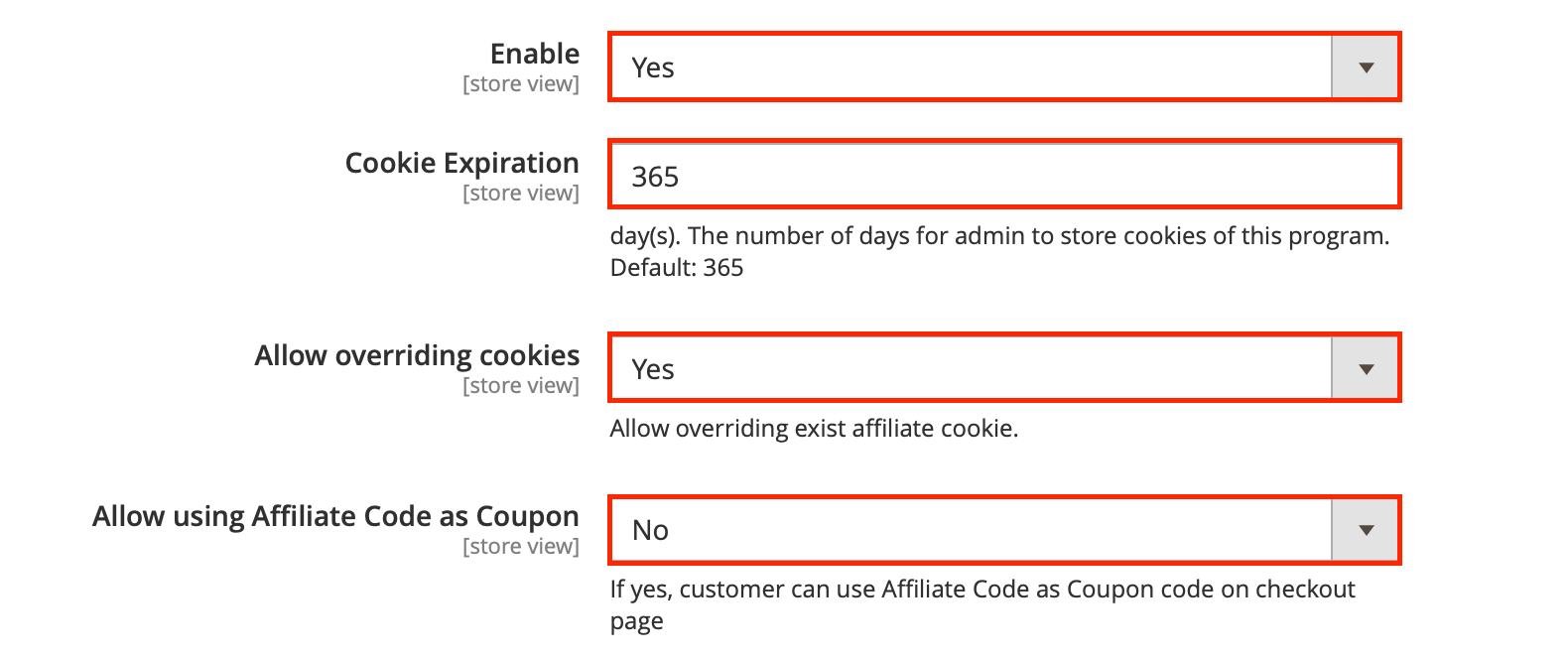 Show Affiliate link on: Allow to display the Affiliate link on different places

Show Affiliate link on = Footer Link: Display in the bottom of the page
Show Affiliate link on = Top Link: Display in the top of the page
Able to display in both positions
If the admin does not choose the places to post Affiliate link, the link only shows up on the Frontend at My Account Page when customers login

Custom CSS: Enable admin to customize the display of the affiliate site (Supports HTML, CSS)

Affiliate URL
URL Style: Choose display URL types

URL Style = Hash: Display the URL as http://example.com#c123
URL Style = Parameter: Display the URL as http://example.com/?c=123

Parameter value

Parameter value = Affiliate ID: Represent the affiliate account's ID on the Refer URL link in My Account/ My Affiliate/ Refer Friend outside the frontend.
Parameter value = Affiliate Code: Represent the code of Affiliate account on the Refer URL link outside the frontend and in the Refer Code field in My Account/ My Affiliate/ Refer Friend outside the frontend
Account Configuration
Affiliate sign up:
Default Affiliate Group: Choose the default group whenever an account is registered as an affiliate account
Require Admin's Approval: No = allow not to go through the store's censorship when registering as an affiliate account
Checked "Email notification" by Default: Yes = automatically check the Receive Affiliate Email Box on the My Account/My Affiliate/Setting tab outside the frontend whenever it has a new Affiliate account.
Terms & conditions:
Enable Terms and Conditions: Choose Enable to display Terms and Conditions in the Sign Up section outside the frontend
Checkbox Text: The checkbox text in the right of Terms and Conditions checkbox.
Terms and Conditions Title: The title for Terms and Conditions
Terms and Conditions Content: Choose CMS Block for Terms and Conditions Content
Checkbox is checked by default: Yes = active the automatically checked checkbox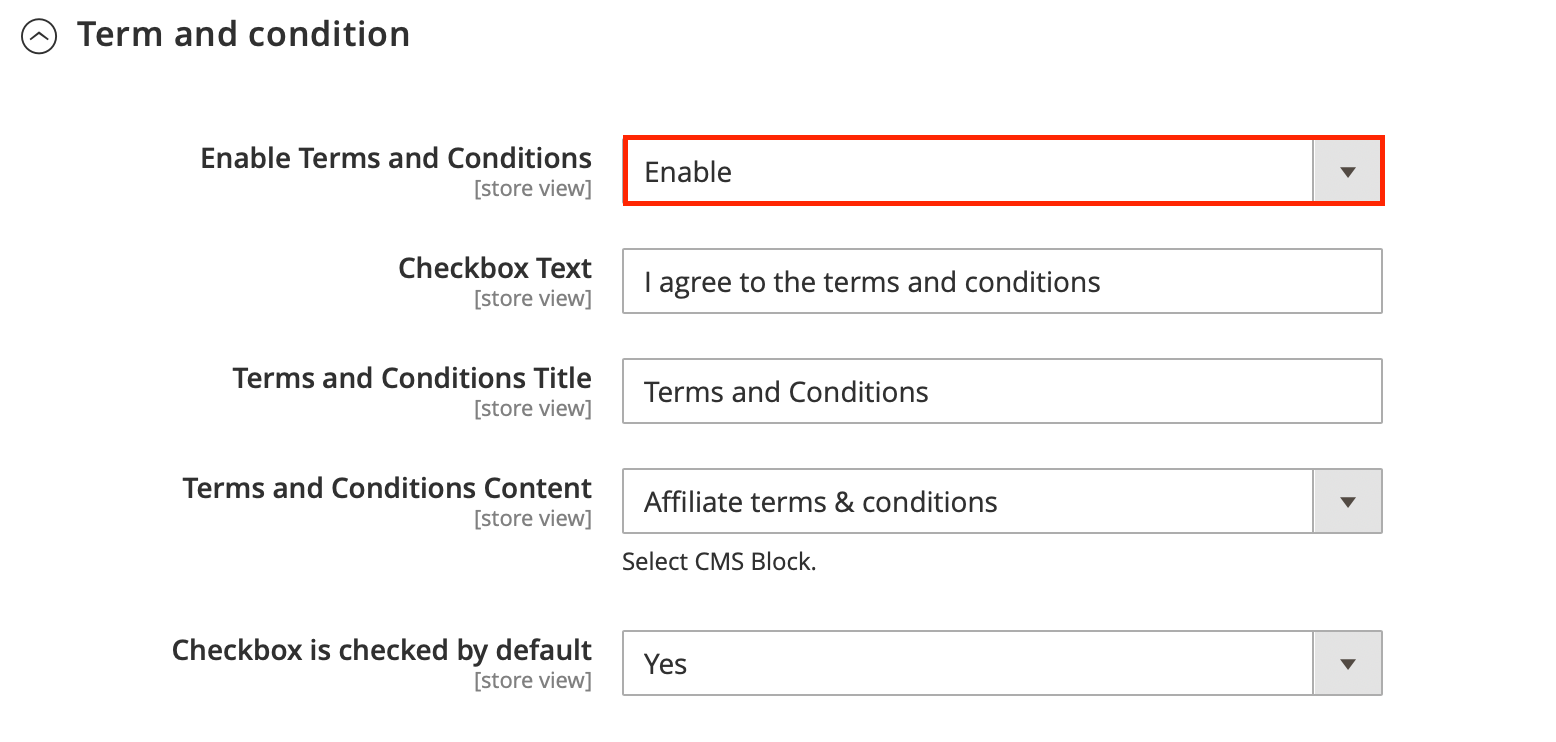 Account balance:
Maximum of Affiliate Balance
Enter the Maximum of Affiliate Balance
If the affiliate reaches the milestone, no commission is added
If the field is left empty or entered as zero, Affiliate Balance will have no limitation
Allow negative balance: Choose Yes to allow the balance to be negative numbers if the affiliate's account balance is not enough to take back commission

Configure Commission
Earn commission from tax: Yes = earn commission from tax
Earn commission from Shipping: Yes = earn commission from shipping fee
Commission calculation process
Allow Affiliate Receiving Commission when Invoice Created in your Magento Store

Invoice created: Yes = Commissions received when producing an invoice
Invoice created: No = Commissions are only earned when the order is in the completed state
Hold commission transactions for
Enter the days between commission transactions for accounts. The commission transaction for accounts will no longer be kept after the admin chosen day
Deduct commission from affiliate's balance when the order is refunded/canceled
Yes = allow deducting the commission from the balance of the branch when the order is refunded or canceled
Configure Withdrawal
Allow withdrawal request: Yes = Enable the withdrawal request displayed outside the frontend
Payment Method (Offline payment, bank transfer and Paypal): Active = Yes, showing a withdraw's form outside the frontend
The minimum balance in the affiliate account for requesting withdrawal: Blank or fill in as you are not limited when withdrawing
Minimum withdrawal amount: Included in withdraw fee
Maximum withdrawal amount: Included in withdraw fee
Configure Email
Send Welcome Email for your Magento Store : Yes = send the email when a new affiliate account is registered
Welcome Email: Choose your email template when a new affiliate account is registered
Welcome Email After Account Approved: Choose your email template when store owners approve the registered Affiliate account
Transaction Email section
Send Transaction Email: Yes = send a notification email whenever there is a transaction
Update Balance Email: Choose the sending email template when a change in the balance happens
Withdrawal Email
Send Withdrawal Email: Yes = send a notification email when you withdraw money
Withdrawal Complete Email: Select the sending email template when a change in the balance happens
Configure Friend Reference
Enable Refer Friends Feature: Yes = activate the introduce to friends function
Refer Sharing Email: Choose the email template to introduce with friends via email
Default Refer URL: Insert the referral link, which displays in the My Account/My Affiliate/Refer Friend tab
AddThis.com ID: Enable you to introduce it to friends through AddThis
AddThis.com Classname: Allows representing the social share button in the Referral Via Social Networks outside the frontend.
Use Cloudsponge to retrieve email contacts: Yes = allow access contacts from customer's accounts such as Gmail, Yahoo, Live, AOL, Outlook, etc.
Cloudsponge Key: Enter the Cloudsponge key
Conclusion
Over the past few years, affiliate marketing has become more and more popular with merchants in the ecommerce market. The advantages it brings back to many businesses around the world are now proven and undeniable.
If you aren't participating in affiliate marketing, it's time to take advantage of this lucrative revenue stream, just as this blog outlines.