This year has seen the shift away from physical retail to online shopping accelerate by approximately five years, which means two things:
More people are shopping online than ever before.
More people are selling online than ever before.
Online retail has become incredibly competitive, making it more crucial and challenging to attract, convert, and retain customers. And, if you're still using last year's abandoned cart and customer recovery strategies, they're now vastly out of date.
The shift towards online retail has seen cart abandonment rates skyrocket, and basic abandoned cart strategies aren't cutting it anymore.
But, fear not.
In this guide, we're sharing our expertise on how you can future-proof your abandoned cart and customer recovery strategies  and beyond, using:
On-site tactics to turn visitors into leads.
Visitor retention tools to prevent abandonment from happening.
Multi-channel abandoned cart tools and tactics to recover abandonment that does occur.
What We've Learned About Cart Abandonment
Cart abandonment has existed since the dawn of eCommerce. But it was only in 2020, when online sales became crucial for business survival, that sellers started questioning why abandonment was still happening on their website.
In the quest for answers about eCommerce abandonment, sellers have discovered four things.
1. The Reasons Behind Abandoned Carts
There are three main reasons behind cart and browse abandonment:
Confidence: Confident online shoppers are more likely to compare products, pricing, and retailers and abandon their cart in the process.
Hesitancy: New or unconfident online shoppers are more likely to experience indecision or fear and abandon their cart as a result.
Online Shopping: The very nature of online shopping means that shoppers are more likely to encounter unexpected fees (such as shipping), website problems (such as downtime), or online distractions (such as Facebook) and abandon their visit.
2. The Positives of Abandoned Carts
However, sellers have learned that abandonment isn't necessarily a bad thing. This is because:
The moment of abandonment tells you the potential customer's engagement level, allowing you to segment them into the corresponding lead category (cold, warm, or hot) and target them accordingly.
The act of abandonment gives you customer insights into purchase motivators, required touchpoints, and checkout flow effectiveness, allowing you to perfect your customer recovery strategy.
Anyone abandoning your website has already discovered your brand and products, meaning that you've done the hard work and spending of attracting them – you just need to convert them.
3. The Problem With a Basic Abandoned Cart Model
The reason why cart abandonment is a problem for many sellers isn't because it's happening; it's because a basic abandoned cart model doesn't maximize customer recovery.
What do we mean by this?
A basic abandoned cart model targets customers at the end of the consideration phase of the customer journey. This includes those making it to the final stage of your checkout flow – the shopping cart and the checkout page: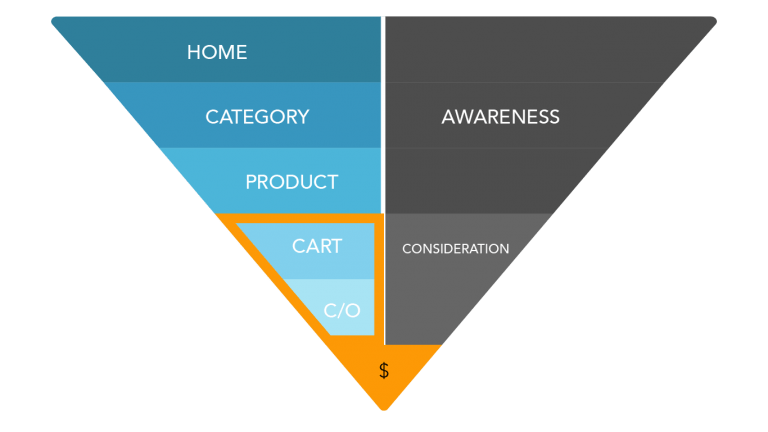 It might recover these customers nicely. However, it does nothing or little to:
Turn customers into leads at the beginning of the awareness stage
Prevent abandonment from happening across all stages
Recover customers from abandonment during the awareness stage
Recover customers from abandonment during the majority of the consideration phase
Tell you why abandonment is happening in the first place
This means that a basic abandoned cart model only recovers a tiny drop in a big pool of potential customers, which is a problem for any online seller looking to grow in 2021 and beyond.
4. The Importance of a Resilient Abandoned Cart Model
A resilient abandoned cart model maximizes conversions during challenging times and increases leads during fruitful times. This allows your eCommerce website to survive and thrive independently without relying on online marketplaces such as Amazon or worrying about global pandemics.
The Customer Recovery Model
The best way to take advantage of cart abandonment, overcome the limitations of a basic abandoned cart model, and increase business resilience for 2021 is the customer recovery model.
The customer recovery model minimizes the occurrence of abandonment and maximizes the customers recovered from abandonment by targeting leads across the awareness and consideration phases of the customer journey.
Specifically, a customer recovery abandoned cart model targets:
Cold Leads
Cold leads are active website visitors who haven't yet made it to the checkout but haven't abandoned your website either. The customer recovery model turns these visitors into leads by obtaining their contact details and engaging them throughout the checkout flow to prevent abandonment from happening.
Warm Leads
Warm leads are website visitors that browse your products but leave before adding anything to their cart, known as your browse abandoners or window shoppers. The customer recovery model warms these leads up and recovers them back to your website and through the checkout, using softer tactics than a traditional cart abandonment email.
Hot Leads
Hot leads are website visitors who add products to their cart but abandon before converting, known as your cart abandoners. The customer recovery model reengages these "low hanging fruit" leads, using methods of persuasion, scarcity, and personalization to bring them back to their shopping cart and encourage them to convert on the spot.
Abandoned Cart & Customer Recovery Strategies
Let's start this section by clarifying that there's nothing wrong with abandoned cart emails. Cart and browse abandonment emails work incredibly well at recovering lost customers and winning more sales, and you should continue using them.
However, to prepare your business for whatever 2021 holds, you want to minimize abandonment and increase your abandoned cart conversion rates as much as possible.
Five future-proof abandoned cart and customer recovery strategies to do this are:
1. Targeting Customers at the Beginning of Their Journey
You want to engage customers as soon as they click onto your website to increase purchase intent, reduce the chances of abandonment, and obtain their contact details to use should abandonment occur.
Three ways to do this are:
Delayed Popups: A website pop-up that encourages customers to enter their contact details for more information, a welcome offer, newsletter signup, or details of your rewards program.
Conversion Nudges: A website pop-up that provides visitors with information that compels them towards the checkout, such as a discount code or information on your payment options.
Real-Time Visitor Tracking: A tool that records real-time information typed onto your website so you can create a lead as soon as someone enters their email address, for example, on live chat or at the beginning of the checkout.
2. Retaining Customers Through the Awareness Phase
The best leads are hot leads, so you want to retain as many customers as possible through the awareness phase by disrupting any exit intent.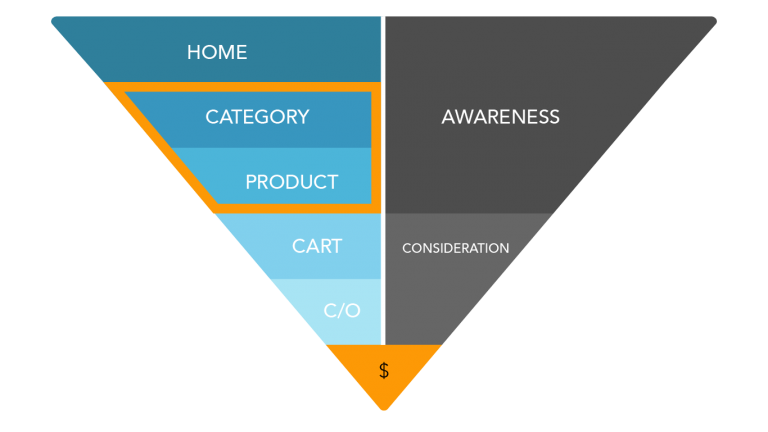 Two popular ways to disrupt the process of abandonment are:
Exit-Intent Pop-Ups: A website pop-up that appears as someone goes to exit your website, presenting compelling information that overcomes the reasons for abandonment and keeps them engaged. For example, an exclusive offer or information on a sale.
Abandoned Tab Notifications: A change to your website tab's favicon and icon as soon as someone opens up a new tab, accompanied by an audible chime, bringing a distracted shopper's attention back to your website and away from that competing tab.
3. Recovering Customers From the Consideration Phase
If someone does abandon your website during the consideration phase, you still want to re-engage their interest and bring them back to your website, albeit in a slightly softer and gentler way than you would recover a hot lead.
The best ways to do this are:
Browse Abandonment Push Notifications: An opt-in notification campaign that appears directly in a visitor's web or mobile browser following abandonment, reminding them about your brand and providing them with an easy way back.
Browse Abandonment Emails: Sending a triggered, three-part email campaign that reminds visitors about their visit and reengages them with your brand, using softer persuasion tactics such as offering assistance, providing information on your returns policy, or sending a new customer discount code.
4. Recovering Customers From Cart Abandonment
Your hottest leads are the easiest leads to recover, but that doesn't mean you can't do more to maximize the effectiveness of your abandoned cart email campaign.
A multi-channel approach to recovering customers from cart abandonment can include:
Manual Outreach: Real-time abandonment alerts that highlight abandonment meeting specific criteria, allowing you to implement a manual outreach step. For example, a phone call from your sales team for abandonment exceeding $250.
Abandoned Cart SMS: A campaign of text messages that remind customers about their cart and recover them using the eCommerce principles of persuasion.
Abandoned Cart Push Notifications: A series of push notifications that alert customers about their abandoned cart and provide them with an easy way back to your website, on their device of choice.
Abandoned Cart Emails: A three-part email campaign that attempts to reengage and recover customers using more sales-led persuasion and personalization tactics, including loss aversion, scarcity, and value (like a discount code).
5. Continuous Improvement
Continuous improvement is the process of making incremental improvements to your customer recovery and abandoned cart strategy to increase effectiveness, maintain relevance, and maximize success. This is especially important when customer spending habits and purchase motivators are routinely changing.
Three simple ways to continuously improve customer recovery are:
A/B Testing: Running two different versions of a recovery email or retention pop-up to identify which version produces the best results and tweaking your campaigns accordingly.
Visitor Journey Tracking: Recording a customer's journey to abandonment to pinpoint the biggest visitor leak in your checkout flow and implement methods to eliminate or overcome the problem.
Multi-Channel Collaboration: sending leads who don't convert or who need more touchpoints with your brand to your CRM or email management tool. One way to do this is via Zapier, enabling you to provide long-term engagement that results in future conversions.
Key Message
The key message we want to get across isn't that basic abandoned cart emails are bad or ineffective. It's that you can maximize their results by addressing website abandonment across the entire checkout flow and targeting visitors regardless of where they are or where they abandon in the customer journey. This includes:
Visitors actively on your website
Visitors in the process of abandonment
Visitors who leave before adding a product to their basket
Visitors who leave after adding a product to their basket
Visitors who don't respond to your browse or cart abandonment recovery campaigns
If you do this, you can squeeze every last conversion out of your existing web traffic, increasing sales and future-proofing your eCommerce business against whatever 2021 holds. Good luck!