While the asphalt highways were silent and working from home became the norm, the internet superhighway expanded.
In the first half of 2020, everything quickly ground to a halt worldwide, and the internet became our lifeline to the outside world. Throughout the past 20 years, we have seen the internet grow in times of crisis, but never in history have we as a planet used the internet as much for our day to day lives.
From Zoom work meetings to grocery and essential item deliveries to online schooling, internet usage is up 70% in the first quarter of 2020. Current estimates could see up to 80-90% by the end of the second quarter of the year.
In 2018, the predicted web hosting industry growth was 13% Compound Annual Growth Rate (CAGR) and expected to hit $216.59 billion by 2025. One of the driving factors was the increase in the expanding e-commerce industry expected to add $72.79 billion by 2023. Under the current conditions, we could see the 2025 expectations much sooner due to the rise in online sales.
With current concerns about a global recession, is the tech industry recession-proof? Let's take a look at some of the top industries that leverage servers and the hosting industry to power their businesses and see the impact and outlook of the current crisis.
E-commerce in the fast lane
For those already living in the on-demand world of e-commerce, it might be hard to believe that some people made their first purchases from Amazon during the current crisis. As the shelter-in-place orders moved across the world, people flocked to the internet for goods and services.
Adobe's Digital Economy reports US e-commerce sales up 49% in April, driven by online grocery and large warehouse based distributors. The online e-commerce SaaS solution Ecwid has reported a 50% increase in sales for Small Business Platforms using its software and the value of goods sold through Shopify's e-commerce and store point-of-sale systems increased by 46%. The rise in e-commerce sales has been equated to Black Friday profits for retailers every day over the past months.
There has also been substantial growth for the online ordering and restaurant take out sector. In 2018, the online food delivery industry was estimated at $82 billion and set to double by 2025.
Instacart is among the delivery services with massive growth, which has seen orders increase over 500% in the past year — making a net profit of about $10 million in April 2020. As reported by The Information, Instacart customers bought close to $700 million in goods over the first two weeks of April.
Chipotle will continue to invest millions in its digital business beyond Covid-19. According to Chief Executive Brian Niccol, "Digital sales grew 81%, accounting for 26% of the business for the quarter and March digital sales more than doubled year-over-year, representing 37.6% of sales."
Many analysts predict that many small restaurants unable to weather the storm will adapt an online take-out and delivery model in the future. One business already making the transition is Starbucks Coffee, closing over 400 stores and focusing on the expansion of the Starbucks® Pickup stores with mobile ordering and takeaway service.
Kevin Johnson, CEO of Starbucks explained the digital transformation of the brand, "As we navigate the COVID-19 crisis, we are accelerating our store transformation plans to address the realities of the current situation, while still providing a safe, familiar and convenient experience for our customers." 
Cloud-based learning
Online Universities and online homeschooling have been on the rise since the early 2000s. Research and Markets forecast the online education market share at 350 Billion Dollars by 2025, and under the stay-at-home orders, we have seen unimagined growth in just a few months.
Parents suddenly became teachers, as close to 1 billion students moved from classrooms to living rooms. This quick shift has opened new opportunities for the future of online classes worldwide. 98% of higher learning institutions also moved the majority of courses online, and 43% have invested in new online learning resources. To handle this rapid expansion, Alibaba Cloud set a new record deploying more than 100,000 new cloud servers in just 2 hours!
A new Udemy report, "What the world is learning working from home," offers insight into online learning and teaching. The report found an increase in demand globally in all segments of their business:
425% increase in enrollments for consumers
55% increase in course creation by instructors
80% increase in usage from companies and governments
There is no doubt that cloud-based learning will continue to grow at an exponential pace beyond the current crisis.
Couch Conferences
Virtually all in-person conferences and events have canceled until 2021. The 860 Billion Dollar Global Meetings & Events industry has shifted to a 100% online meeting and virtual event space since around March 2020.
Zoom, the online video meeting solution, has seen its stock shares increase by 74% this year. The platform has been adding servers to every one of the company's 17 data center locations and increasing its capacity with its two cloud providers, Amazon Web Services and Microsoft Azure.
Online events increased 2,000+% in April 2020 compared to April 2019, according to Eventbrite. "Our data shows a significant rise in demand for online events, and it's been inspiring to see the innovative ways event creators are leveraging our platform," said Crystal Valentine, chief data strategy officer Eventbrite.
Virtual events will not replace in-person events, but we can safely say that the virtual event space will continue to grow.
Digital Content
The booming streaming content industry was already in a position to see a considerable surge in usage once the stay at home order took hold. A recent Statista survey showed 51% of internet users worldwide watching more shows on streaming services in March 2020. The BBC reports 16 million new Netflix signups over the first three months of 2020, while AT&T reports the highest Netflix usage on its networks in the same period.
Twitch.tv, the video stream website, owned by Amazon and catering to gamers and entertainment, has exploded with content. According to the Twitch analysis site Sully Gnome, Twitch.tv's average views have increased by 69.5% across the platform. Total hours watched are up 69.2%, and average channels are up 77.5%. We at cPanel started broadcasting our content at twitch.tv/cpaneltv during the current crisis.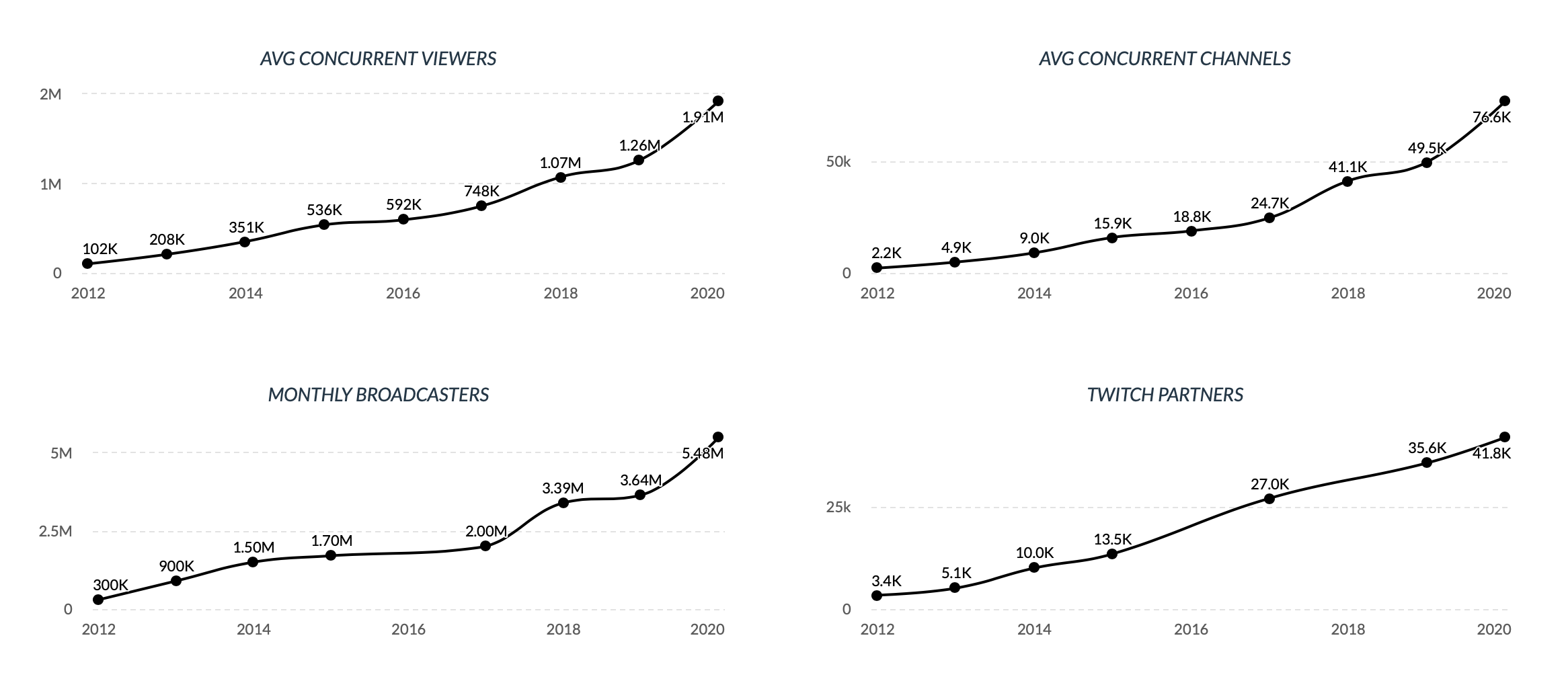 Many entertainment streaming services like Disney+ pushed their release schedule forward to take advantage of the viewing spikes. The film industry is also taking bold steps by releasing many first-quarter releases direct to digital platforms. Trolls World Tour was the first major film to go direct to digital due to the lockdown and quickly broke all records to become the biggest digital debut ever!
Start-Ups aren't slowing down either
New online business growth is also on the rise. Verisign's first-quarter Domain Name Industry Brief reveals total domain name registrations across all top-level domains rose to 366.8 million, up 4.2% at the end of 1Q-2020. If, as they say, business starts left of the dot, then new businesses are flourishing.
Even existing start-ups are making big moves in these uncertain times, Ecwid just closed a massive round of funding with $42 million from Morgan Stanley and PeakSpan Capital.
The start-up ecosystem has seen explosive growth over the past decade, driven by a combination of technological advancements, increased access to venture capital, globalization, and the rise of entrepreneurial spirit worldwide. Despite economic downturns, global crises, and other challenges, start-ups, in many sectors, have not slowed down. Here are some reasons why:
Technological Advancements: Rapid advancements in technologies such as AI, ML, IoT, and blockchain have opened up new avenues for start-ups. These technologies allow for the creation of entirely new markets and products.
Digital Transformation: The COVID-19 pandemic has accelerated the digital transformation of many industries. Businesses have had to adapt to remote work, eCommerce, online entertainment, and more. Start-ups in these spaces have seen increased demand.
Access to Capital: The availability of venture capital, angel investors, crowdfunding platforms, and other financial instruments has made it easier for start-ups to secure funding.
Global Reach: With the internet and globalization, start-ups can now easily target a global customer base. Companies like Stripe and Shopify have lowered the barrier for global commerce.
Agility: Start-ups can pivot more quickly in response to market changes than larger, established companies. This agility can be a significant advantage in rapidly evolving markets.
Incubators and Accelerators: The rise of start-up incubators and accelerators provides early-stage companies with resources, mentorship, and initial funding to guide their growth.
Government and Institutional Support: Many governments worldwide recognize the value of fostering a start-up ecosystem and offer incentives, grants, and programs to support start-ups.
Cultural Shift: There's been a cultural shift towards entrepreneurship. Being an entrepreneur is seen as a viable career path, and there's greater acceptance of taking risks and experiencing failures.
Niche Markets: The digital age has allowed start-ups to cater to niche markets efficiently. Even if the target audience is small, the global reach means they can still be profitable.
Resilience and Innovation: Many start-ups are built on innovation, finding gaps in the market, and addressing them. This ingrained culture of innovation can help them weather economic downturns and other challenges.
Collaborative Ecosystems: The start-up ecosystem itself, characterized by collaborative workspaces, networking events, and online communities, fosters a spirit of collaboration and mutual growth.
While the start-up scene is bustling and shows no signs of slowing down, it's also worth noting that not all start-ups succeed. The very nature of entrepreneurship means taking risks, and many start-ups fail or pivot multiple times before finding success. However, the cumulative effect of so many entrepreneurs trying and iterating means a constant stream of innovation and new businesses entering the market.
The future beyond COVID-19
The expansion of the internet is nothing new and in times of economic downturns. The financial collapse of 2008 saw massive growth as brick and mortar shops made their move to online platforms. Ecommerce allowed retailers to increase productivity, cut overhead, and improve global visibility.
In this current crisis, will digital growth be sustained after we get back to normal? Welcome to a new normal! It is safe to say the lasting impacts from this latest crisis will only grow the web hosting industry and online services.