Attracting new customers and prospects to your business largely on having high-quality content. You can push out this content in a variety of ways, which we'll talk about in a moment. But first, you must have content that's:
Desirable
Actionable
Helpful
Irresistible
Timely
That's what draws potential customers to service-based businesses. Why? Because more than anything, people are searching for help with solving problems in their lives.
Why content matters for service-based businesses
In reality, you're in the problem-solving business. When the solution to clients' problems requires highly specialized skills or lots of time, you can charge them for it. That's your business.
But when the solution can be provided through easily-produced content, that's also your business. You give it away for free because that brings them into your circle, into your club. By continuing to send more helpful content, you'll keep them with you. Then, when they face a bigger problem that costs money, they will choose you to solve it for them.
If you don't create problem-solving content that serves your target audience, you'll have to rely on other types of marketing like search ads, SEO, social media ads, and more. That's the harder road. With problem-solving content by your side, all of that becomes easier.
Whether you're a law firm, cleaning company, personal coach, financial professional, or a home repair service, when you solve problems for your customers with free, high-quality content, they'll reward you. Great content can:
Help leads and customers find you.
Make them stick with you.
Motivate them to join your email or mailing list.
Lead them to pay for your help.
Give you something to market other than another 20% off sale.
Make you the only company they call when they need help.
Help you close the sale.
If a homeowner needs a new roof today, you're already too late to send out new marketing to get their attention.
But if they already know your company's name because you've sent them tips on how to clean moss off their roof, maintain gutters, know when shingles need replacing, and fix leaks, then you'll be the first company they call.
Examples of quality content
How-to guides, blog posts, and videos
Nothing is more problem-solving than a how-to guide. "How to _____" is one of the most popular searches on Google. All you have to do is fill that blank with a problem that relates to your business and you can draw people to your site.
Then, give them videos and demonstrations. Give PDFs that require their email to access. Use blog articles with photos and diagrams as needed.
Motorcycle Tours Puerto Rico has a gallery with videos of their tours. They're not too long — typically a couple of minutes — but are fun and entertaining. Plus, they're a great way to entice someone to purchase their own tour.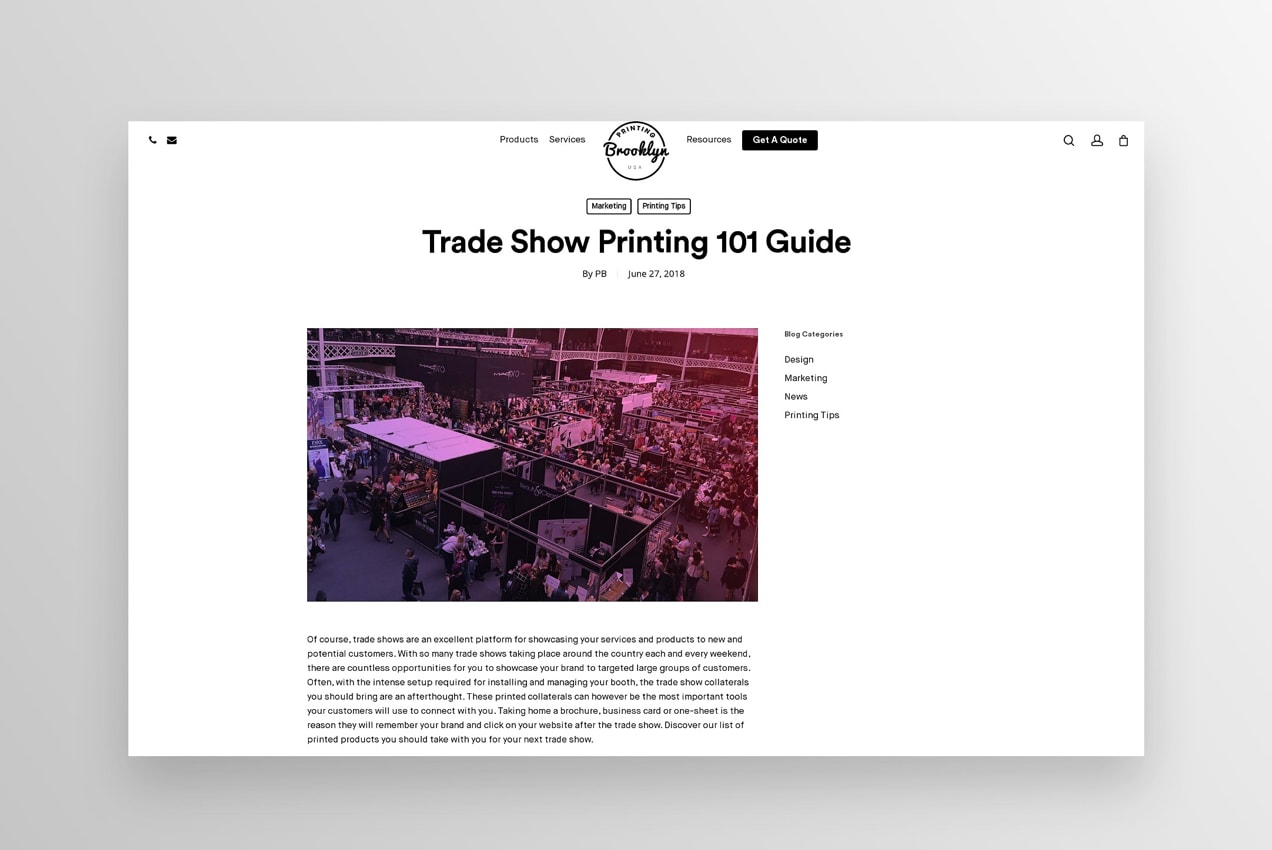 Printing Brooklyn has a blog post titled "Trade Show Printing 101 Guide." It's packed with helpful information, including a checklist of trade show materials to prepare, but also relates directly to the services it offers.
Surveys
Surveys work well for nurturing your existing email list, and they're very easy to create and send. A survey shows your customers that you care about their needs and value their input. Plus, it allows you to segment your audience so you can market to them more effectively down the road.
For example, suppose a financial advisor has an email list of 10,000 clients but knows very little about them. By sending out a survey, the advisor can find out how close they are to retirement, their income range, their ages, how many kids they have, and so much more.
The financial advisor can then create special content for near-retirees, and send that only to people between the ages of 55 and 65. However, be mindful about the information you collect, and consider privacy and follow the laws within your industry.
Quizzes
Quizzes are sort of like surveys, but work better for lead generation (finding new prospects). For example, a gardening company could create a quiz titled, "What kind of yard fits your personality?" You can have a lot of fun with quizzes like that, and people take them because they're low pressure. All you have to do is require an email to see the results, and your list grows.
A cybersecurity firm could send a quiz asking, "How secure are your devices?", and use it to find prospects who need better protection.
Niche-based, problem-solving content
There's no limit to what you can create when you really start to brainstorm ideas.
Poppy Floral, a floral design studio in Boston, publishes articles with information about putting together arrangements.
Does it seem odd for a florist to tell its leads how to put together their own arrangements? It's not. This positions the company as a helpful ally who knows the best way to arrange beautiful bouquets. Plus, most visitors to their site don't want to do it themselves. That's why they're looking for a design studio! But the content sells their expertise and their helpfulness.
A tax accountant could create content about how to know which type of tax return is best for you. Again, this is solving a specific problem. It's not what they charge for, but it's one small item that potential customers need help with.
How to use your service-based content
Once you create your content, there are at least three ways to use it.
1. Send it out
If you have an existing email list, send it to subscribers with a link to the video, blog, or landing page for the free guide. If you have mailing addresses, create a postcard, flier, or letter, and mail out the free offer. This might be more effective if paired with a special sales offer, since direct mail is more expensive. Combine the free content with a paid service.
2. Put it front and center on your site
Don't bury your content and make it difficult for site visitors to find. Instead, feature it right on your homepage! You could add a "recent posts" or "news" section above the footer, include a "how to" video with a description, or have an email capture that offers a free ebook download.
YourBenefitStore.com includes a visual blog feed that people can view when they first land on their site. It grabs attention with eye-catching images and includes easy-to-see buttons encouraging people to read more.
3. Use paid ads
You can pay for ads on social media, Google, individual websites, or even print publications. And instead of offering sales, sell your content. The point is to generate leads and help people who have the problems you solve to find you. It gets them in your circle.
Put all these tips into practice, apply them to your specific niche, and you'll attract more high-quality leads and customers who will appreciate your help and choose your service-based business when they are ready to buy.