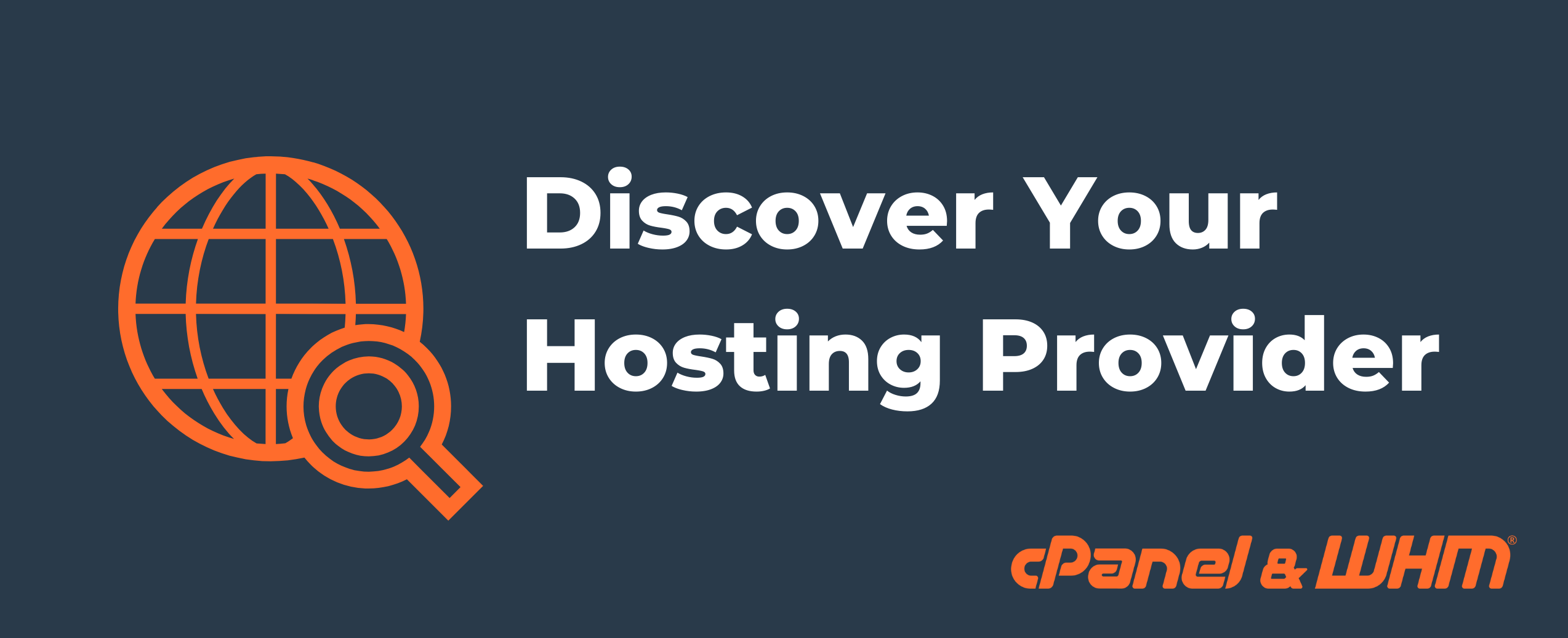 Sometimes, folks encounter a problem with their website that is hosted on a server using the cPanel hosting platform. When that happens, they often reach out to cPanel customer service or technical support for assistance. It seems logical, right? Your site is on a cPanel server, so cPanel is the obvious place to go for help. However, cPanel only creates the software that hosting providers use as a platform to offer their website hosting services. Most problems that users experience are related to their hosting provider and not their cPanel installation. At cPanel, we don't have any information or access to the user's specific account, and so are unable to assist them directly.
But never fear!
We are here to help you learn how to identify your hosting provider. We can also help determine which issues should go to your hosting provider instead of cPanel technical support or customer service. Issues for your hosting provider might be things like a forgotten username or password, purchasing additional server resources like bandwidth or storage space, server technical issues, and billing or payment inquiries.
I thought that cPanel was my hosting provider?
Your hosting provider is the company that you pay to host your website. They may be one of our cPanel Partner NOCs, or they may not. cPanel is the software company that creates cPanel & WHM, a web hosting automation platform. We license this software to individual hosting companies. These companies then sell hosting space to individual customers and install the cPanel & WHM software on the space they provide. They then re-sell the software to you as part of your hosting package. Their installation is why you might see our logo or other information when you log in to your website. One way to look at this relationship is as if you're a hotel guest and the hosting company is the hotel. If a light bulb goes out in the room, would you call the light bulb manufacturer? No, you'd call the front desk at the hotel, and they'd replace the bulb for you. The hosting company is your direct service provider and your go-to for direct support for their services.
How do I find my hosting provider, then?
The simplest way to discover who hosts your website is to visit a search site that allows you to query a domain name's hosting provider. One such site is Hosting Detector, which is at https://hostingdetector.com. Another is https://whoishostingthis.com/. You can enter your domain on either of these sites to search for your host's information. cPanel is not affiliated with these sites, but they are easy to remember. Once you're on the site, enter your website's domain name into the search box, and click search. A list of hosting information populates, including who hosts the website and the country where the website is hosted. It also includes a link to the WHOIS information for your domain, which is the domain registration information. It's important to note that you can register your domain and have hosting services from two different companies. The WHOIS domain registration information may not help you find your web host.
What if I don't know my domain name?
If you don't know your domain name, search your billing records for your website. You can also use whois.net to check whether a domain you think you own is registered. If you are still unable to find your host or domain name, our customer service team may be able to help you. You can reach out to them at [email protected].
Where else can I go for help?
You can always join one of our social channels for discussion. You can reach us through either our Slack or Discord channels, our official cPanel subreddit, and for lots of informational shares, follow us on Facebook, LinkedIn, Twitter and Instagram.