Windows Live Mail Configuration
This guide will assist you with Windows Live Mail Configuration
Note: Some versions of Windows Live Mail (latest) don't offer the "Test Account Settings" feature, so this has been omitted from the guide.
1. Select the Accounts tab and then click the Email(+) icon as per the screenshot below
2. In the Add your email accounts dialog, enter  your email settings and click the "Manually configure server settings" checkbox.
3. Click [Next] and fill out the rest of the email configuration details
Incoming mail server: mail..tld (eg. mail.fastdot.com.au)

Outgoing mail server: Your Internet Service Provider's (ISP) outgoing mail server (eg.
  mail.optusnet.com.au)

Logon User Name: Your FULL email address
Password: Your super-duper secure password

4. Test your account settings by selecting the Home tab then clicking Send / Receive (Sadly, Outlook 2011 doesn't provide the quick Test settings functionality)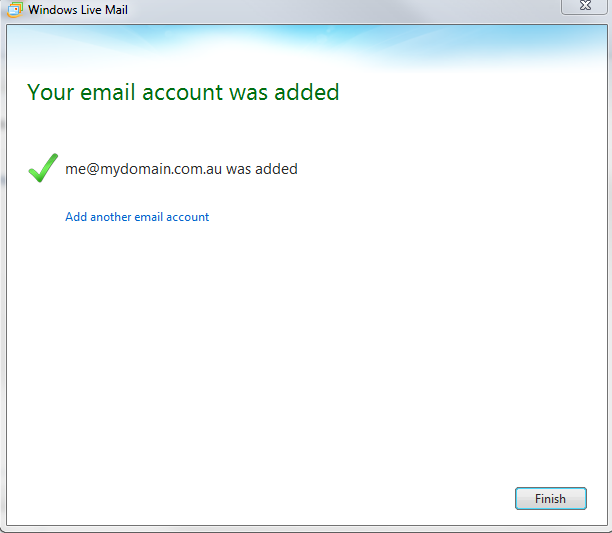 This completes the setup of your email in Microsoft Outlook 2011.
If you receive the "Please enter your name and password" dialog indicating the incoming mail settings are incorrect.
You can re-input the account settings by right-clicking on your address in the left pane as per the screen shot below (Right-click account > Properties)
Is Windows Live Mail available for Windows 10?
Windows Live Mail is designed to run on Windows 7 and Windows Server 2008 R2, but is also compatible with Windows 8 and Windows 10, even though Microsoft bundles a new email client, named Windows Mail, with the latter.
Is Outlook and Windows Live Mail the same?
Windows Live Mail is a desktop email program Microsoft introduced to replace Outlook Express. … However, Microsoft is moving all its own email services – Office 365, Hotmail, Live Mail, MSN Mail, Outlook.com etc – to a single codebase at Outlook.com.
How do I connect my Gmail account to Windows Live Mail?
Click the gear button in the upper right corner of the gmail inbox window and select Settings from the drop-down menu. On the Settings screen, click Forwarding and POP/IMAP. Scroll down to the IMAP Access section and select Enable IMAP. Click Save Changes at the bottom of the screen.
https://fastdot.com.au/private-email-hosting-for-your-business/