As an online business, aesthetic is paramount. If your product photos or marketing materials don't look high-quality, many potential customers may pass you by. But, if you're not a professional photographer or can't afford editing services, how can you create great photos?
Using free photo editors, you can improve your images in quickly without spending a dime on expensive software or additional features. If you are looking for programs resembling Lightroom or Photoshop with all of the functionality that you need, accessible free of charge, then choose one of the following tools.
These are free online and desktop programs that have powerful features and are suitable for both beginners and professionals.
1. Online Photoshop Editor
Pros:

Cons:

Convenient interface
Extensive toolset
Ad-free
Supports layers

Limited functionality
No auto-save feature
Online Photoshop Editor is a free online image editor with open source code that appeals to photographers and retouchers with its intuitive tools and features. The program has a simple and modern interface and supports all popular image formats. It is based on PhotoPea, which is another free photo editing tool that resembles Photoshop.
It has many functions and can be used for basic image editing tasks, such as: portrait retouching, removal/replacement of the background in a product photo, overlaying images, color correction, contrast fixing, etc. You can also add text and effects to your photos.
This online free photo editor can open PSD files and save them in the same format. It also supports PNG, JPEG, BMP and TIFF formats and allows you to share the results on social media or save to the hard drive. You can use Online Photoshop on any device that has a web browser installed, including Windows, Mac OS, Linux, and Chrome OS.
Although its functionality is still limited, the developers extend and improve it every day.
2. GIMP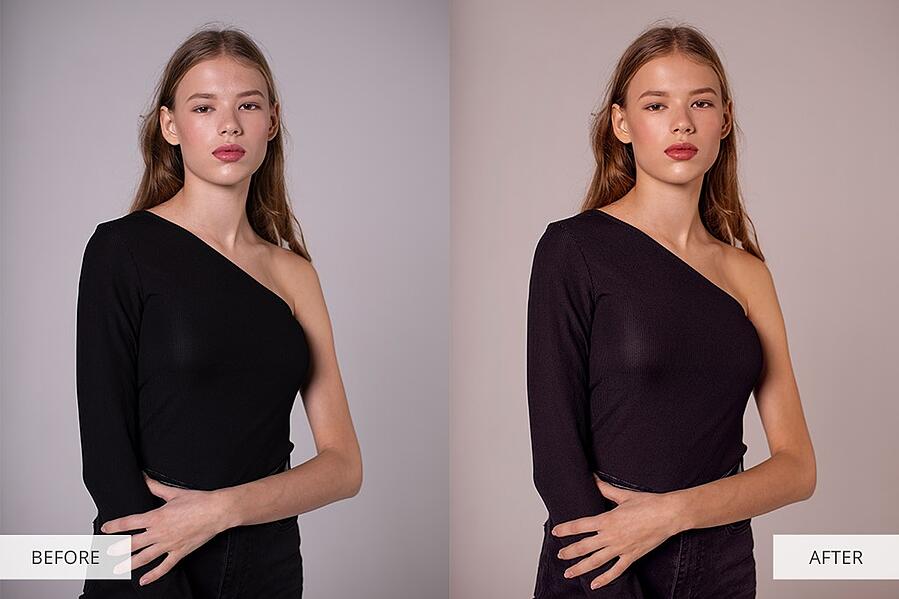 Pros:

Cons:

Advanced photo editing tools
Cross-platform program
No ads
Adjustable functionality

Requires time to master all the tools
Only a few tutorials available
GIMP is a more technical alternative to Photoshop. Users choose this free photo editor because it is open-source, offers unique functions, and is suitable for many tasks. In other words, you can modify the program yourself to fix various errors that arise during photo editing, and you can also add your own tools.
GIMP offers layers, brushes, masks, levels, filters and automatic actions to edit images quickly and easily. You can fix imperfections with the help of Clone and Stamp tools, create your own brushes, and apply changes to isolated areas with smart selection tools.
This image editor can also open PSD files and edit them, which is very convenient. An active community of users and developers has created a huge collection of plug-ins to extend the capabilities of the program even more. Many of them are pre-installed, and you can download more from the official library.
Choosing this software, you'll have access to tons of guides and video tutorials. These can be a tremendous help because the program may be tricky to master – especially if you are a beginner photographer.
3. Ashampoo Photo Optimizer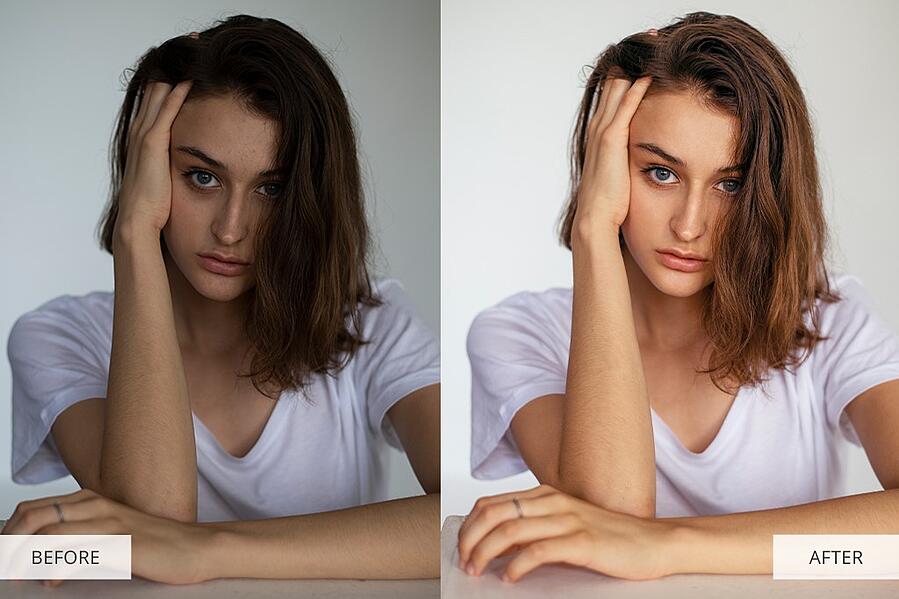 Pros:

Cons:

Simple and straightforward UI
Quick photo processing
No intrusive ads
One-click optimization
Great manual control

Windows-compatible only
Automatic optimization fails to work properly
If you have a lot of photos and need to edit them quickly, Ashampoo Photo Optimizer can help with a lot. The interface is clean, intuitive, and ad-free. However, you need to provide an email address before you can start using the program.
Ashampoo Photo Optimizer is one of the best free photo editors when it comes to batch processing. With this software, it's easy to import many images at the same time. After they are added to a group, you can select several at once to rotate or flip them simultaneously.
You can also select individual photos and enhance them with a one-click optimization tool, which works especially well with landscapes and product images. If you want to manually adjust colors and exposure, there are half a dozen sliders that allow you to do just that.
Unfortunately, it is impossible to apply the same color changes to an entire set of images at once. Either way, it's a great free photo editor for quick fixes.
4. Pixlr X
Pros:

Cons:

Doesn't require registration
Simple and quick setup
Uses HTML5 instead of Flash
Stylish design

Relatively basic tools
Max image size is 3,840 pixels
Pixlr X is a browser-based photo editor that runs on HTML5, not Flash, which means it works in any modern browser and is a safe tool to use. It's also sleek and well-designed, with a user-friendly and stylish interface and a selection of dark or light color schemes.
With this free photo editor, you can alter colors and saturation, sharpen and blur images, apply vignette and border effects, and combine multiple images.
It also supports layers, which isn't typical of most free online photo editors. You can also take advantage of tons of drawing and painting tools.
Though the program is rather simple, it works impressively fast. All you need to do is download an image, adjust the parameters, and save the result to your computer. However, keep in mind that your images will be scaled down to 4,000 pixels wide.
This photo editor is similar to Lightroom in its own way. There are several basic effects that work pretty well, but it could use a few more. Luckily, Pixlr offers an advanced version of their service called "Pixlr E" which includes more functionality.
5. Paint.NET
Pros:

Cons:

Easy and convenient to use
Lots of useful functions and effects
Plug-in support
Simple interface

Limited brushwork
Windows-compatible only
Paint.NET is a photo editor best suited for trivial tasks. The simplicity of this program is one of its main strengths. If you do not need to perform complex actions associated with image editing, but are interested in small changes, then your editor of choice will most likely fall on this option. That is because simplicity does not mean a lack of good features.
You can do basic image editing: remove skin imperfections, red eyes, and enhance the background. It has advanced editing tools like layers, undo history, a ton of filters, lots of community-made plug-ins, and a great 3D rotate or zoom feature that's handy for rearranging images.
You can use layers and a wide variety of tools, but their functions may not be as advanced as you might like. The program is reminiscent of earlier versions of Photoshop where the interface was very simple.
6. Fotor
Pros:

Cons:

Premium filters
Batch image processing
High-resolution export options
Several features for fast processing

Lots of ads
Few tools in the free version
Fotor is a free photo editor that is perfect for quickly enhancing your photos. You don't need to download any software as it works in your browser. If there is a specific area of retouching that you need to do with, say, a clone brush or a treatment tool, then you're out of luck.
However, if your needs are simple, its high-quality filter set really shines. For example, there is a robust tilt-shift tool and tons of vintage and vibrant color adjustments, all easily accessible via Fotor's smart menu system. You can also manually modify your own curves and levels without the complicated high-end options.
A great feature of Fotor, which is sorely lacking in many free photo editors, is its batch processing tool. Download a bunch of photos to it, and it will filter them in one go, which is ideal if you have a memory card full of photos. It also copes when it is necessary to hide the results of a dodgy camera.
There are, of course, a lot of settings and effects to play with. However, the image resolution is limited to 4000px wide with a free account and the frame effects come with an intrusive watermark. This means that there isn't much you can do without upgrading to a subscription in the end.
About 60% of the available functions, such as effects and portrait editing options, will be locked away until you purchase the full version of the program. Still, Fotor is a pretty good photo editor with many great effects and scenes similar to the presets in Lightroom.
7. BeFunky
Pros:

Cons:

Well thought-out interface
Ability to save work and continue it later
Many advanced tools
Easy to use

Lots of ads
Few options in the free version
Runs on Flash
BeFunky is a great editor with many features for basic photo editing. With BeFunky, you can do general actions like cropping, adjusting exposure, enhancing colors, replacing backgrounds, etc. The problem is that, in the free photo editor, many of those will be cut off.
There are still plenty of settings and some beautiful effects that you can apply to your images for free. However, at each step, you will be tempted with more attractive options that urge you to upgrade to the Plus version in order to get them.
There are many effects that you cannot use, marked with an asterisk that signals a requirement to pay for the full version. Photo editing work is also somewhat limited and can feel awkward. Not to mention the overabundance of ads, where the right sidebar and bottom bar are occupied by banners with ads or promotions for the Plus version.
Nevertheless, BeFunky is easy to use and has many useful image editing options. You can download photos from stocks in the program. You can also save work and continue it later without losing the result.
8. Canva
Pros:

Cons:

Large selection of templates
Includes free cloud storage
Mobile app available
Offers free stock photos and design tools

Lack of advanced manual editing options
Several features are locked behind paywalls
Canva is a design tool and photo editor that runs in a web browser. It's the perfect solution for turning your favorite pictures into cards, posters, invitations and social media posts. Canva is prized for its easy design work, but it can also be referred to as one of the best free photo editors due to its editing features.
Canva has two tiers: free and paid. The free tier is ideal for home users who will only use the service occasionally. Just sign up with your email address and you will receive 1 GB of free cloud storage for your pictures and designs, 8,000 templates to use and edit, and two folders to organize your work.
You won't find advanced tools here, like clone brushes and smart selectors, but there is a set of handy sliders for applying tints, vignette effects, sharpening, adjusting brightness, saturation, contrast, etc. The text editing options are intuitive. There is a large selection of backgrounds and other graphics to complete your projects.
9. Photo Pos Pro
Pros:

Cons:

Smart interface
Beginner and Advanced modes
Precise editing functionality
Supports various file formats

Monthly subscription for high quality downloads
Limited permission to export files
Photo Pos Pro is another high-quality free photo editor that has advanced tools to enhance images. The interface is smart, and everything is organized in a logical and consistent way. If this program looks too complicated for you, there is the option to use the Beginner layout, which resembles Fotor's filter-based approach.
The Expert layout offers layers and masks for sophisticated editing, as well as options for manually adjusting curves and levels. You can still access filters with one click through the main menu, but the focus is on precise editing.
This program has a large set of color correction tools and allows for creating actions, layers, and effects. Besides RAW and PSD, it supports many image formats, both common and rarely used ones.
Unfortunately, the free version only enables you to export with a resolution of no more than 1024 x 1024 pixels. If you're preparing images for online publishing, this might not be a problem, but it limits the software's usefulness if you want to print your work.
C
onclusion
After reading through this selection the best free photo editors that have wide varieties of dedicated tools, you should have found a solution that fits your needs best. The results of our review were dependent on resting, user reviews, and information from the companies themselves. Some entries in this list are online programs and can be used in a browser, while others need to be downloaded. Each solution has its own benefits and drawbacks, so use that information when choosing your ideal photo editor.