As an e-commerce retailer, you know that selling your merchandise online opens your business up to a much larger market than you could ever reach offline. If you're already reaping the rewards of selling online throughout the United States, you might be considering going global. Selling to European customers online is a great place to start.
There are plenty of great reasons to reach out to European customers. To be precise, there are 727,848,547 good reasons. That's the number of internet users in Europe — more than twice the entire population of the USA! And with a little planning and organization, reaching them is easier than you might think.
But here's the catch: consumers in Europe are used to smooth online shopping experiences, including fast shipping, transparent pricing and easy returns. So, how can you cater your online business to meet these shoppers' expectations?
Here are some ideas to get you off on the right path to building a lucrative European customer base.
What do European online shoppers expect?
Europe is one of the world's top e-commerce markets, with an estimated €717 billion ($850 billion) in sales in 2020 alone — a 12.7% increase since last year. Its top national market by far is Great Britain, followed by France and Germany.
Since most countries in Europe are part of the European Union and many of them share a single currency, the euro, Europeans are very accustomed to easy cross-border transactions and international shipping.
This makes it a little challenging for non-European companies to compete in Europe. That's why it's so important to offer your potential customers the same level of service and convenience that they expect when buying from a European shop.
Here's what European shoppers expect from their online retailers, according to the E-commerce Delivery Compass, a study among 8,000 European consumers:
Attractive delivery costs: When it comes to shipping, 53% of European online shoppers say that costs of delivery are "very important" to them. That means keeping delivery costs low, or even free, is definitely a benefit for American retailers trying to appeal to European shoppers.
Relatively quick delivery times: Most Europeans (around 62%) expect a delivery time of 2 to 3 days for goods bought online. The expectation for fast shipment is even greater in smaller countries, like the Netherlands, where consumers expect orders to deliver within 2.4 days. In France, shoppers are willing to wait 3.4 days on average.
What's the maximum delivery time? On average, the longest delivery time European shoppers are willing to accept is 4.4 days.
What if the delivery is too late? Late delivery is always disappointing for customers, but it's not necessarily a deal breaker: Only 30% of European shoppers say they'll never order from a company again if there's a delay in shipping. This number rises to 64%, however, if the package fails to arrive at all.
What if the delivery fails? In case of a failed delivery, European consumers tend to place equal blame with both the retailer and the delivery company. And around half of them expect a full refund in case of a failed or damaged delivery.
How has COVID changed expectations? Europeans are shopping more online since the beginning of the COVID pandemic, ordering 2.7 products more than usual, on average. They are also more patient with delivery times now, even saying that they're willing on average to wait up to 6.4 days to receive their orders under current conditions.
Localizing your online shop for European customers
One thing that's also important to remember is that Europe is a very diverse market. Each major market speaks its own language. Some markets, such as Great Britain, have their own currency, while others, such as Germany, France and Spain, all use the euro.
Localization is essential if you want to reach European customers. But how can you offer your European customers a great, personalized shopping experience that makes them feel like they're doing business with a trusted local retailer?
Speak the language: Translate your site, including all product descriptions and policy statements, into the local language for the country or countries you wish to target, and give customers an option to switch to the "local" version of your site, based on which country they're located in. It's not only important for your UX, but also to have the right SEO strategy in place.
Use local currencies: Once your customer switches to their "local" version of your site, all prices should be shown in the correct currency. Usually, this is euros, but some countries, such as Great Britain, Switzerland and the Scandinavian countries, use different currencies. Also be sure to display prices including sales tax, as this is the norm in most European countries. If this is not possible, then at least display tax and any customs duty information during checkout.
A great example is the online strategy of Macy's. The retailer ads pop-up on their website informing Dutch customers about the tax and shipping costs before they even add products to their checkout. This shows transparency and decreases the chance that customers leave the website and checkout.
Show actual shipping costs: Be sure to clearly provide shipping information and prices for each specific country. Remember that shipping costs are the number one reason why European shoppers abandon their shopping cart without completing a purchase. So, avoid unpleasant surprises and be up-front about shipping costs.
Accept popular payment methods: Did you know that in Germany and Austria, the majority of online purchases are paid "on invoice" after the customer receives the merchandise? In the Netherlands, an online bank transfer option called iDEAL is the most popular payment method and in Italy cash on delivery, in which consumers pay the delivery guy, is most preferred. Be sure to offer a range of payment methods, including the ones that your European customers expect to see. PayPal is always a great option, as it enables easy international transactions.
Is your product attractive to European customers?
It's important to be realistic about how many European shoppers are actually interested in buying your products. There are a few hurdles that you'll have to overcome as an online retailer trying to make it big in the European market.
The main deterrent that puts European shoppers off of buying internationally is the cost of shipping, followed by the potential for extra costs (such as customs duties) and difficulties in returning items.
US-based watchmaker Movado has recently overhauled its online shop to reach the European market.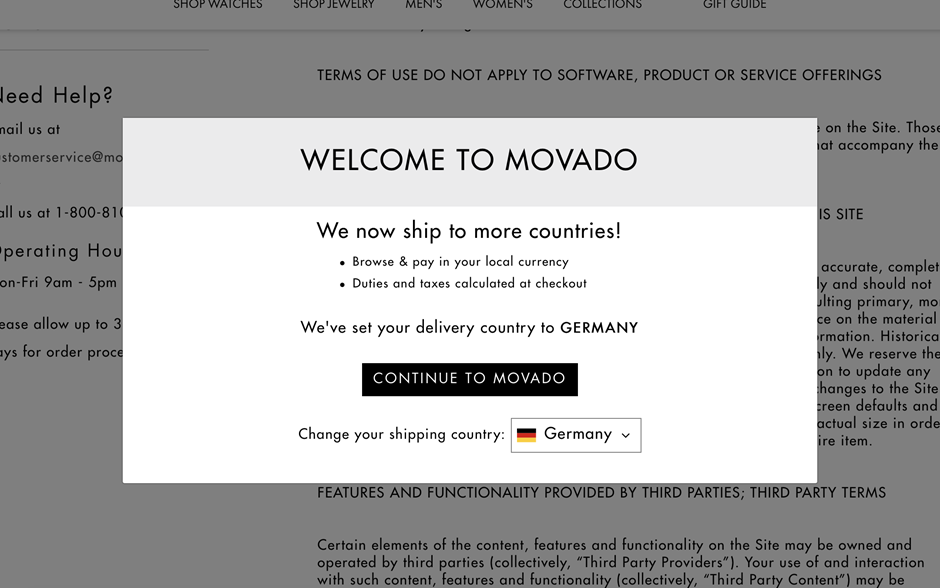 Movado's approach has been successful so far, because it combines these key elements:
Localized pages: The Movado site is (partially) localized for each European country and automatically switches to the local version, depending on where the shopper is located when they access the site. Prices are shown in local currency, although the language options are limited only to English and (Canadian) French.
Transparent pricing: Taxes and any customs duties are calculated for the customer during the checkout process. This is communicated clearly to the shopper in the pop-up that appears when they first arrive on the website.
Fast, free deliver: Now, here's where Movado really goes the distance to win over its European customers: they offer free delivery to every country in the European Union, as well as Switzerland and Great Britain. And they deliver within 3 to 5 working days, placing them within the delivery window that European shoppers expect.
Niche product: Movado offers its European customers something they can't get anywhere else: unique designs for their luxurious watches. European shoppers know that they will need to order from Movado if they want one of these watches, which gives Movado a competitive edge.
And since Movado offers the same fast delivery as Europeans could expect of a local online retailer, they lower the threshold even further, making it even more likely that European customers will buy from them.
Shipping to Europe: How to ship like a local
Shipping from the United States is one of the main obstacles for selling to European customers. In the past, it's generally been pretty tough for American retailers to compete, because shipping from the United States to European countries can be expensive and time-consuming.
The good news is that increasing competition among international couriers has made international shipping more accessible, even for smaller e-commerce retailers. Plus, many European consumers are now willing to pay for shipping and even accept longer wait times, assuming you're offering them something they can't get anywhere else.
Here are some things to keep straight if you want your shipping strategy to resonate with EU shoppers:
Costs are more important than speed: Remember that European shoppers are more concerned with keeping shipping costs to a minimum than they are with having to wait. However, don't keep them waiting too long, considering 4.4 days is the normal average they're willing to wait.
Willingness to pay for extra delivery options: Nearly one in three Europeans say they'll gladly pay extra for same-day or next-day delivery costs. This may be a little too pricey for items shipped from the United States to Europe, but consider adding Express delivery to your shipping methods so you offer European consumers a choice whether or not to pay extra for fast delivery.
Stick with popular carriers: Each European country has its own local preference when it comes to couriers. In Great Britain, for example, online shoppers love receiving their merchandise through the country's biggest carrier, Royal Mail. For German shoppers, it's hard to beat local favorite DHL. In France and Italy, shoppers like DPD and its local subsidiaries.
So, remember to do a little research to see which couriers your European shoppers expect to deal with, and be sure to offer them the couriers they want the most.
Tracking is extremely important: Especially for long-haul deliveries, tracking can be a great tool to build trust with your shoppers. European shoppers expect to be kept well informed of their order's shipping status. Most prefer to receive notifications by email, but apps and text messaging are also very popular ways of receiving notifications now, especially in Great Britain, where most online shoppers buy using their smartphones.
Customs regulations for shipping to Europe
One final thing to keep in mind when selling to European customers is the need for following international shipping and import rules. Customs legislation in European countries prohibits certain kinds of products from being delivered here. And you (and your customers) may have to pay additional fees for importing merchandise from outside the European Union.
Here are some important things to keep in mind when shipping your merchandise across international borders into the European Union:
Some items cannot be shipped internationally: Check the legal requirements for the country or countries where you're shipping to. In most cases, it is illegal to import items that may be dangerous (such as hazardous chemicals, most medications and flammable items such as lighters). Most weapons are also off-limits. So are perishable items, like fresh foods.
Fill out your customs declaration correctly: A customs declaration is a detailed description of the items you're shipping. It also requests a Harmonized System (HS) code. This is a commodity code that classifies goods so that customs authorities know which taxes, excise duties, and controls apply. It will help to clear customs fast and to not experience any delays in the shipment of the package. Make sure to save a copy for your records, so you always have it as a backup.
Get the address right: European addresses are often formatted differently than US addresses. This makes it important for you to provide customers with localized forms for capturing their address details during the order process. Ideally, this information should be automatically transferred to the shipping label to avoid any mistakes.
Insure high-value items: If you're shipping valuable items, consider applying additional shipping insurance to cover you in case of any loss. Some couriers already offer insurance for parcels up to a certain value. It can take a long time to process claims and for expensive shipments not all costs are covered. Always check what's standard insured. As a rule, the further your item has to travel, the greater the chance that something can go wrong. So, don't risk shipping high-value items to Europe without insurance, unless you're willing to take the loss if they wind up getting lost.
Return shipping: Transparency is key
Just like American online shoppers, Europeans frequently return items bought online, either because they don't fit or simply don't meet the customer's expectations.
The EU itself heavily regulates returns and refunds. So if you sell in the EU, your business has to be compliant with the right to return and you will profit from having a return policy.
Return shipping is an important part of any online retailer's customer satisfaction strategy. Offering a hassle-free returns policy, including benefits like extended returns periods or easy ways to return items, is a proven way to boost customer retention and generate new sales.
But how is return shipping different when you're selling internationally? Let's look at how the US-based department store Nordstrom handles returns at its very popular international online shop, for example.
International shipping information is prominently displayed: As soon as a customer arrives at the Nordstrom site, if their browser detects that they are in Europe, they will see a bright red banner at the top of the screen drawing their attention to international shipping information. This transparency is very important, because 56% of European online shoppers say they always check the returns policy before deciding to make a purchase.
Free shipping isn't included: There is no requirement for retailers to offer free return shipping. In the case of Nordstrom, they do offer free return shipping for items returning from the customers inside the U.S., but clearly state that this option is not available for their international customers.
Around half of European shoppers say they will not bother to return a product if the return shipping costs too much. This might prevent customers from returning merchandise for a refund, but it may also cause them to think twice about ordering from your shop again. If free shipping is definitely not an option for your international returns, then at least be very clear about communicating this to customers before they place their orders.
Duties, taxes and tariffs may be eligible for a refund: Depending on the value or type of merchandise you're shipping and the Incoterm you choose, your customer in Europe may be required to pay import taxes and fees when the item is delivered to them. Nordstrom offers to help customers receive a refund for those fees in case they return an item. This is also obligated by the European right to return. Any costs made related to ordering the item must be paid back. They do this by providing a form for customers to fill out, which the customer must then send by mail to a third-party company called Borderfree.
Ready to start selling in Europe?
With the wide range of fast international shipping options at your disposal, reaching European customers is more achievable now than it ever has been. If you're ready to bring your products to a larger international audience, it's certainly worth a try. Just remember to account for the expectations of your European customers and be sensitive to their needs. In return, you might just win over an enthusiastic European fanbase for your "Made in the USA" brand!