Did you know that there is a marketing channel with nearly 100% reach? It's always in your pocket or on your desk, and you've probably sent a message with it within the last hour. It's texting, and more and more companies are turning to text (also known as SMS) marketing in order to reach their customers while they are on the go.
In fact, 98% of text messages are read, with 90% of them being read within 3 minutes of delivery.
This underused, but growing, marketing channel is giving eCommerce companies a big leg up on the competition. This is because their alerts and messages will get read at rates much higher than traditional email marketing.
According to Salesforce, over 60% of marketers feel unequipped to reach their audience across multiple channels. Companies that can reach customers in multiple ways are more likely to find a customer's channel preference, leading to better engagement.
We've come up with some of the best tips for using SMS marketing to boost your eCommerce sales. Let's jump in!
1. Grow Your Audience with Mobile Keywords
A mobile keyword is a word or short phrase that customers can text to a phone number that subscribes them to your text marketing lists. Keywords can be displayed on your website, on your mailers, advertised in TV and radio ads, and promoted on your social media, allowing you to reach your audience and grow your following tenfold.
Customers won't always want to sign up for your marketing lists if you don't give them incentives. To remedy this, you can offer deals and coupons in order to sweeten the deal and gain subscribers, while also driving traffic to your online store immediately as they sign up, so it stays on top of mind.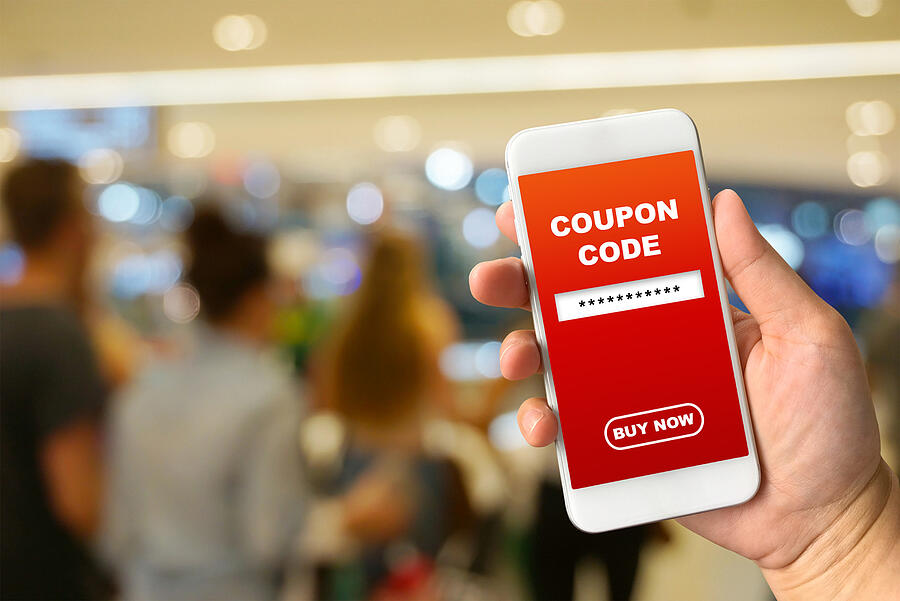 Expanding Mobile Subscribers Through Online Signup Pages (OSPs)
Online Signup Pages (OSPs) serve as another effective method to augment your mobile subscriber base. These are web-based forms that customers can easily fill out to opt into your communication. Integration capabilities with platforms like Typeform ensure seamless addition of these contacts into various systems.
Advanced texting solutions can further interact with these subscribers post-signup, prompting them with questions and cataloging their responses. This facilitates tailored messaging. The intrinsic cost-effective nature of text marketing, largely an inbound strategy, offers significant advantages. Invespcro's studies highlight that inbound marketing trumps other methods in lead conversion by tenfold and leads secured through inbound channels are approximately $14 cheaper. This emphasizes the higher value of leads acquired via mobile keywords, expediting sales conversions.
2. Tailoring SMS Content for Optimal Engagement
For meaningful subscriber engagement, continuous interaction is key. Addressing their queries and notifying them about crucial updates is essential. But the manpower this demands can be beyond many businesses' capacities. Enter automation.
Automation empowers businesses to intuitively engage with their audience and dispatch customized content and promotions. This boosts both revenue streams and brand allegiance.
Salesforce's research indicates that a staggering 79% of consumers are inclined to share personal data in exchange for valuable interactions, including tailored product offerings. This figure escalates to 88% if these offers align with their preferences. The true challenge isn't convincing this vast majority to divulge information, but whether businesses can afford not to solicit it.
3. Dispatch Links and Monitor Their Engagement
Similar to email strategies, text messages can incorporate hyperlinks redirecting to specific webpages. Opting for a text messaging platform equipped with tracking capabilities can provide insights on user engagement with these links. For instance, non-engaged users (those who didn't click) could receive a reminder, while those exhibiting interest (clicked the link) might be incentivized further with exclusive discounts.
Understanding customer preferences and monitoring their engagements, like text responses or link clicks, is paramount for sustaining repeat business. The capability to document and employ this information for future outreach initiatives is an invaluable asset for businesses.
Link tracking has other great uses, like testing different versions of messages to see what is most effective. Say, for example, you're an electronics retailer running a Black Friday promotion. You can send links at different times of day or with different promotions weeks before your sale. With link tracking, see what types of messages get the most engagement so you can use them as a template in future campaigns.
This is great for testing and refining your text marketing campaigns, leading to a better ROI based on what you learned about your customers' behaviors and habits.
4. Send Abandoned Cart Messages to Drive Sales
We've all done it. You see a product that you want to buy, add it to your cart, but then get distracted or need time to think the purchase over. In fact, it's been found that up to 75% of carts are abandoned, which means you need to have a cart abandonment solution. Text marketing has the perfect solution.
Abandoned cart reminders sent via text are messages that remind customers that they have something in their cart and that they need to check out.
The best thing about these reminders is they can be done automatically, generating more revenue without having to dedicate sales or customer support representatives' time to try to get more sales. While there are cart abandonment email systems, they are not as effective as text messages, as only about 20% of emails are opened compared to 98% of text messages.
A text message costs a fraction of a cent. So, the ROI of sending a customer a reminder to check out and the customer following through with their purchase means you will drive more sales with minimal impact on your bottom line. That's a win-win.
5. Combine SMS Marketing with Other Channels
While SMS marketing is very effective, it never hurts to diversify. When you supplement your SMS marketing with industry standards like email marketing and social marketing, you ensure that virtually your entire intended audience will see your product offerings, leading to more leads and a higher conversion rate.
How do you combine these in a way that unifies your marketing channels? The easy answer is finding a partner that can do this for you, as using multiple systems is inefficient and can lead to lost information or slow response times. When you are looking for a partner, make sure they can do email and SMS marketing, as well as other channels as needed.
The great thing about combining email with SMS is they often can complement each other nicely. This is because they both offer similar feature sets while still letting you cater to your subscribers' channel preferences. For example, you can send an abandoned cart reminder via both email and text, while still enabling link tracking so you can track click throughs and see what channels your subscribers react best to.
Voice marketing is generally not effective with the younger crowd, but older customers may still appreciate this. On the flip side, older customers may not use social media as much, but social media posts about your sales might attract a younger crowd and boost both subscribers and sales. The widest possible net you can cast across different channels means you will land more sales, full stop.
6. Streamline with SMS Marketing Automation
Harness the power of SMS marketing automation platforms to send timely, personalized messages and alerts to your customer base. With marketing automation, you can swiftly engage potential customers, solicit more feedback, and optimize your marketing strategies.
For your eCommerce venture, such automation can mean dispatching sales notifications or tailoring coupons to match customer preferences, ensuring you're not offering gadgets to a sports enthusiast or vice versa.
One of the standout features of automation is the ability to run segmented drip campaigns. By setting predefined triggers like a clicked link or a keyword text, your SMS marketing software can execute sequences at your chosen intervals.
For instance, after a customer opts in with a keyword, they can receive an invite to explore your online store, complete with a redeemable coupon. Following a stipulated time, like a week, another enticing offer can be dispatched, ensuring consistent engagement without overwhelming them.
7. Incorporate SMS within Your Existing Framework
A streamlined customer journey is the expectation. It's crucial that customers don't have to reiterate information or grapple with disjointed communication channels. Fortunately, robust integration doesn't necessitate an extensive coding team.
Platforms like Zapier facilitate the seamless amalgamation of numerous applications. For example, when someone registers on a Shift4Shop website, this could simultaneously update their Salesforce record and trigger an SMS with a welcome message or exclusive deal. Such integration conserves time and minimizes potential lost opportunities.
Furthermore, reliable API integrations empower businesses to synchronize their multi-channel marketing efforts, bridging SMS and email campaigns. This consolidation prevents the hassle of disparate platforms, offering marketing and sales divisions a holistic solution to maximize leads and conversions.
In Conclusion
SMS marketing, currently an under-tapped goldmine, is poised for exponential growth in the imminent future. By capitalizing on this channel now and nurturing a devoted clientele, the potential growth for online enterprises is boundless.
From enhancing lead generation via mobile keywords to capitalizing on abandoned cart reminders, no eCommerce entity should overlook the addition of SMS marketing in their toolkit.
Diving headfirst isn't obligatory. To familiarize yourself with SMS marketing, start with a couple of these tactics, and observe the transformative impact on your business trajectory.