One of the biggest challenges with the digital side of nonprofit marketing is that there are so many platforms, tools, and systems to learn that it can quickly overwhelm even a large organization. And if you have frequent turnover among your support staff, the challenge is magnified.
A way to simplify and combine many of your online marketing efforts is by using WooCommerce. Even if your organization is already on WooCommerce, there may be new ways to use it to expand your mission more effectively.
With WooCommerce, your nonprofit can sell merchandise, host and run events, accept donations, set up email automations, and so much more — all from the same platform.
In a moment, we'll look at some specific ways you can get more out of WooCommerce, along with some examples of real nonprofits already using some of these powerful features.
But first, consider some of the top reasons nonprofits, as well as businesses, prefer to use WooCommerce for monetizing their online activities.
How WooCommerce empowers nonprofits
WooCommerce and WordPress are free. That means two core foundations of your nonprofit's entire online presence can cost you nothing, while other eCommerce platforms charge a monthly fee that can be hiked up based on the amount of traffic you get.
With this cost-free foundation, you have more freedom to purchase the extensions and plugins that you need to help your nonprofit get everything it can out of its site. WooCommerce and WordPress also offer:
Ownerships of the site backups that protect your data.
Control over your SEO.
Over 300 extensions built specifically for eCommerce.
A community of developers and site owners who meet up in 400 cities every year.
Complete customization and flexibility.
For those who want to alter code to fit their goals, WordPress' open-source nature provides that flexibility, but if you don't want to mess with code, you have the option not to.
You also get unlimited product variations. What does that mean?
One of the biggest reasons to use WooCommerce as a nonprofit is to sell merchandise, like hats, shirts, mugs, branded materials, or custom-made goods that relate to your mission.
But shirts, for example, come in several sizes, and often several colors. Each combination of size and color is a different variation. With WooCommerce, there's no limit to the number of variations you can offer. Other eCommerce platforms can limit those variations, or charge extra for higher amounts.
Now, here's how nonprofits already using WooCommerce can get even more out of it.
Seven ways to make the most out of WooCommerce
1. Name Your Price
WooCommerce has an extension called Name Your Price, which can be used in several ways.
Firstly, it can accept donations, and because it allows a donor to set their own price, it's perfect for open-ended donation requests.
Second, if you're selling merchandise, but you like the democratized concept of letting your supporters name their own prices — like a suggested donation — the extension allows you to do that. You can also set a minimum amount so you don't lose money.
2. Subscriptions for recurring donations
Next, with the WooCommerce Subscriptions extension, you can enable your patrons to give recurring donations. This extension pairs up perfectly with Name Your Price, allowing a donor to choose their own donation amount and then set it to charge monthly. This extension also sends automated renewal notifications so your donors won't feel blindsided by repeat charges.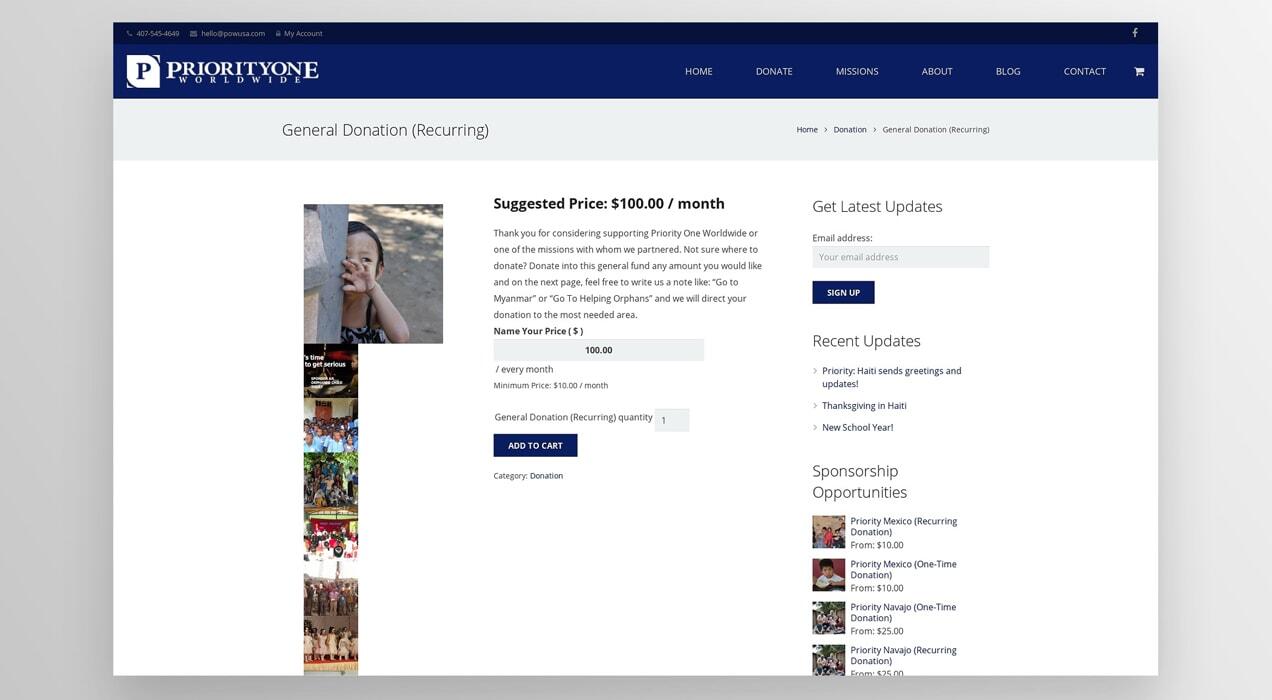 Priority One Worldwide is a nonprofit that combines both of these to accept recurring donations of any amount. See these extensions in action on their donation page.
3. Sell event tickets
Whether you're hosting fundraising events virtually or in person, WooCommerce Box Office makes it easy to sell tickets.
For example, include coupon codes for special, early-bird pricing and other discounts. Create different types of pricing packages, such as one for tables and one for individuals, or a VIP package that includes a free gift.
4. Allow add-on donations for product purchases
This is an alternative approach to the "name your price concept" for merchandise. Using the Product Add-Ons extension, you can have fixed prices for products but give buyers an option to add on a donation.
This powerful extension also allows for customized merchandise. If you're doing a 5k run event, for example, you could sell shirts to each team with personalized names alongside your branding. Or a business sponsor could get shirts and mugs with their logo next to yours.
5. Recommend products on your checkout page
Another approach with merchandise is to do what you see on the checkout pages of many other eCommerce sites. Using the Product Recommendations extension, you can add a few products to the checkout page that the donor or buyer might be interested in.
For example, a person may come to your site just to make a donation. But on the checkout page, they see your merchandise and may decide to buy something in addition to their donation. Or, on the flip side, if they're buying products, you can set it up so that making a donation is the 'product' recommendation.
6. Simplify your donation process
Some nonprofit donation pages are very clunky, making the donor jump through several pages just to give, which means you will lose a portion of people at every step.
With WooCommerce One Page Checkout, people can complete their transaction on a single page, reducing the number who give up on donating after starting the process. The business world calls this 'cart abandonment,' but it's just as big a problem for nonprofits. This extension will reduce your 'donation abandonment.'
7. Amplify your online marketing efforts
With WooCommerce, you can bolster your SEO, do email and social media marketing, and create and post content — all from the same platform.
And there are a lot of marketing extensions available to help you with those strategies and more. See what else you might like in our complete extension library.
Get inspired and take action
The World Wildlife Fund uses WooCommerce to sell their merchandise. By visiting their online store, you can see their specially-crafted products that adhere to strict production standards.
You, too, can make the most of WordPress and WooCommerce for your nonprofit. With endless flexibility, full control, and a variety of powerful tools designed to help you grow, there's no better place to call your online home.
For more examples of nonprofits using WooCommerce, see our nonprofit showcase. Or simply get started today.