How to Maximize Efficiency with a Multichannel Store
Managing just one platform can be a lot of work. When you start adding others to your business — whether that's Magento eCommerce, WooCommerce, eBay, Amazon, Etsy, or another selling tool — it can become complicated. The key to simplifying store management across multiple channels is to follow these four basic principles: eliminate, automate, delegate, and communicate. Operating with these concepts in mind will help you stay organized, efficient, and profitable.
Eliminate unnecessary expenses and tasks
When growing your brand across sales channels, you might find yourself adding on new services, engaging additional contractors or agencies to help with platform-specific needs, or ordering large quantities of new products. Growth usually comes with a jump in expenses before you see the return on your investments, so you should look at ways to cut costs.
Here are a few things you can do to reduce strain on your cash flow and workforce:
Retire products that aren't selling well or have the lowest profitability
Removing underperforming inventory will save you time and money. Check your sales reports, look for items that aren't very profitable, and remove them from your store.
Now, sometimes a product may perform poorly on one channel while being a best seller on another. Instead of completely removing that item from your business, shift it to the store where it's selling the best. This will save space in your other shops and in your warehouse, while naturally curating store content to the items that are most popular and profitable.
Drop low-performing ad campaigns and advertising channels
The more stores you manage, the harder it is to track ad campaigns and marketing channels. You might be using Google Ads, Facebook, and Instagram for your WooCommerce store and also running ads on Amazon, eBay, and Etsy specifically for your products on those platforms.
Monitor your campaigns closely and disable any ads that aren't hitting your cost per acquisition (CPA) benchmarks. If you find that a particular advertising channel is underperforming consistently, drop it and focus on the avenues that are working best.
Terminate or consolidate contracted services
As your business grows, you may find yourself paying for services your company has outgrown or you may be engaged with redundant service providers. This not only eats away at cash, but it requires more mental effort to coordinate. It may be time to hire an agency that has enough qualified staff to manage everything under one roof — or perhaps it's time for you to hire a few full-time employees.
Take a look at your records and run reports on expenditures. If you use a time tracking app, keep tabs on how much time you spend communicating with your contractors. Compare your expenses and time spent in different areas, review the capabilities of the contractors and agencies you're working with, and prioritize consolidation based on your goals. If time savings is your highest priority, you might make different decisions than if your primary goal is to reduce costs or expand services.
Automate your workflow
Time is your most precious resource. You can make more products and more money, but you can't make more time. The more platforms you sell on, the more time you'll spend managing them. Some things have to be done manually, but whenever possible and practical — automate.
Sync with your accounting software
If you aren't using accounting software, this is the first thing you should do. There are a variety of options, but Quickbooks and Xero are two of the most popular tools. If you're using either of these programs, QuickBooks Sync for WooCommerce or the Xero extension will connect your WooCommerce store. You can sync orders, products, payments, inventory, and even your payment gateway fees.
The nice thing about using some of the more popular accounting systems is that they often have integrations with other eCommerce software and marketplaces. For instance, QuickBooks has an integration for Amazon, eBay, Walmart, and Etsy and so does Xero.
Sync inventory across channels
If you need to manage product listings and track inventory between WooCommerce and other channels, Sellbrite can bring that management all under one roof. Connect your stores with Sellbrite to sync current products and inventory. When you're ready to add new products, you can create them directly in Sellbrite and upload them in bulk to all your connected shops — up to 100 products at a time.
Import affiliate products directly to your WooCommerce store
If you offer a lot of affiliate products, you can make the process of setting them up easier by using integrations like eBay Product Importer & Affiliate, Walmart Product Importer & Affiliate, and Amazon Product Importer & Affiliate.
You can automatically import product data such as:
Product name
SKU
Description
Price
Images
Brand
Categories
Variations
Features
Customer reviews
Simplify product fulfillment
ShipStation integrates with most major marketplaces to help you provide a consistent fulfillment experience across all your sales channels. Connect your WooCommerce store to ShipStation with the ShipStation Integration extension. With this cross-channel order fulfillment software, you can automatically tag orders with special identifiers like 'fragile', 'needs insurance', 'high priority, etc. so your warehouse will know how to pack and ship the order. You can automate split shipments, bulk print shipping labels, and send customers SMS texts with tracking updates.
Automate sales tax calculation and payment
Sales tax is no joke. It's complicated, but every merchant selling physical and digital goods is required to pay sales tax in most (but not all) US states if they meet nexus requirements. If you're unsure of the sales tax laws and obligations in your area, enlist a tax professional to guide you through the process.
Things become a tad more complicated when you operate on multiple channels because you have to consider your combined sales from all platforms when calculating your tax requirements.
Take some of the confusion out of sales tax management and remittance by using a tool like TaxJar or Avalara. Not only can these services calculate sales tax rates for your store, they'll determine when you've met requirements for sales tax nexus based on your quarterly sales volume. You can even have them automatically file and remit payment to states on your behalf. Even better — they'll automatically combine sales figures from all platforms to make sure you get a complete picture of your obligations.
Whether you sell internationally or not, if you operate on more than a single channel, you should check out Avalara's Multichannel Seller's Guide to Sales Tax.
Use a third-party app connector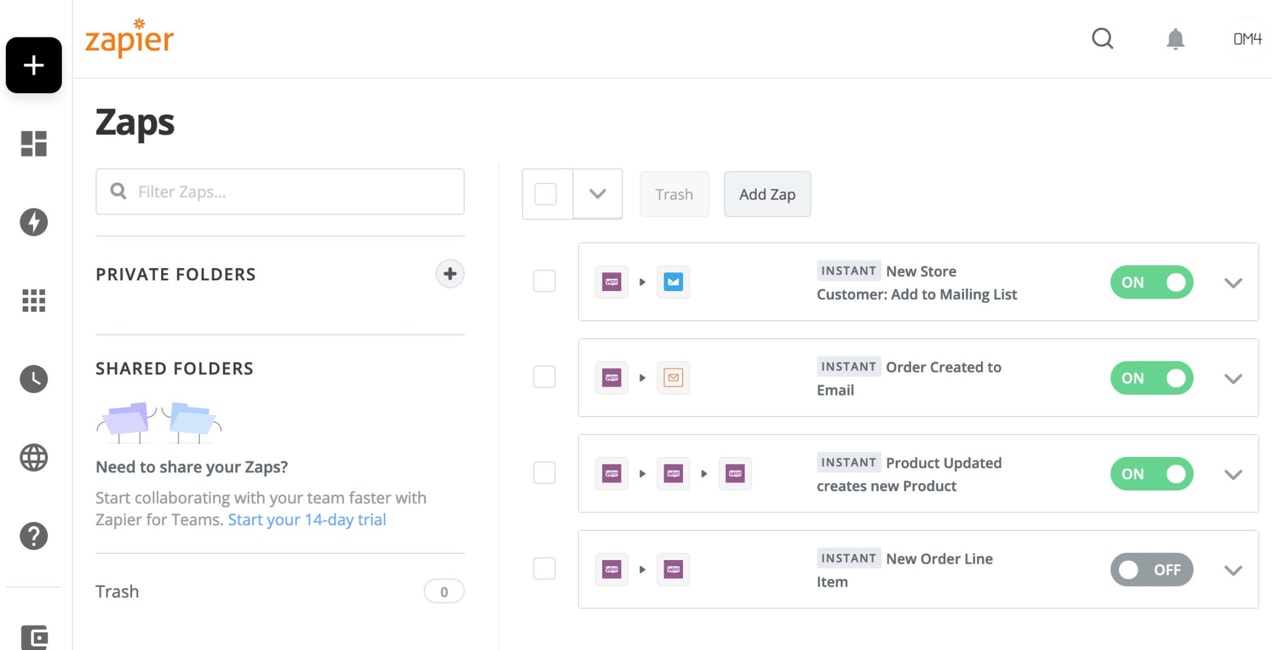 Looking to automate parts of your workflow with software that doesn't have pre-built integrations? A third-party app connector like Zapier can be used to automate tasks between your WooCommerce store and other channels that you sell on. With the WooCommerce Zapier Integration extension, you can create complex workflows using if-then statements and connect with over 3,000 cloud apps.
Delegate projects to those best qualified to do them
Especially if you're a smaller business, you may be used to doing your own bookkeeping, creating your marketing calendar, or managing logistics and customer service. As you expand your business across more sales channels, you'll be increasingly stretched thin and you'll need to start delegating some of your work to another service provider. Things you should consider delegating are:
Bookkeeping
Even if you have your sales channels synced with accounting software, you'll still need someone to reconcile transactions and export reports for your tax preparer. Bookkeeping is usually every store owner's least favorite task, so outsourcing this task to a professional will make sure the work is done correctly and that you have more time to focus on the aspects of running your business that energize you.
Sales tax management
Tax laws change over time and so do the operational specifics of your company. Maybe you added a new employee who lives in a state that you previously did not have nexus in. Guess what? You now have a sales tax nexus. Changes like these can be easy to overlook, so it's useful to have a sales tax professional review your accounts every year to make sure you're complying with current laws.
Other specialized work
Copywriting, photography, graphic design, and web development are all specialized fields. If you're doing these things yourself and don't have much experience, they may be costing you valuable time and producing less than satisfactory results. Outsourcing these projects to professionals will improve the quality of the work being done while giving you the opportunity to focus on your own areas of expertise.
If you don't have a need for a high volume of work in one area, but it's still more than you can manage on your own, a freelance individual may be the right fit. Or, if you have tight deadlines and daily projects that may take 20-40 hours a week to complete, it may be time to hire an employee.
Communicate clearly with your customers
While you probably love interacting with your customers, it requires time for both you and them. Without clear communication, you'll find yourself answering the same questions on a daily basis and notice that customers' patience is growing thin.
Stay one step ahead by anticipating questions and communicating clear expectations. Your customers will be happier, and you'll have more time.
Develop a brand identity guide
Your customer should know that they're buying a genuine product from your company no matter where they're making the purchase. Ensure that you and your team are using consistent design and copywriting rules across all your channels by creating a brand identity guide. This guide should provide details about your company's color scheme, fonts, logos, imagery style, and voice and direct how these elements are to be used in different contexts.
Make sure to include reference guides for file dimensions and size limits, layout requirements, and restricted content specific to your various sales and advertising channels. Incorporate any additional brand style requirements that may be unique to each platform. Limiting the need for major revisions by setting clear rules and expectations will save you time and money while helping your brand stay consistent and recognizable.
Direct customer service back to one source as much as possible
Whether you're fulfilling your own orders, using Fulfillment by Amazon, or contracting with another third-party logistics provider (3PL) — or a combination of all three — it's important to drive your customer back to a single source for all their questions. Here are a few things you can do to drive people back to your WooCommerce site for customer service, no matter where they bought their product:
Add a satisfaction card to your product packaging. Include a small card in your packaging that encourages customers to leave a review on your website or reach out to your customer service team.
Add an FAQ page or a knowledge base to your WooCommerce store. In your product guides, customer receipts, and social media channels, direct customers back to your website's FAQ page or knowledge base for answers to their questions. This keeps you from having to update FAQs in multiple places and ensures that the information you're providing customers stays up to date.
If you're using a CRM, connect all channels of customer inquiry. No matter how hard you try, customers will still reach out through avenues that are not convenient for you. Connect your WooCommerce site, social media accounts, email accounts, and even your phone number to your CRM. Manage all your customer service from one spot, no matter where the inquiries originate from.
Work efficiently with your team
Your team is the heartbeat of any growing business. They're the closest thing you have to cloning yourself (every entrepreneur's dream!), so equipping them with the right tools is worth every penny. Processes and training go a long way here, but so does being open to their feedback and adapting as you grow.
Here are some tips to make the most of your team:
Manage projects with productivity software
There are a lot of options to choose from when it comes to productivity software. It can be difficult to discern which tool will work best for you and your team, but using something that keeps your projects and task management all in one place is key to staying organized. It will help everyone you collaborate with use their time more efficiently and give you high-level data about how employees' time is spent and where there are workflow areas that could be improved.
If you don't want to purchase a productivity tool right away, you can try out some options that offer forever-free accounts like Asana, Trello, Clickup, Wrike, and Hubstaff.
Use time tracking software
See where you and your team are spending the most time and track staff or contractor hours with Clockify. This cloud-based time tracking app offers a free tier as well as paid tiers depending on the number of features you require. Connect Clockify with Quickbooks to turn timesheets into payroll and pay contractors.
Listen to your team
Last, but certainly nowhere near least, listen to your team. Get feedback from the individuals and companies that you work with on changes that could further improve the management of your multichannel business. Take the time to consider their experience in their field and how their suggestions might be used or modified to boost revenue or reduce operational pain points. If you find yourself with an excess of great ideas from folks, strategize and prioritize what suggestions to implement first and which ones to add to a longer-term roadmap.
Growing pains are worth the cost
As you open up your WooCommerce Multichannel Store to additional sales channels, you'll often see your opportunities expand. But while this growth will naturally come with some additional workload, finding ways to eliminate, automate, delegate, and communicate will pay off in the end. It's all about preparation so that you can execute efficiently when the time is right.
Thankfully, WooCommerce has an expansive extension marketplace with tools for almost anything you encounter. View all available extensions.