The life of an entrepreneur is full of unpredictable twists, turns, ups, and downs. It's the desire for adventure and the prospect of what could be waiting down the line that draws many to start their own business.
But those jarring moments and intense maneuvers can be tiring. Whether your business is performing better than ever or you're experiencing a recent slowdown, you can find yourself burned out. So we've put together some helpful tips and tricks to inspire you and provide a little extra motivation.
By nature, entrepreneurs are forging their own path. Your journey isn't going to look exactly like someone else's. There's no perfect playbook, checklist, or schedule for how things should play out. And this post is no different. It's not the perfect remedy for every situation. Take the ideas that make the most sense and apply them to your life.
Note: The community around WooCommerce is all working together for joint success. If you've lost motivation, want to share your experience, or are celebrating recent success, we encourage you to reach out to the community.
A few starting principles
Take care of yourself
Every championship athlete, famous musician, and successful business owner experiences periods of highs and lows. When you're working hard, when you're spending every extra hour planning, grinding, and dreaming, you may experience burnout.
Taking a break or stepping back for a while can make things easier and provide the new perspective often necessary for breakthrough. The WooCommerce community is huge. You're almost guaranteed to find someone who has encountered and overcome challenges similar to those you're facing. Reach out, get involved, and remember that taking care of yourself is important to your long-term success.
Looking for even more resources? Big Orange Heart is an incredible support community designed just for remote workers. They offer everything from coaching and mentoring calls to webinars, workshops, podcasts, and other resources.
Overnight success is rarely overnight
Some people seem to achieve success overnight. They get a massive seed round or are featured on a television show. You haven't seen them in a year or two, but suddenly they've gone from working two jobs to living in the penthouse condo at the most coveted complex in town.
We often glorify fast success or sudden growth. There's even a famous award — The INC 5000 — that recognizes this achievement. Businesses list this on their site as a badge of honor. But this isn't necessarily proof of their product or capabilities.
The reality is that typically behind every overnight success, you'll find years of development, late nights, lost sleep, and countless sacrifices. And sometimes, when the timing is right, businesses can experience skyrocketing numbers. But in reality, they've been planning and working every day for years. Their success wasn't overnight — it was created over 1,825 nights.
Comparison is a good (and terrible) thing
Yes, comparison has its place when looking for ways to improve. How can you do better? How is the competition innovating or operating more efficiently? Is the market oversaturated?
For some people, comparison can serve as a motivator: "How can they be doing things better than I am?" But for some, it's a recipe for disappointment.
Instead, only compare your business to itself. Are you doing better this month? Are you making steady progress towards your goal? Are you further along your journey today than you were yesterday?
How to stay motivated
Okay, but how do you stay motivated? Here's a quick overview:
Find your why (and make it about more than yourself)
Look back on your progress
Reward yourself with a taste of the end goal
Remind yourself not to lose progress
Take inspiration from someone else
Don't go it alone
Attend conferences
Solicit reviews and testimonials
Mix things ups
Be intentional
Limit energy-draining activities and stressors
Listen to your body
Stop worrying about the destination
1. Find your why
If you don't know, truly, why you're doing something, it's nearly impossible to keep going when times get tough.
Think about it: Why did you start your store? Was it because you hate working for someone else? Is it the unlimited earning potential? Did you want a more flexible lifestyle?
Maybe you want to eliminate a problem in your community. Perhaps you strive to give your children an opportunity you didn't have.
Or you just have that true, burning entrepreneurial desire to create, to build, to see an idea turned into reality.
But whatever it is, make it about more than yourself.
It's okay to have selfish reasons for your business. But if you're the only reason, it's easy to stop whenever you simply don't feel like it. You'll let yourself off the hook.
When you make your why about more than yourself, everything changes.
If you put an employee or a client first, for example, you'll be more motivated, your work will be better, and your clients will be happier. Crowdsourcing or selling a new product in advance is great for this. The idea of hundreds of waiting customers will keep you motivated.
Remind yourself of your why
You might find it helpful to set a time each day to dream of the future. Or, place physical reminders like a vision board around your work area. Some entrepreneurs keep pictures of their clients around the office. Some keep images of family on their desk.
But whatever you do, don't just discover your why, remind yourself of it each day.
Want to learn even more? Simon Sinek's book, Start with Why, is the perfect guide.
2. Look how far you've come
Remember when you first started? Maybe you just had a makeshift desk in your closet. Look at you now!
This is when comparison can be used to its fullest potential. Compare your business to where it was a year ago. Look back on everything you've learned and how much more prepared you are than ever before. And allow yourself to be honest and evaluate areas where you haven't grown. Don't think of those as failures, but as opportunities for the year ahead.
Many people start a business to be their own boss. In reality, you're still going to work long hours (at least for a while), but you have more control over those hours. Maybe you still work the same amount of time as your previous job, but now you get to take your kids to school, work on the beach, or attend your favorite morning yoga class. That's still a win!
3. Give yourself a taste
After you reflect on how far you've come, give yourself a taste of success!
Did you go into business to take back your time? Make time for yourself, your family, or your friends.
Did you want to earn extra vacation money? Maybe you can't quite go on an international tour, but take a day trip or weekend getaway.
4. Remind yourself not to lose it
People are often more motivated by the prospect of losing what they have than they are by the opportunity to gain something more. This principle is known as loss aversion and you can use it to your benefit.
You've just reminded yourself of how far you've come — don't let all that slip away now!
Your biggest win is probably just around the corner — don't miss out!
5. Take inspiration from someone else
There's no shortage of amazing entrepreneurial stories that make you realize what's possible. Reading biographies of leaders, or personal development books they've written, is a great way to feel more confident and motivated.
You'll realize that they're humans, too. Some of the most successful entrepreneurs overcame unimaginable obstacles. Though their end result seems perfect and their journey flawless, you'll learn that they went through the same struggles (and doubts!) as you might be encountering.
Take heart — you're creating your own story!
6. Don't go it alone
Solopreneur is a fun word, isn't it? But it's not often fun to live it. Because you're charting a unique course, it can be hard to find people who truly understand what you're going through.
The great news is that you don't need a charismatic staff, a swanky office, or a single sale to tap into the energy of people around you. There are all kinds of online and in-person communities you can join to share ideas, chat, and get inspiration.
Our favorite? We're a little biased, but we think that the WooCommerce Community is the best around. Find local meetups to chat virtually or in-person with other store owners, join the Facebook group to ask questions, or watch WooCommerce Live to hear from experts.
7. Attend conferences
Another way to get refreshed, inspired, and energized is by attending industry conferences. Similar to the WooCommerce Community, WordPress has an amazing network of community-organized conferences called WordCamps. These range from local and virtual meetups with a few dozen people, to national and global events with thousands.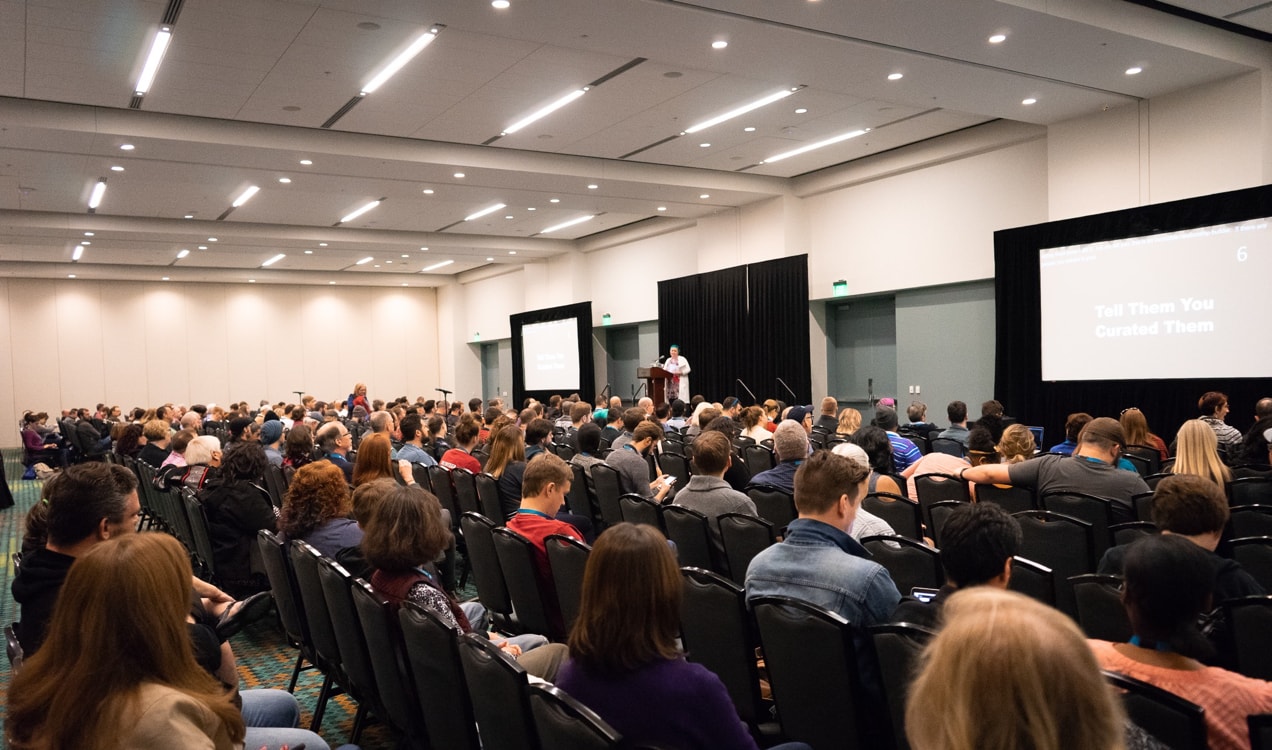 Not only can you learn new skills, you can get inspired and motivated by the success of those around you.
You're also likely to meet other incredible people that can propel your journey. The morale boost, the change of pace, the new scenery, and the social interaction are all worth the price of admission.
8. Solicit testimonials or read (positive) reviews
While criticism is good when you're looking for ways to improve your business, focus on the positive here.
Reading how you've helped your customers can quickly put you in a good mood. When you solicit reviews or testimonials, you may learn a brand new way you impacted someone else's life. You'll see people notice and appreciate the work you've done.
Pro tip for client-based businesses: If someone provides a glowing testimonial, ask them for a referral while your great work is fresh on their mind.
9. Mix things up
Sometimes, a new routine or workspace can add enough spark to reignite your fire. Try working from a library, a coffee shop, or even a new corner of your apartment.
The best entrepreneurs are always looking for ways to be more efficient. So if you find yourself dragging along, consider changing your schedule so that mentally-intensive tasks fall during the parts of your day where you have the most energy. The momentum created will probably carry you further than you think.
Another way to boost productivity or break a lull is by engaging with new tools or cutting out distractions. Turn off your phone or block notifications. Ask those around you to respect a certain time of day when you aren't interrupted.
10. Be intentional
Be careful not to get bogged down by this one. A lot of people confuse planning to be an entrepreneur with being an entrepreneur.
Taking action is still the most important thing you can do. But it doesn't hurt to be prepared. Make sure you're writing down a daily list of objectives and planning your time accordingly.
Some people say to dress for the job you want, not the job you have. Or you may have heard, "dress for success." This isn't a requirement, but dressing professionally (even when working from home) can give you fresh energy. Or maybe you'll find yourself more productive with a nicely decorated and organized office.
Again, these are things that might be good for you. If you do your best work in sweatpants — that's awesome, too.
The point is to put yourself in the right mindset and plan ahead so you're not wandering through the day.
11. Limit stressors and draining activities
This is why you see famous entrepreneurs wearing the same thing day after day — even the best in the business only have so much energy. Why spend a single ounce of that worrying about an outfit? (Yes, this is literally the opposite of the last point. But remember, pick and choose what works for you!)
When you're in peak seasons of activity, you have to realize your value and understand that, if you're going to put exceptional effort into your business, you may have to pull effort from somewhere else.
Yes, you can cook dinner tonight, but it might be worth it to order takeout. Yes, you can do your own yard work, but it might be worth hiring a professional for a while. This doesn't mean you're lazy or wasteful. And it isn't even about saving money. In fact, it might cost you more in the short term. It's about consciously choosing to save your energy for the things only you can do.
12. Listen to your body
You can only push your limits for so long. There's always pressure to work harder or set an example for your employees. That's all well-intentioned, but if you ignore warning signs, your body will force you to slow down. And usually, it's not just for a few hours.
Take time to get rest. If you're able, find ways to get physical activity. Everyone has different needs, so consult with your healthcare professional about the best ways to care for yourself. But care for yourself nonetheless.
And don't forget that your brain is part of your body. Meditation and peaceful relaxation can help your mental focus throughout the day.
Don't sacrifice your body in pursuit of what you consider to be "success." You'll arrive in less-than-stellar condition.
13. Stop worrying about the destination
If you take anything away from this article, I hope it's the idea that, "It's about the journey, not the destination."
You'll be miserable if all you care about is the destination. After all, what is the destination? How do you define it?
The secret is that most people never reach it. You'll make a million and want two. You'll buy a Corvette and want a Ferrari.
Look around you. You're living your own story. You're the star. Whether you're at a low or high point, get some perspective and smile — you're writing a wonderful novel.
Take a deep breath. Reflect on the progress you've made. Reward yourself. Surround yourself with good people, always seek improvement, and enjoy being an entrepreneur.
You're the boss of yourself — be a nice one.