When setting up your online store, you'll need to choose a way for customers to check out and pay for their orders. You're probably used to being able to pay for goods and services online with your credit card, debit card, or even a bank draft. When you input your payment information during checkout on a website, your information is passed through a payment gateway to a payment processor, which executes the transaction between you and the website.
This process of paying by credit card, debit card, or bank draft may seem simple from a consumer standpoint. But as a store owner, your experience will be much different.
There are many payment solutions to choose from with various features and fee structures. You'll have the option to use a distinct payment gateway and a separate payment processor or use a payment aggregator. You may hear these terms used interchangeably — especially payment gateway and payment processor — but they actually serve different functions.
Before you start researching individual providers, let's explore the differences between gateways, processors, and aggregators.
What is a payment gateway?
Think of payment gateways like a credit card reader in a brick-and-mortar store, but designed for online transactions. They securely send the transaction data from the online store to the payment processor, which then transmits the information to the customer's issuing bank for validation.
The authorization status (approved or declined) is then sent back to the payment gateway which communicates the result to the website. This can be completed in a fraction of a second.
What is a payment processor?
The payment processor receives the data from the payment gateway and relays that information between the customer's bank and the merchant's bank. Processors also facilitate dispute settlements between buyers and sellers, issue refunds, and negotiate rates with major credit card companies like Visa and Mastercard. Note that to use a payment processor, stores will also need to create a merchant account.
If you have high sales volumes, this allows you to negotiate directly with banks to get the lowest rates possible. Plus, funds are typically deposited in your bank account immediately and you're less likely to encounter holds.
Because the setup involved with a payment processor can be complex, shop owners often opt for a simpler solution like an aggregator.
What is a payment aggregator?
Some companies offer a complete payment solution, serving as both the gateway and processor. These providers are called payment aggregators. They don't require a merchant account since the aggregator itself acts as the merchant account, negotiating contracts with payment methods on behalf of store owners. Some of the most popular payment aggregators include PayPal and Stripe, both of which have free integrations for WooCommerce.
Advantages of a payment aggregator
Simple setup and implementation
Setting up a merchant account requires quite a bit of paperwork and, depending on the nature of your business, can take a week or more to be approved. Payment aggregators can generally be set up and implemented in just a few minutes.
Less complicated management and accounting
Instead of managing separate accounts with a payment gateway and processor, you only have to manage one. Your accounting and bookkeeping will be simpler.
Cost savings at lower sales volumes
If you're using a payment gateway that's separate from your payment processor, you may pay fees to both. Standalone gateways like Authorize.net usually charge a monthly fee on top of a per-sale transaction fee. Payment processors not only charge per transaction, but also for early termination of contract and PCI compliance. If your store does a relatively low volume of sales, this can put a dent in your profits.
Payment aggregators usually charge a simple per-transaction fee that covers both gateway and processing costs that is often more affordable for smaller stores.
Flexibility
Merchant accounts often require contracts while payment aggregators do not. If you terminate your contract early, you may be charged a hefty fee. Payment aggregators don't require contracts and you can switch payment solutions whenever you like.
The best of both worlds: WooCommerce Payments
There are a lot of great payment solutions available, but there's only one that is designed and built specifically for WooCommerce.
WooCommerce Payments is an integrated payment gateway that allows store owners to view transaction and deposit details, manage disputes, and keep track of recurring revenue directly from your WooCommerce dashboard. There's no need to log into third-party sites or create a merchant account.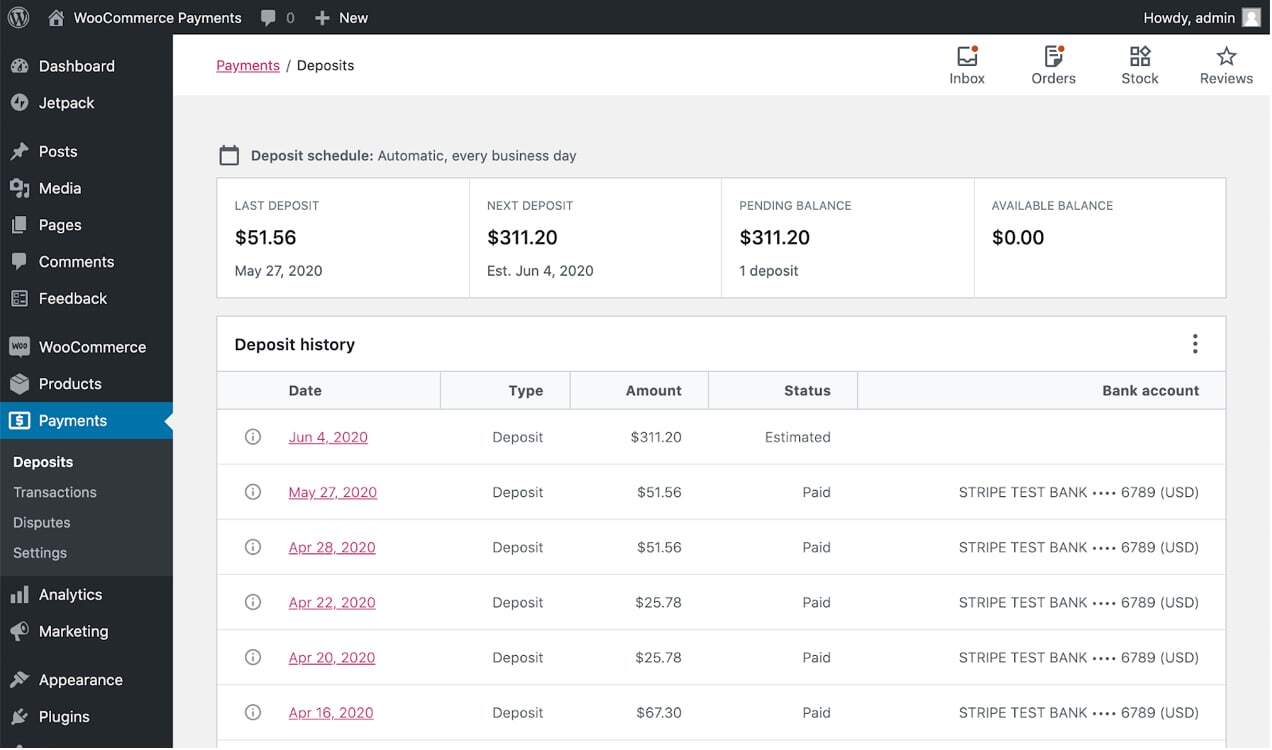 And, while typical payment providers hold funds for at least two days before depositing them into your bank account, WooCommerce Payments offers instant deposits for a small additional fee of 1.5%. All you have to do is request a deposit — which you can do 24/7 including nights, weekends, and holidays — and you can access your funds within 30 minutes. This means you can have your cash when you need it.
If you value efficiency and simplicity, then this is a great solution.
Choosing a solution for your store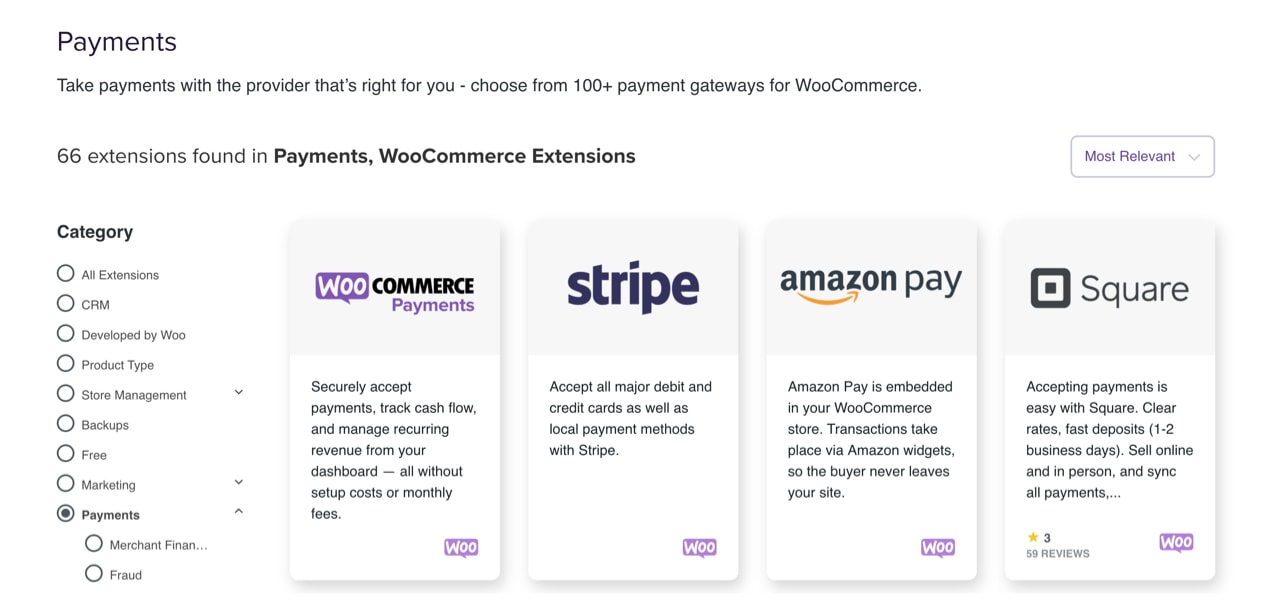 If you're looking for something different from WooCommerce Payments, the WooCommerce Marketplace offers official extensions with top partners. When choosing the right fit for your customers and store, consider the following:
Compatibility with WooCommerce
Some payment solutions may not be supported or might require custom integration from a developer. You can always check the WooCommerce Extensions library and the WordPress.org repository to see if an integration exists.
Support for countries where you do business
Make sure that the payment solution you choose supports payments from the countries you intend to sell to as well as the country your store operates in. If you can't find a single provider, consider using more than one solution to accept payments.
Hosted vs. integrated
Hosted solutions take you off-site to complete a transaction while integrated solutions keep customers on your website throughout the entire checkout process. If you choose a hosted solution, the provider assumes responsibility for data transmission. But you might lose some sales if your customers aren't familiar with the hosted solution or become frustrated with extra steps in the checkout process.
If you choose an integrated solution, your customers will pay directly on your site – a more seamless experience that has been shown to increase conversion rates.
Recurring payment support
If you intend to offer subscriptions on your website, make sure that the payment solution you choose supports automatic billing. Otherwise, customers will have to renew their subscriptions manually, which may impact customer retention and complicate your business management.
Affordability
Not all payment gateways use the same fee structure. Although most payment aggregators have similar standard transaction fees (usually around 2.9% + $0.30 per transaction), some offer discounts for nonprofits, have caps based on transaction volume, or charge additional fees for currency conversion or disputes.
If you decide to use a gateway in conjunction with a merchant account, you'll need to review more complex fee structures. With an independent processor relationship it will be on you to explore volume-based price breaks, negotiate transaction fees from multiple financial institutions, and review additional service fees.
This is another reason that many new stores opt to use WooCommerce Payments. The only fee most US-based merchants will need to consider is the standard fee of 2.9% + $0.30 per transaction.
Comparing payment solutions
The chart below compares fees and features for some of the most popular payment solutions for WooCommerce. All rates are based on merchant accounts located in the United States.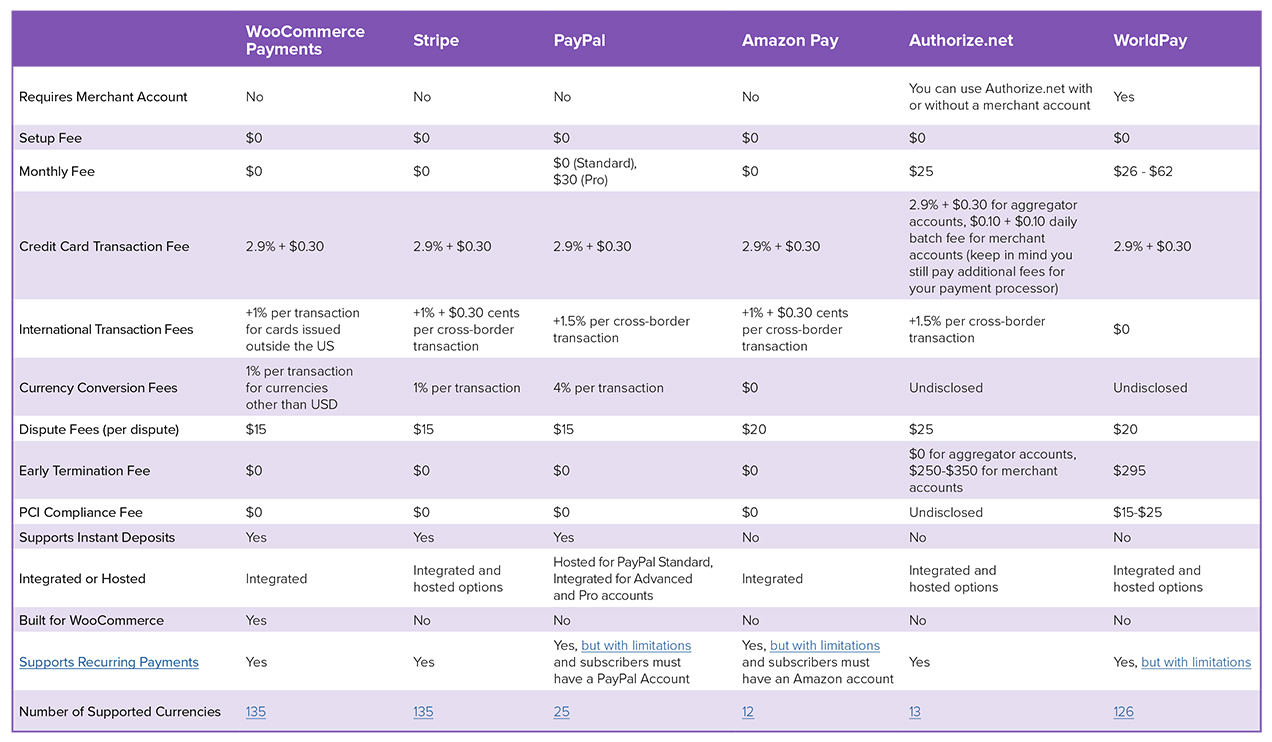 Simplifying payments
WooCommerce knows that when you dreamed of starting your own shop, you probably weren't thinking about payment solutions. But setting up the right one for your business is important.
That's why we developed WooCommerce Payments to take the guesswork out of what can be a complicated process. Though it's not right for every store, if you're a US-based merchant, you can simplify store management while improving conversion rates with a seamless on-site checkout experience. Plus, you'll enjoy low fees and the trusted, secure infrastructure of Stripe.
Get started today.