Building out your dream of store ownership is an exciting journey. You're likely juggling a variety of priorities — developing or sourcing products to sell, ensuring your site provides an attractive and efficient user experience, and reaching the right audience. These things can be challenging, but the rewards are oh so sweet.
Once you've done your research, made your choices, and implemented your vision, your work is still not done. You'll need to advertise, provide customer service, update and create new products, keep your software and systems up to date, and most importantly — test and refine your audience outreach to inspire new and returning customers alike to make more purchases.
If you're struggling to figure out the next steps for increasing customer acquisition, retention, and average order values, it might be time to explore some tried-and-true methods of inspiring shoppers to buy. Here are ten effective ways to nudge your customers to make a purchase:
1. Offer convenient payment methods and terms
There's nothing more frustrating than going to make a purchase on a website and realizing that you left your credit card somewhere inconvenient. You leave the tab open on your browser and think, "I'll come back to this later." You may or may not come back. But if you already have an account, being able to use a previously saved payment method makes checkout a breeze.
With WooCommerce Payments, store owners can allow customers to save their payment details so they don't have to remember them for future purchases. This makes checkout faster and easier.
But for new customers, the hassle of finding their credit card could still make or break that first sale. Offering them the option to use digital wallets like Apple Pay, PayPal, or Amazon Pay can encourage them to complete their order.
For high ticket items, you might want to offer deposits or financing. WooCommerce Deposits provides the ability for customers to make an initial payment and finish the remainder in installments. The ability to pay over time often makes people more confident with large purchases. This option may be just the incentive some buyers need.
If you don't want to manage deposits and payments directly, PayPal offers buy now, pay later options that give customers the choice to split purchases into four interest-free payments or take advantage of PayPal credit for larger purchases.
Store owners get paid upfront and PayPal handles the rest, which is a convenient way to add financing options without the extra work. And all of this is included in the free PayPal Checkout extension.
2. Run buy one, get one (BOGO) promotions
The idea of getting something free is almost too enticing for customers to pass up. So instead of lowering prices or giving a percentage discount, you might find that your audience responds better to a BOGO sale.
The concept is pretty straightforward. If the customer purchases one product, they'll receive another item at no charge. This can be two of the same product or you can offer a lower value product as a complimentary add-on. For example: "Buy one shirt, get another one free," or "Buy one pair of pants, get a belt free."
The Buy One Get One Free extension allows you to provide gift products based on what the customer has in their cart. Shop managers can choose from three deal options: buy products and get a different product(s) for free, buy two (or more) products and get the cheapest one for no charge, or buy a product and get the same product for free.
3. Set up coupons
Use the Smart Coupons extension to set up discounts like:
First purchase discounts. These are commonly used with on-site pop-ups to encourage visitors to sign up for your mailing list in exchange for a certain amount off their first order. Not only do you compel the customer to make a purchase with this technique, but you also have the opportunity to reach out to them in the future through email marketing.
Special occasion offers. These are great for birthdays, customer anniversaries, purchase milestones, and holidays. Remembering important dates in the life of your customers shows them that you pay attention and appreciate their choice to spend their hard-earned money with your business.
Minimum purchase discounts. These are frequently used to nudge customers who may have planned on making a purchase anyway to spend a little more in exchange for a better deal. Offer free shipping for purchases over a specific amount or provide a discount when certain products are purchased at the same time.
4. Send abandoned cart emails
Remind your customers about items that they've left in their carts by sending automated emails. Include a link directly to their cart so they can check out immediately and use different offers in each email to draw them back to your store.
Your first email might be a gentle reminder; the second might have a 10% discount, and the third might include a free gift. Try different combinations to see what works best for your visitors.
The AutomateWoo extension easily handles both simple and complex abandoned cart workflows using rules, triggers, and actions. Worried about tracking? AutomateWoo will track your opens, clicks, and conversions and integrates with popular CRM and marketing platforms.
5. Create a referral program
Incentivize word-of-mouth marketing by turning loyal customers into your biggest advocates. AutomateWoo's Refer A Friend Add-on allows customers to sign up and receive discount codes and referral links that can be shared with others. When these codes or referral links are used to make a purchase, the referring party can earn store credit for future purchases or subscription renewals.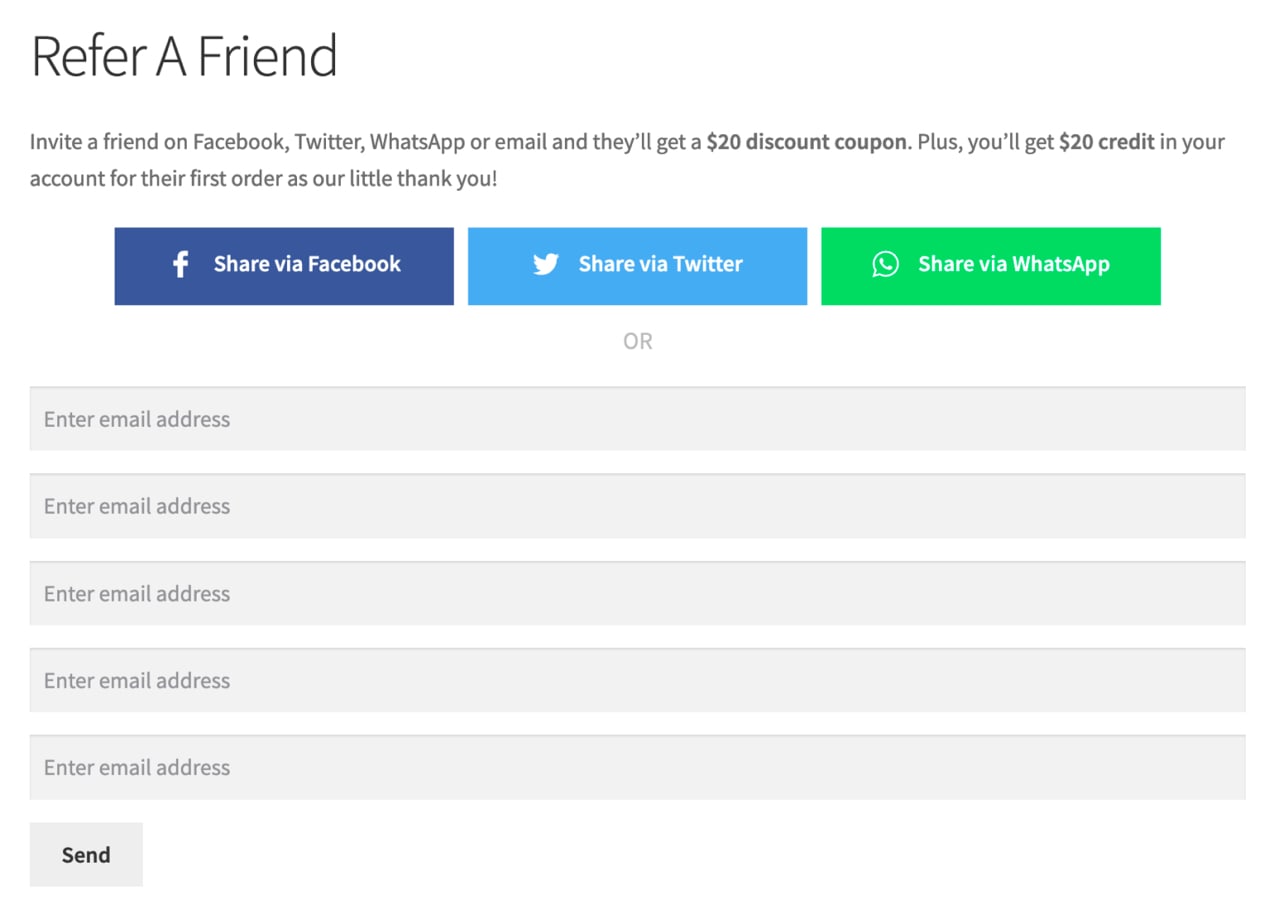 Relying on your customer base and rewarding them for bringing new shoppers to your store is not only a great way to encourage sales, it can be extremely cost-effective compared to other forms of marketing.
6. Offer free shipping and express shipping options
Customers have come to expect free shipping, so when you add shipping and handling fees, they may feel like they're being overcharged or that an advertised price is deceptive. Or they may have planned to only spend a certain amount and added fees could exceed their budget.
Alternatively, some customers might be willing to pay more to get their product quickly. In addition to a standard free shipping option, consider including expedited shipping for an added cost. With both expedited and free options, customers can choose the best fit for their specific needs.
Note: Take your shipping costs into account in your overall product pricing if you have free shipping. Otherwise, you might end up selling products at a loss. See five shipping strategies to wow customers while protecting profits.
7. Create scarcity
Limited time offers and low stock announcements are both good ways to convince shoppers to buy now instead of waiting. Creating a sense of scarcity — the idea that the deal or product is only available for a certain amount of time — adds pressure to the consumer to buy now or miss out completely.
Time-sensitive and stock-based nudges can include holiday flash sale announcements (think Black Friday and Cyber Monday), discounts on discontinued items, limited edition items at premium prices, and even something as simple as calling attention to the number of items left in stock.
8. Display product reviews and social proof
A whopping 93% of consumers reported reading reviews before buying a product. Adding reviews to your product pages and highlighting them in your marketing efforts can be just the trick to convince shoppers who are on the fence to purchase.
If you're using the Storefront theme, you might want to implement the Storefront Reviews extension to display your best product reviews with customizable styles on your homepage or anywhere on your site.
Give shoppers a more detailed experience by allowing reviewers to attach photos and videos. The more detail you encourage your customers to provide, the more informed prospective buyers will be, increasing the chances that they will make a purchase. The WooCommerce Product Reviews Pro extension includes these capabilities (and more) for a fraction of the cost of a separate managed reviews platform.
9. Let customers create wishlists
Allow both guests and registered users to add items to a WooCommerce Wishlist and send targeted emails to customers based on those items. If someone has a product on their list that's going on sale or is almost out of stock, send an email with AutomateWoo to let them know. You can offer them a discount, or make the product available for a short time only to people with that product on their wishlist.
10. List warranties and money-back guarantees
Product warranties and guarantees set expectations and build consumer trust. If you sell the same product as a competitor but you provide a warranty and they do not, this could tip the scales in your favor.
Similarly, if you have a trial period of 30, 60, or 90 days, customers will feel more confident about making a purchase. This is especially true for products that people might traditionally test or try on in a store like clothing, electronics, and fitness equipment.
Setting up warranty policies and managing return merchandise authorizations (RMAs) and return requests might seem like a hassle. But tools like Jetpack CRM or the Returns and Warranty Requests extension make the process much easier.
Of course, there are many more ways to increase sales on your website, but these examples provide a balanced approach to improving shopper experience and convenience, building trust, and testing offers in a way that will help you level up your store. For more strategies to grow your business, check out our marketing blog.