Upgrading your hosting package
We do have several options available if you are considering upgrading or downgrading your plan, whether this be on shared hosting or if you're looking to upgrade your reseller plan.
All plan upgrades are instant, and offer you all of the new inclusions part of your plan immediately, so that you can get on with your day.
We're also only changing the package of your plan, so there is no associated downtime with these upgrades, so they can be performed at any time of day.
This tutorial will outline the upgrade process of your cPanel web hosting solution.
If you need to upgrade your hosting solution because you need more system resources, then please follow those simple steps below
1/ Log into your FASTDOT client area at https://my.fastdot.com/clientarea.php
2/ Select the hosting you would like to upgrade.
3/ After selecting the package you can find the upgrade link on the left side panel
Click on the upgrade link!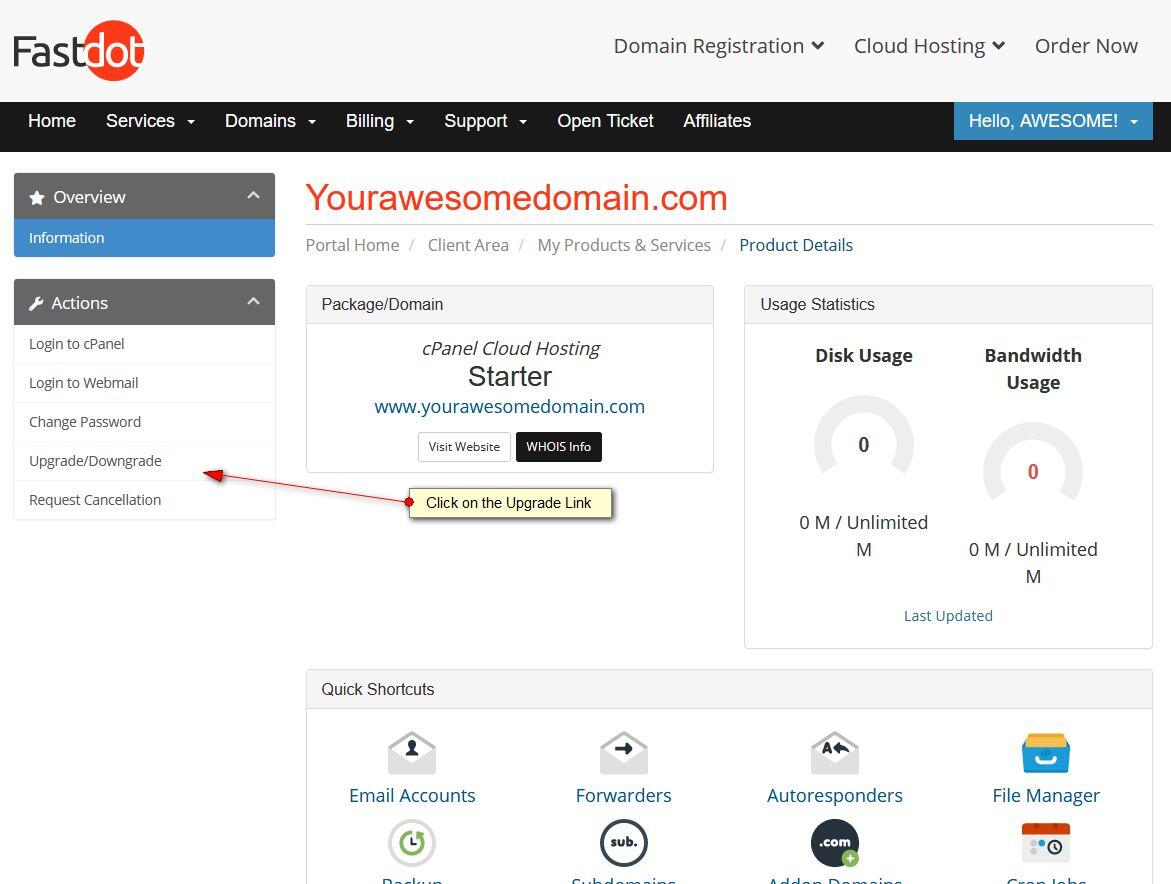 4/ Choose the new package and initiate the upgrade. And that's it, as simple as that! Upgrading your Hosting has never been easier:)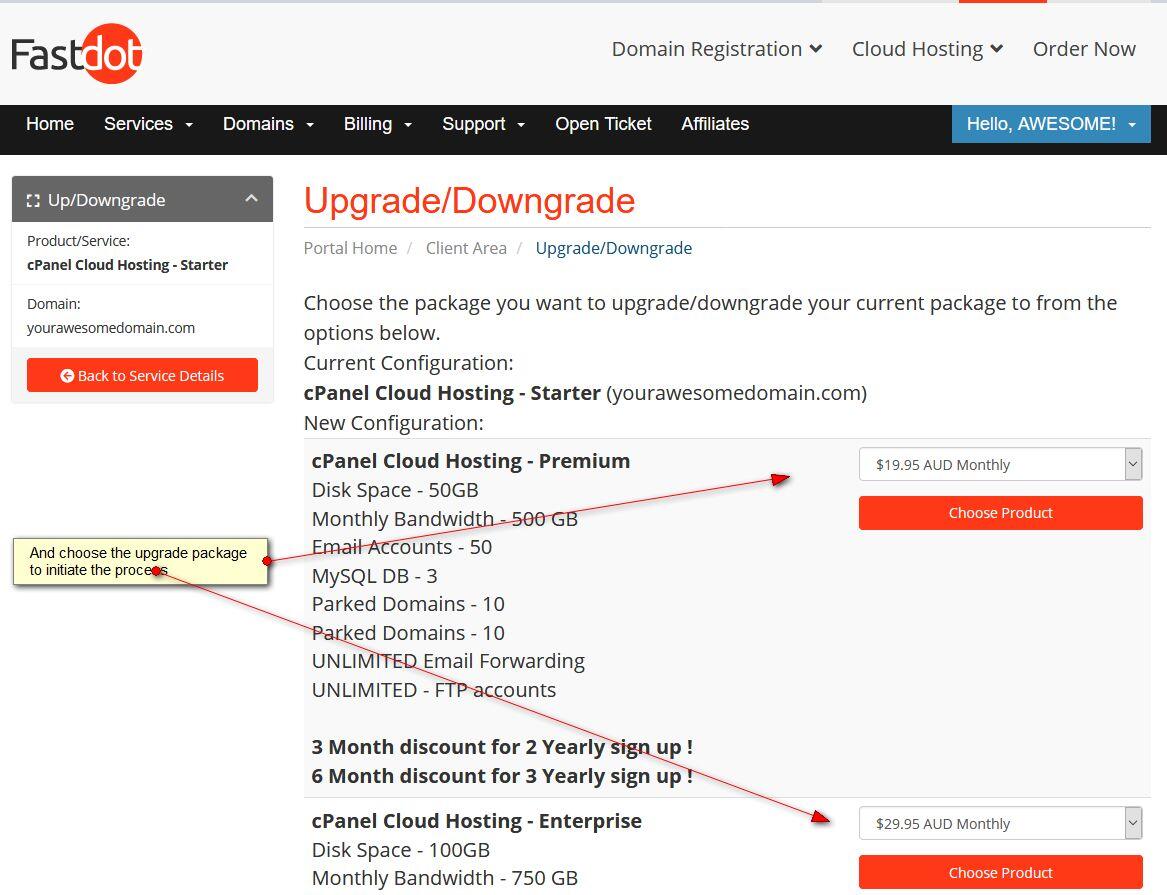 What happens if you just recently paid to renew this service?
If you have recently just ordered or renewed your hosting solution, then we'll keep the date for your invoice the same, you just need to pay the difference of the two plans.
This basically means that if you upgrade to a more expensive plan, but you paid for 12 months, we'll honour the due date for you, but for those remaining months, you'll just need to pay an invoice to cover the cost between those two plans for those remaining months.
Key Reasons for Upgrading your Hosting to a Dedicated Hosting Plan
Not sure if you need to upgrade to a dedicated hosting plan? Chances are if you're considering it, it's because you have a legitimate need.
Shared servers and VPS are excellent choices for many small business owners–but once you grow beyond a certain point, a dedicated hosting plan might make more sense. Between increased control and serious storage capacity, there are several reasons it might be the right option for you.

If you think it might be time for an upgrade, here are five reasons to take the leap:
Increased Control
When you have full control over your own server, the sky's the limit on what you can do with your website.
You can customize the setup by modifying hardware, adding or removing software, running firewalls and antivirus software, or enabling/disabling functionalities. Need to reboot? Go ahead and do it–no one else is going to be affected.
While most VPS do offer some level of customization and control, it is nowhere near what you get with a dedicated hosting plan.
Improved Accessibility
When you're on a shared server, it's likely that you will experience instances of downtime.
The problem with shared servers is that many different websites are using the same resources. If one of those websites offers a huge promotion that quadruples their usual levels of traffic, that traffic could then overwhelm the system and cause it to crash. Some hosting providers do have systems and processes in place to control resource usage on shared servers, to help prevent this from happening.
With a dedicated hosting plan, you don't run into those types of surprises. You're the only one utilizing those resources.
More Memory
If your business has exceptionally high levels of traffic or requires more storage than normal, it may be time to upgrade to a dedicated hosting plan.
When you don't have to share a server's storage, you can host videos and downloadable content or utilize large applications without worrying that you'll cause any issues to your system.
Order your new cPanel Hosting Now!
https://fastdot.com.au/australian-cpanel-hosting/