How to Create a Privacy Policy for WordPress Website
If you own a website that collects personal information through contact forms and tools such as Google Analytics, you may be legally required to provide a Privacy Policy that's compliant with multiple privacy laws. Between forms, advertising programs, analytics, and social media integration, your typical WordPress website collects a lot of data. Disclosing everything isn't always straightforward.
Thankfully, there are ways to take the stress out of crafting this important legal document. By using a comprehensive Privacy Policy generator, you can significantly reduce your risk of facing fines or lawsuits, while demonstrating to your users that you respect their privacy.
In this article, we'll look at what a Privacy Policy is, and the reasons why your website needs one. We'll then share two ways to generate a Privacy Policy for your WordPress website. Let's get started!
What is a Privacy Policy?
Reading through Privacy Policies is not something website visitors have been known to do in the past, but the fact is that times are changing and more people care about their online privacy.  On top of that, you may be required to provide a Privacy Policy by law (or multiple privacy laws), regardless of whether you're running a small business website, an e-commerce store, a hobby blog, or another type of site entirely.
At its core, a Privacy Policy details the user information your website collects, how you plan to use that data, whether you share it, and with whom. There are many ways that a website can collect user data. Visitors might actively share this information with you, such as by completing a contact form or registering for an account on your website.
You may also collect personal information based on visitor activity. For example, websites that utilize Google Analytics are collecting IP addresses and sharing that data with analytics providers.
It's widely accepted that most modern websites collect some form of user information. Even the popular Google Analytics platform stores cookies on visitors' computers. According to the European Union (EU) Cookies Directive, this is enough for your website to require a Privacy Policy.
Why Your WordPress Site Should Include a Privacy Policy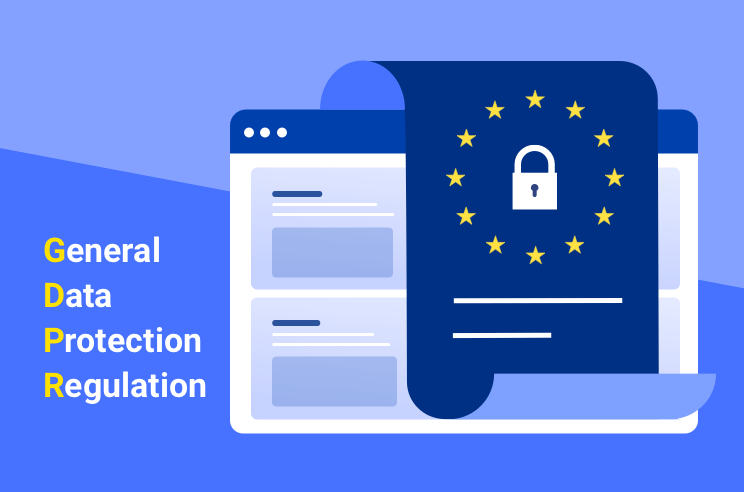 Privacy laws exist to protect the personal information of citizens (or residents) of particular states, countries, and continents. If you collect personal information from your site's users, you need to provide a Privacy Policy that includes certain disclosures, or you could face fines starting at $2,500 per infringement (meaning per website visitor).
GDPR is a regulation that requires businesses to protect the personal data and privacy of EU citizens for transactions that occur within EU member states. And non-compliance could cost companies dearly. Here's what every company that does business in Europe needs to know about GDPR.
If you're found guilty of violating the GDPR, you could be fined up to €20 million. This comprehensive guide can help you determine whether this important privacy law applies to you.
However, a Privacy Policy isn't just an important legal requirement. Over 80% of Americans feel they have no control over the data that companies collect, and almost 60 percent don't understand how those businesses use their information.
By clearly defining what data you collect and how you use it, you can present your website as trustworthy. This can help you build a positive relationship with your audience. It can also distinguish you from your competitors, who may not be quite so forthcoming.
What to Include in Your WordPress Site's Privacy Policy
Your Privacy Policy needs to provide the disclosures required by each privacy law that applies to your business. This makes it difficult to state exactly what you need to include, as it can vary between websites.
To start, you should figure out which privacy laws apply to your business. You can then identify what you need to include in your Privacy Policy.
Some common requirements include providing:
Effective date of your Privacy Policy
Your name and contact information
What Personally Identifiable Information (PII) you collect
Whether you share PII, and the categories of third parties that you share data with
How your website responds to Do Not Track signals
How you'll notify users of changes to your Privacy Policy
Whether you sell the PII that you collect
The privacy rights provided to users and how they can exercise them
How consumers can make complaints about your privacy practices to authorities
The legal basis for processing PII
How long you store PII
Whether you will use PII you collect for direct marketing purposes and what consumer rights are applicable
If you will use PII for automated decision-making and profiling
Whether you plan to transfer PII to other countries
Your Data Protection Officer's contact information (where applicable)
How you protect the PII that you collect
Links to your policies, procedures, standards, and codes
Use of analytics programs, cookies, and other tracking technologies
You may be required to disclose all, or only some of the items listed above. Remember that what your Privacy Policy must include will vary depending on the applicable privacy laws.
How to Create a Privacy Policy for WordPress
Now that you know why your website needs a Privacy Policy, let's look at how you can provide this important legal document. In the following sections, we'll share two ways that you can create a Privacy Policy for your WordPress website.
Method 1: Use WordPress' Built-in Privacy Policy Template
WordPress 4.9.6 introduced a Privacy Policy template. You can use this feature to quickly and easily create a policy outline.
To create a Privacy Policy directly in WordPress, navigate to Settings > Privacy in your dashboard. You can then select the page where you want to display your Privacy Policy from the relevant dropdown:
By default, WordPress' template provides the following sections:
Who we are
What personal data we collect and why we collect it
Who we share your data with
How long we retain your data
What rights you have over your data
Where we send your data
Contact information
Additional information
These sections may require you to edit them to provide more details. For example, what personal data we collect already specifies how your site collects information via several popular methods and elements such as comments, contact forms, cookies, and analytics.
Once you've published your Privacy Policy, we'd recommend adding a link to it in a prominent area of your WordPress website. The footer is a popular location.
Despite how easy WordPress' template is to use, keep in mind that it's a static Privacy Policy tool. The output is not intended to provide the unique disclosures required by each and every privacy law. WordPress cannot customize your policy based on specific factors, including the data you collect, how you process it, and who you share it with.
Also, your static policy won't automatically update to reflect any future changes in the law. In the United States, more states are passing their own privacy bills. To protect your site against legal repercussions, it's important to monitor these changes and update your policies accordingly. This can consume a lot of your time.
Method 2: Generate a Dynamic Privacy Policy With Termageddon
Alternatively, you can use a dedicated third-party tool, such as the Termageddon Privacy Policy generator. With it, you build your own Privacy Policy by completing a questionnaire that determines which privacy laws you need to comply with, and the specific disclosures you need to make.
Termageddon's questionnaire helps identify your privacy practices. This includes disclosures regarding where your business operates, the third parties that you share data with, and the information you collect. By simply answering honestly and completely, you can build a Privacy Policy that's customized to your exact needs:
After you generate your policy and embed its code in your website, Termageddon will monitor privacy laws for changes. It will push relevant updates to your policy when needed.
Once you've purchased your Termageddon license, you'll then need to answer some general questions about your website, business, and privacy practices. This includes the location where you'd like to resolve any legal disputes that arise: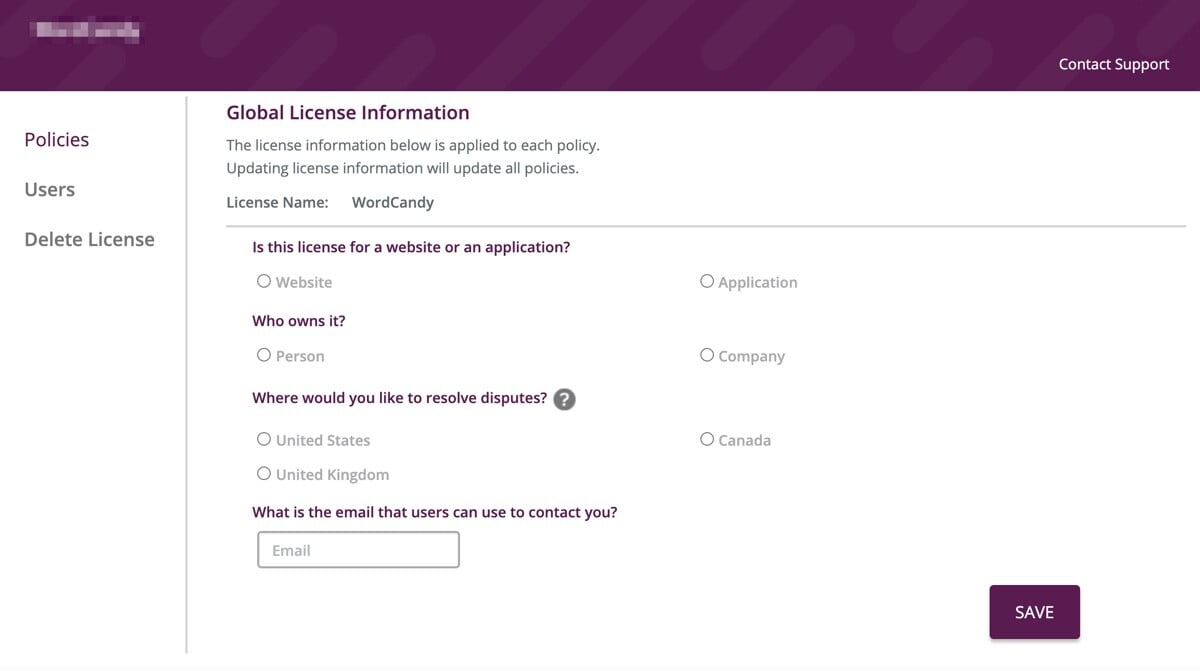 If you're unsure about any of the questions in the questionnaire, then check out Termageddon's Policy Questions for more guidance.
After you provide all the required answers, Termageddon will generate an embed code for you to paste into the body of the Privacy Policy page on your website. To do so, log into your WordPress dashboard and edit (or add) your policy page.
You can use the Block Editor to add a Custom HTML block and copy and paste the Termageddon embed code into it:
You can then make any other edits to the page, such as adding a title. Finally, publish your page as normal and your completed Privacy Policy will appear on your WordPress website.
Conclusion
Regardless of whether you're a small business, non-profit, freelancer, or hobby blogger, you may be required to provide a Privacy Policy on your website that is compliant with multiple privacy laws. Creating this important legal document can seem daunting. However, by using the right tools, you should have no issues adding a clear, informative Privacy Policy to your WordPress website.
In this article, we showed you how to generate a Privacy Policy using WordPress' built-in features. While this is a quick and easy method, it does not necessarily provide all of the specific disclosures that you may need in order to comply with relevant privacy laws.
Alternatively, by opting for a dedicated solution such as Termageddon, you can generate a policy that provides the specific disclosures required by the laws that apply to your site. You'll also receive updates whenever these laws change or new ones come into effect. The service is premium, and pricing starts at $10 per month or $99 per year.
Do you have questions about Termageddon or Privacy Policies in general? Or other recommendations to add? Let's talk about them in the comments section below!