VirtueMart Hosting
VirtueMart  is a complete eCommerce solution for the Joomla content management system. Both are released under the GNU General Public License which means they are free for download and use. Joomla provides the core system and the framework, which VirtueMart hosting can use.
By using Joomla and VirtueMart together you can easily create your own eCommerce and web site publishing platform. This can be extended by taking advantage of the many freely available Joomla modules for creating forums, galleries and newsletters.

Why VirtueMart Hosting?
If you have chosen to use VirtueMart shopping cart addon for Joomla to build your online shop, you can count on our unique hosting solutions. Our Cloud Hosting services guarantee that you can scale your resources dynamically along with your ever changing business needs. We provide the highest level of manageability, stability and performance available for our virtualized environments to ensure your customers experience with VirtueMart is fast and enjoyable.
FASTDOT can provide:
VirtueMart optimized servers
Free VirtueMart installation
Top VirtueMart performance
99.9% server uptime
High-speed network infrastructure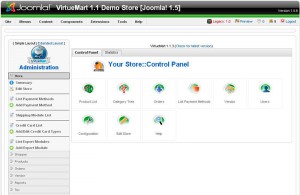 What can I build with VirtueMart?
VirtueMart 2 offers an extensive list of features as standard to enable shop owners to build a working shopping cart including:
Secure Sockets Layer (https) Encryption (128-bit)
A powerful web administration interface
Management of an unlimited number of products and categories
Display as a shop or catalogue (eg. turn off price display)
Product attributes (eg. size or color)
Shop statistics with a summary of new customers and orders
Order management with order history and customer notifications
Live shipping rates using shipping modules
Handles downloadable products (virtual goods)
You can extend your VirtueMart shop using third party plugins, components, templates and modules!
How to get started with VirtueMart Hosting
VirtueMart requires Apache, PHP, MySQL, and Joomla to be installed. All of FASTDOT's hosting accounts include these features, so configuring VirtueMart will be easy. Your next step will be to install Joomla 2.5 or greater before you can add VirtueMart.
VirtueMart is installed as an extension for Joomla and can be downloaded from . Go to the Extensions menu in Joomla and click on the Extension Manager. Upload the latest version of VirtueMart from your computer. You should then see a page confirming VirtueMart has been successfully installed. At this point, you have just set-up VirtueMart
100% VirtueMart Compatibility
FASTDOT supports all the VirtueMart server requirements, and more! We've even increased the memory limit to deliver optimal VirtueMart performance!
PHP 5.2.4 or greater (PHP >= 5.3 recommended)
PHP Modules: CURL, zip, mcrypt, openssl, GD (with freetype), mysql, mbstring, iconv (iconv needed for Zend Locale)
PHP settings (primarily for file uploads) post_max_upload_filesize = 20, post_max_size = 20, php memory limit to 64 (More may be needed for memory intensive operations, such as upgrading.)
PHP Safe Mode Off
MySQL 5.x or higher.
Apache/IIS (Apache recommended)
Get Started with your VirtueMart Hosting Today
Get started with VirtueMart now
Joomla Hosting | Australia's leading Joomla Web Hosting Provider