With an amazing product in hand and a great WooCommerce store, marketing is the only thing standing in the way of growing sales. And whether you're trying to reach new customers or encourage previous ones to make another purchase, Pinterest provides a great opportunity for your store.
Let's take a look at why Pinterest is an excellent eCommerce marketing tool and how you can use it effectively.
Why use Pinterest for eCommerce?
There are plenty of ways to market your products online, from email to social media, paid advertising, and more. So why make Pinterest a part of your strategy?
Pinterest is currently the third largest social platform in the United States and has over 335 million active users. It's particularly popular with women — especially moms — along with people from high-income households. So if your audience meets those characteristics, it's probably a great fit for your business.
But most importantly, shopping is a top activity for 48% of Pinterest users, a number much higher than on other social platforms. That means that nearly half of the people on Pinterest visit specifically to buy products. This is excellent for eCommerce stores!
Many people think Pinterest is just focused on recipes, fashion, and home decor, but 9.5 million Pinners engage with financial services content and 69% use the platform to make tech and telecom decisions, creating opportunities for nearly any industry.
Approach Pinterest like a search engine
While you may consider Pinterest a social media platform, it's important to approach it like a search engine. Why? Because it uses similar algorithms to Google and Bing to decide which content to display and to whom. Its users are actively searching for outfits, recipes, DIY ideas, business tips, and more. Pinterest's goal is to provide them with the most relevant content for their searches.
Because of that, you should optimize your Pinterest content based on target keywords, similar to how you would optimize a blog post or product page.
Start by choosing the right keywords. A great place to begin is with Pinterest's keywords research tool. While this tool is available when creating an ad campaign, you don't have to actually launch the ad to use it. You can insert a keyword idea you might have (like "healthy food") and Pinterest will supply you with a list of related terms, along with their search volume. This is also a great way to generate content ideas!
You can also use Pinterest's search recommendations. Type a starting keyword in the search bar to get an entire list of related topics. For example, if you type in "fall fashion", you'll also see "fall fashion outfits", "fall fashion trends", and "fall fashion coats".
Use these keywords naturally in the descriptions and titles of your Pins, and don't forget about your Pinterest profile as well!
Then, create Pins that potential customers are interested in viewing, saving, and learning more about. For more Pinterest SEO tips, check out this guide from Hootsuite.
How to market products with Pinterest
1. Post consistently
Success on Pinterest requires consistent, frequent posts. Ideally, you'd post between five and 30 times a day (depending on your business and audience), spread out at different times to reach as many people as possible.
Sound overwhelming? Keep in mind that you can post both new content and re-share other people's content and there are excellent tools available to both streamline and automate this process.
The Pinterest for WooCommerce extension, for example, automatically posts your products to Pinterest. Update a price, photo, or description and the extension will change your Pins for you. It will also simultaneously save Pins to multiple boards, resize your product images to meet Pinterest's recommended sizes, and more.
For saving Pins from blog posts, custom graphics, and even Instagram posts, you may want to consider a tool like Tailwind. It enables you to bulk add Pins at once, then will automatically schedule them in the time slots that will garner the most engagement. With the browser extension, you can Pin content from anywhere across the web, from your store to related industry blogs. You can also add existing Pins to a "SmartLoop," which will re-Pin them over time so you always have something great to share.
2. Join group boards
Group boards are shared boards around a specific topic — like fashion, food, or travel — that multiple people can Pin to and share Pins from. They're an excellent way to reach new audiences that you know are interested in the type of content you share.
You can find group boards directly on Pinterest or join communities on Tailwind, which are very similar. Each group has its own rules for post frequency, topics, and more, so make sure you follow those so you're not removed. And remember, these groups are all about community, so give as much (or more than) you get by sharing other members' Pins to your own boards. It's also a great way to generate new content to share with your followers!
3. Use high-quality, vertical images
Since Pinterest is essentially a never-ending feed of images and videos, it's important that yours stand out! The first step is to make sure that your Pins are vertical and high-quality. They shouldn't be blurry or out of focus.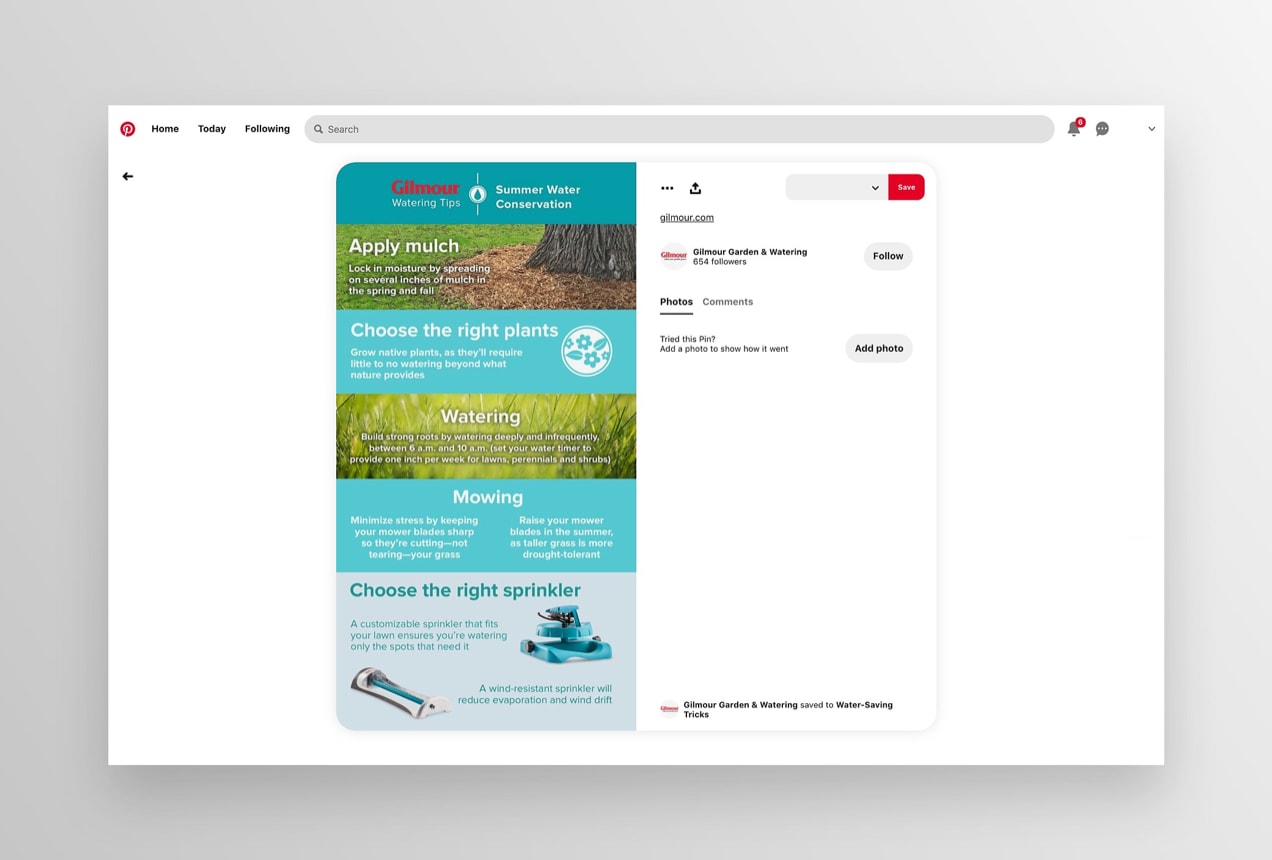 If you're creating custom graphics — like charts, infographics, or collages — make sure they're branded and professional. Gilmour does an excellent job designing infographics that really stand out from their competitors. This Pin about water conservation is just one example. It presents helpful information to people interested in gardening, uses high-quality images, and features branded colors that pop.
If you're using the Pinterest for WooCommerce extension, you'll also be able to add Open Graph markup to your product Pins automatically. This helps Pinterest read your product details and add information like name, description, price, and stock availability so that they stand out from the rest of the static images around them.
4. Don't just promote
Just like with Facebook, Instagram, and other social media platforms, you don't want to just sell, sell, sell — not many people will respond to that. Instead, share helpful information and content related to your products.
Create boards with gift ideas and add your custom jewelry along with items from other shops. Offer instructions for grinding your coffee beans. Share recipes that just so happen to feature your barbecue sauces. Post outfit ideas that include your tees.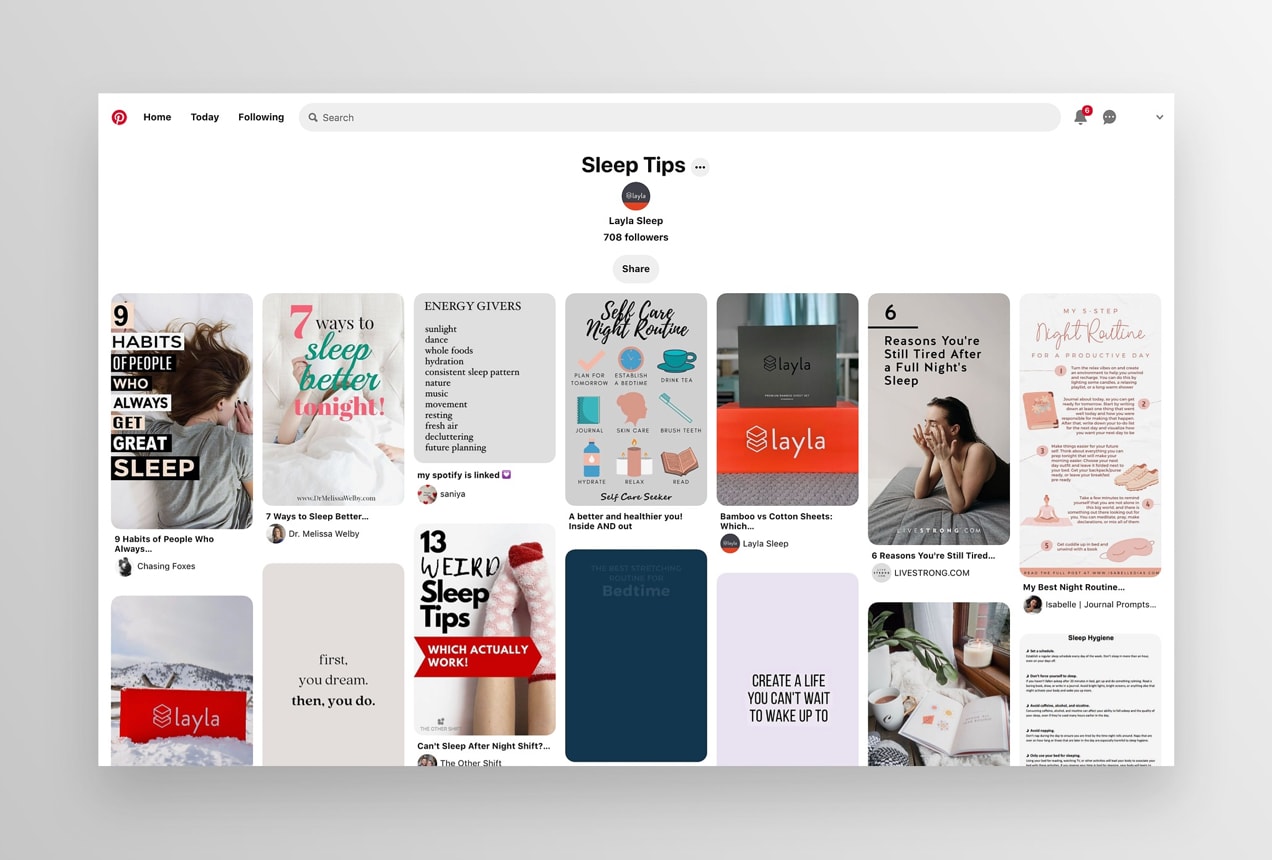 Layla Sleep, a mattress company, has an entire board dedicated to sleep tips and includes content from other Pinners. Even though this doesn't directly sell their products, it's helpful information for people who want to improve their sleep and may end up buying a new mattress to do so.
SOXS, a company that sells, well, socks, has boards covering everything from gift ideas to outfit pairings. They even have a board dedicated to cute animals with socks.
So spend time thinking beyond promotions and ads to what will really interest your potential customers.
5. Make the most of evergreen content
Evergreen content stays relevant and "fresh" for your customers over time, not affected by trends, seasons, or dates. This is your bread and butter content because you can use it over and over again without it getting old.
Don't be afraid to fill in gaps in your Pinterest schedule with this type of content, especially if it's been a while since you Pinned it initially. You'll be able to get it in front of new people while reminding those who did see it the first time that your products are a great fit for them.
6. Advertise effectively
Investing a little money into your most popular Pins or to promote an upcoming event or new product can be a great strategy to convert views into sales. There are several ad formats you can choose from:
Standard ads, which are simple images that look very similar to regular Pins, but reach far more people.
Video ads, which capture attention with movement rather than static images.
Shopping ads, which are essentially product Pins that have been turned into ads.
Carousel ads, which let people swipe through multiple images at once.
Collections, which use a hybrid visual format that mixes lifestyle imagery and video.
But no matter which format you choose, take the time to consider your goals, budget, and audience. Do you want to drive traffic to your store, gain email subscribers, or convert customers? How much do you want to spend per day? Do you want to display your ad based on certain genders, locations, or interests? All of these factors play a big role in the success of your ad.
Need a little guidance? Hootsuite provides an in-depth look at creating Pinterest ads.
7. Try collections Pins
Collections Pins are fun, interactive ways to share both inspiration and products. There's one primary image that, when clicked, shows the individual products included in the image with links to your store. For example, if you sell home decor, you might have a main photo of a styled dining room with product links to the lamp, rug, and placemats on your website.
The possibilities are pretty endless — create collections Pins for outfits, gardens, meals, gift boxes, and more.
8. Don't forget video
While you probably think of images first when you think of Pinterest, videos are becoming more and more popular. Since videos automatically start playing when someone scrolls by them, they're a great way to grab attention and encourage views.
This is the perfect opportunity for makeup tutorials, cooking videos, DIY project walkthroughs, product demonstrations, and other highly-visual topics. And you can either upload your videos directly to Pinterest or Pin them from your website.
9. Join the Verified Merchant Program
By joining the Verified Merchant Program, you're essentially being vetted by Pinterest. This makes you seem more legitimate to potential customers and also opens up several new features for you to take advantage of.
Your products will show up in related Pins that reach people looking for new brands. You'll gain access to a Conversion Insights tool with advanced analytics. And you can enable a special shop tab on your profile that makes all of your shoppable Pins easy to find.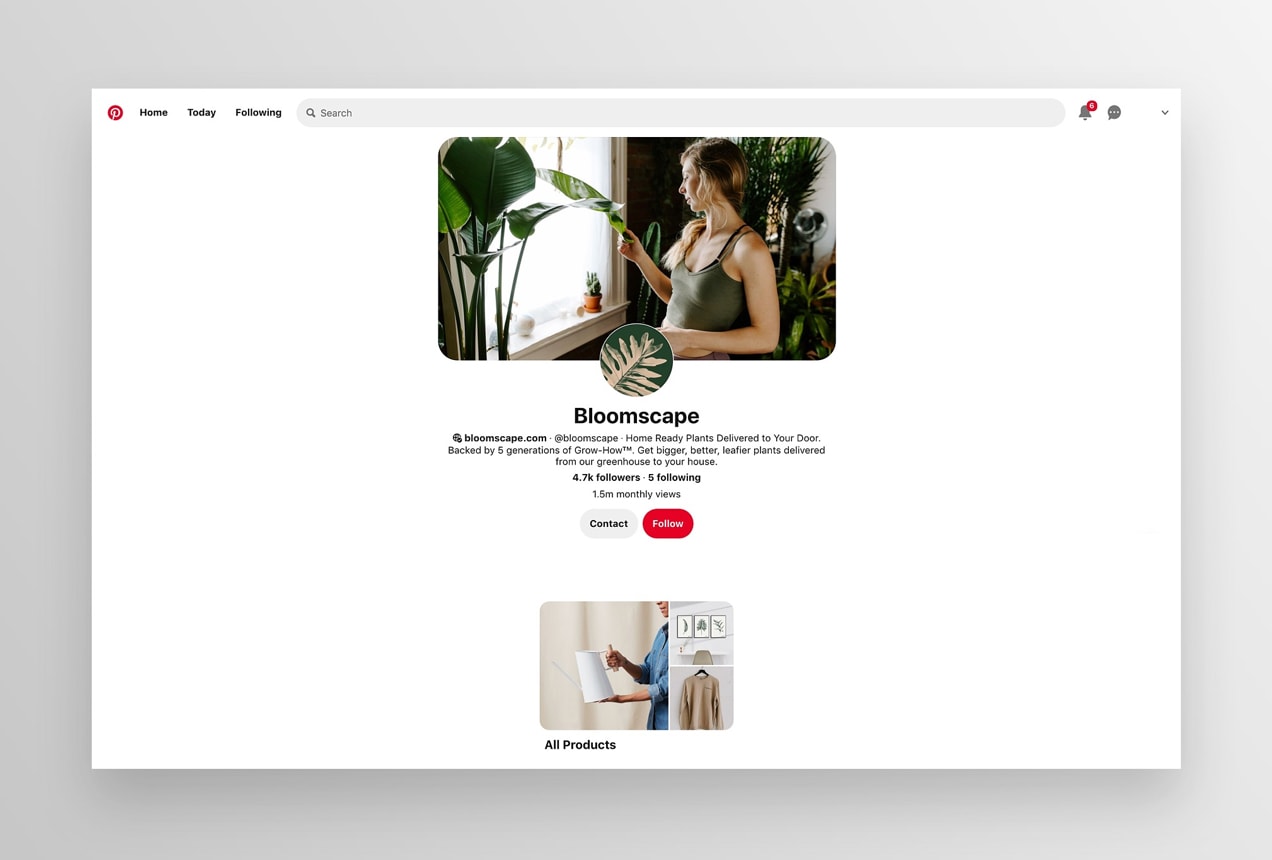 Bloomscape, an online store that sells plants and supplies, has the shop tab on their Pinterest profile. It divides their product Pins into easily-clickable groups: all products, categories, and most popular products. This is a great way for potential customers to get a quick glimpse of available items.
10. Make it easy for others to share your content
Of course, you also want to make it as easy as possible for site visitors and customers to share the content on your site to their Pinterest accounts. Add a "Pin It" button to your site and they can share everything from products to infographics, outfit inspiration, and recipes. This is an excellent way to reach new audiences without spending a penny.
The Pinterest for WooCommerce extension automatically adds a Save button to all of your product photos, so customers can add them to their boards with one click.
Make the most of Pinterest
With a little work and consistency, you too can find success on Pinterest. Focus on creating relevant, helpful content, design attractive images and videos, and optimize your Pins for the right keywords and you'll be on the right track.
Want a leg up? Get started with the Pinterest for WooCommerce extension.