There's no such thing as an overnight success. Behind the sudden rise of almost any company or organization were many long nights of planning, lots of trial and error, and hours spent grinding away at the tiny details.
Building your organic social media following will take time. It's a worthwhile investment, but when you need to drive early revenue, it's not likely to be the miracle solution. The same is true for search engine optimization or building an email list. These can provide some of the best returns long term, but they won't improve your revenue tomorrow.
Whether you're just getting started or have been at it a while, a few quick wins can give you a morale boost and provide proof that you have a great idea. Plus, you can use these small pops of revenue and energy to continue to invest in larger, long-term efforts. Here are some ways you can get quick wins for your store.
Google Ads / Google Shopping
If search engine optimization is a long-term strategy, is there a way to cut in line? Yes, sort of!
Imagine you sell custom-engraved leather collars for cats. Showing up first on Google for the phrase "custom leather cat collar" would generate a landslide of quality traffic. But while you're working your way up in organic rankings, you can pay for a spot at the top.
Costs vary based on the popularity of the keywords you target and how many companies are bidding for the same placement. But you'll usually pay a few dollars each time someone clicks on your ad (triggered by the keywords you set). That's why this kind of ad payment structure is called pay-per-click or PPC.
You can go from zero site visitors to hundreds in a single day. So if you have the budget and just need to drive traffic, consider Google Ads to be the source of your first quick win.
But be warned: Most PPC campaigns aren't highly profitable from the start, so it's best to begin small and use the data gained to determine which keywords work best, improve your product pages, and enhance other marketing efforts to drive the cost per conversion down and your profits up.
You can also use this strategy to test your keyword ideas for long-term SEO targets. Drive traffic with those terms using AdWords and determine which ones produce traffic that converts into customers.
Read our post on eCommerce search ads for beginners to learn more. If you're ready to get started, the Google Ads and Marketing extension is really helpful.
Remarketing
Most customers don't buy during their first visit. So finding ways to follow up with them can dramatically improve your sales. If you're not already doing this, get ready for a quick win! For some stores, this one thing alone can turn around an unprofitable ad campaign overnight.
At their simplest, remarketing ads use tags on your site to track visitors. Then, you can use display ads (like the banner ads you see on many popular websites) to remind visitors to come back and keep shopping!
These can become incredibly intricate — like exclusively targeting non-converting traffic with a free shipping offer or showing people the specific products they viewed with a temporary discount — but even a basic remarketing campaign can have a major impact.
If you've avoided remarketing because it sounds technical, jump in! Use the same Google Ads extension and you'll have a head start.
But not all remarketing strategies are the same. One idea that might work: Just remind them you're here. Feature your branding, include a few product photos, and add a reminder to "shop now."
But here are some ideas that are likely to be a bit more effective:
Create an audience that includes everyone who's visited your site in the last seven days but hasn't purchased. Run an ad with a promo code for free shipping.
Show people the exact products they viewed to remind them what they loved about your shop.
Keep an audience with everyone who's been to your site in the past year. When you have your next big sale, announce it to everyone in this audience with display ads.
These ads are pretty cheap to run and highly targeted because they're only served to people who have already indicated they're interested in your products. Learn more about remarketing with Google.
Don't forget — remarketing works on social media, too. Use the Facebook for WooCommerce extension to install a pixel (Facebook's term for a remarketing tag) on your site.
Then, create a remarketing audience for everyone who's been to your site recently. Facebook will anonymously match visitors with real Facebook users. Now, you can show ads to people as they browse their favorite platform. These marketing messages often seem less intrusive and more appealing than regular banner ads, so mix them in for maximum results.
Bonus: You don't have to have an Instagram account to run your Facebook ads on Instagram as well. Learn more about remarketing with Facebook.
Recurring revenue
No matter what you sell, you'll make more money if customers come back again and again.
Make it easy by offering subscriptions and you could turn a one-time, $40 purchase into a $480-per-year recurring revenue stream.
There are plenty of ways to do this. You might think of gift boxes or a "fruit of the month" club. But if you sell novelty T-shirts for a niche hobby, someone might want to get a new one each month in exchange for a discount. Does every month sound too frequent? With WooCommerce Subscriptions, customers can choose terms that are the most suited to their needs — perhaps once every three months is a better fit.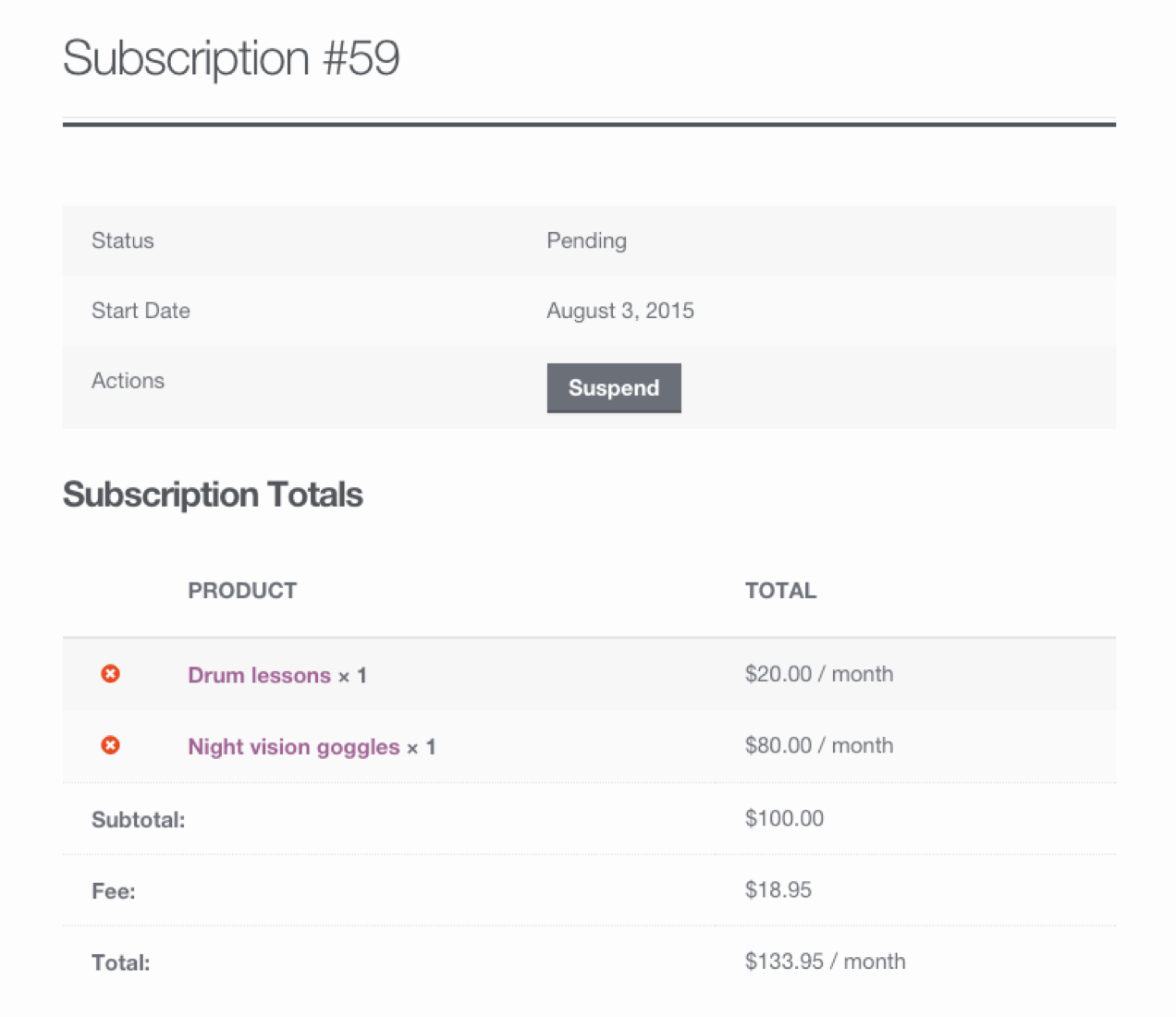 You can do this with almost any kind of product. Let's say you sell eye drops that you know last most customers about 60 days. In exchange for a discount, invite them to subscribe so they never have to worry about reordering. Customers will appreciate not running out of their most important items, and if they know a new shipment is already coming, they won't be as tempted to shop around. It's a good bet that this will increase your average customer's lifetime value and your store's annual revenue.
Email marketing
Now, earlier we said that building an email list is a long-term strategy. That's true! So, there are two possible scenarios here:
1. You've been in business for a while and have an ongoing list of customers who've given you permission to market to them.
If you haven't started any sort of email marketing program, this is a major opportunity for your store. It's significantly easier to get repeat business than find new customers. So, at the bare minimum, you should be sending a periodic newsletter-style email that tells previous customers about new products or an upcoming limited-time sale.
And it doesn't have to be all about making immediate sales. Provide updates on what your company's doing, offer advice for using the products you sell, or share other news that might be of interest to your specific market. The goal is to remind people you exist and capture that repeat business. Someone who purchased three years ago may have completely forgotten you, so start sending regular emails to them.
If you're already doing a little bit of email marketing, you can quickly boost your store's revenue with a more robust, structured, and automated program.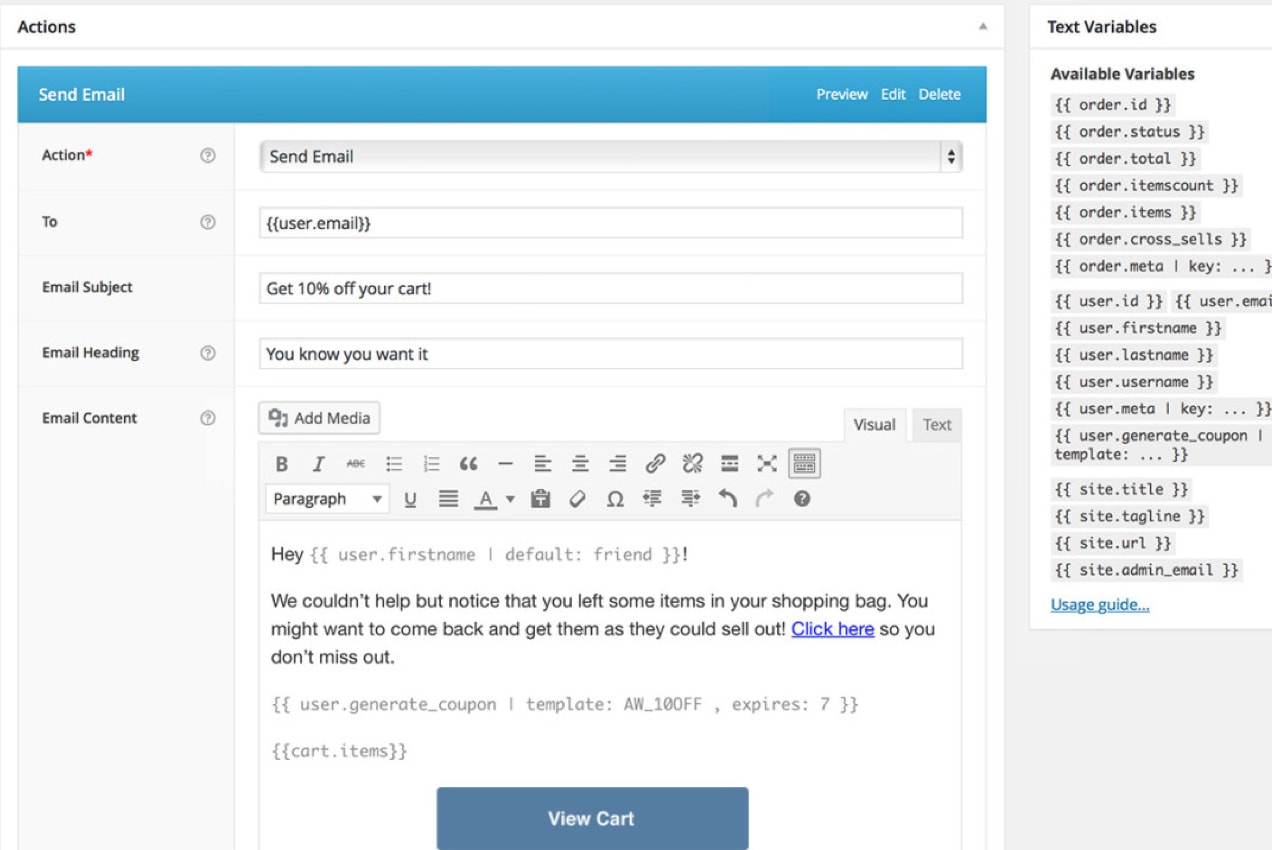 Most carts are abandoned. But email programs like AutomateWoo can send messages to customers when they leave your site without completing a purchase. This could boost your conversions dramatically! But it doesn't stop there. Using AutomateWoo, you can quickly grow revenue with other features that include:
Follow-up emails asking for reviews or providing other customer service recommendations.
Automated campaign sequences that include special offers and new product updates.
SMS notifications.
Reminder emails when wishlist items go on sale.
Personalized coupons that increase customers' average lifetime value.
Referrals so that buyers can become your best advocates.
2. You're just getting started with email.
Strive to be great from the start. Use an email automation tool to minimize abandoned carts and maximize repeat business.
But that won't help you get your first few sales. So what do you do if you don't have an email list? First, pass on the temptation to buy a random list and blast it with marketing messages. These are usually unreliable — they have lots of fake emails and people who aren't even close to your target audience — and could get you in trouble with email service providers for sending unsolicited messages.
Instead, find opportunities to partner with existing organizations, non-competing companies, or influencers who do have a reliable email list filled with people in your niche audience. Some of these resources likely send their own regular newsletter and you may be able to negotiate a feature in their next release. Or an influencer might be willing to send an email in exchange for a free product or small fee. By associating yourself with someone your target market trusts, you immediately gain a bit of that trust for yourself.
Influencer marketing
That concept of transferring trust is why influencer marketing has become so popular. Influencers have a dedicated audience within their niche — their followers choose to follow because they appreciate their content and trust their taste, opinions, and advice.
And while few brands can afford to hire a Kardashian, there are many influencers with significantly smaller audiences who may be willing to promote your shop for as little as some free products or services.
Let's say you sell an item that appeals to fans of a specific sport. Google Ads are great, but sales can be hit or miss because your ads might show up for less relevant terms. Or your ads might run when someone's looking to buy a gift for a loved one who likes the sport. That's fine for a one-time sale, but not long term.
What's better? Identifying the most loyal fans of the sport, those that will come back and buy from you again and again.
You might not be able to partner with the sport's biggest superstar, but you can likely find a popular commentator, blogger, or other influencer with a much smaller audience of obsessed fans. A fairly inexpensive partnership will get you in front of a highly targeted group. Pair that with the remarketing and email tactics mentioned earlier, and you've found a bunch of new, loyal customers.
The right partnership can definitely bring big wins — fast. Learn more about influencer marketing for eCommerce.
Upsells and cross-sells
Since new customers are hard to find, you want to maximize every opportunity to increase the average size of each order. One of the best ways to do this is by suggesting additional or complementary products (a cross-sell) or upgraded versions of an existing product they're interested in (an upsell).
With the Product Recommendations extension, you can sort your upsells and cross-sells by category. So if someone adds a toy for a certain age range to their cart, suggestions will appear that are also appropriate for that same age range. It's easy to categorize things however it makes the most sense for your business.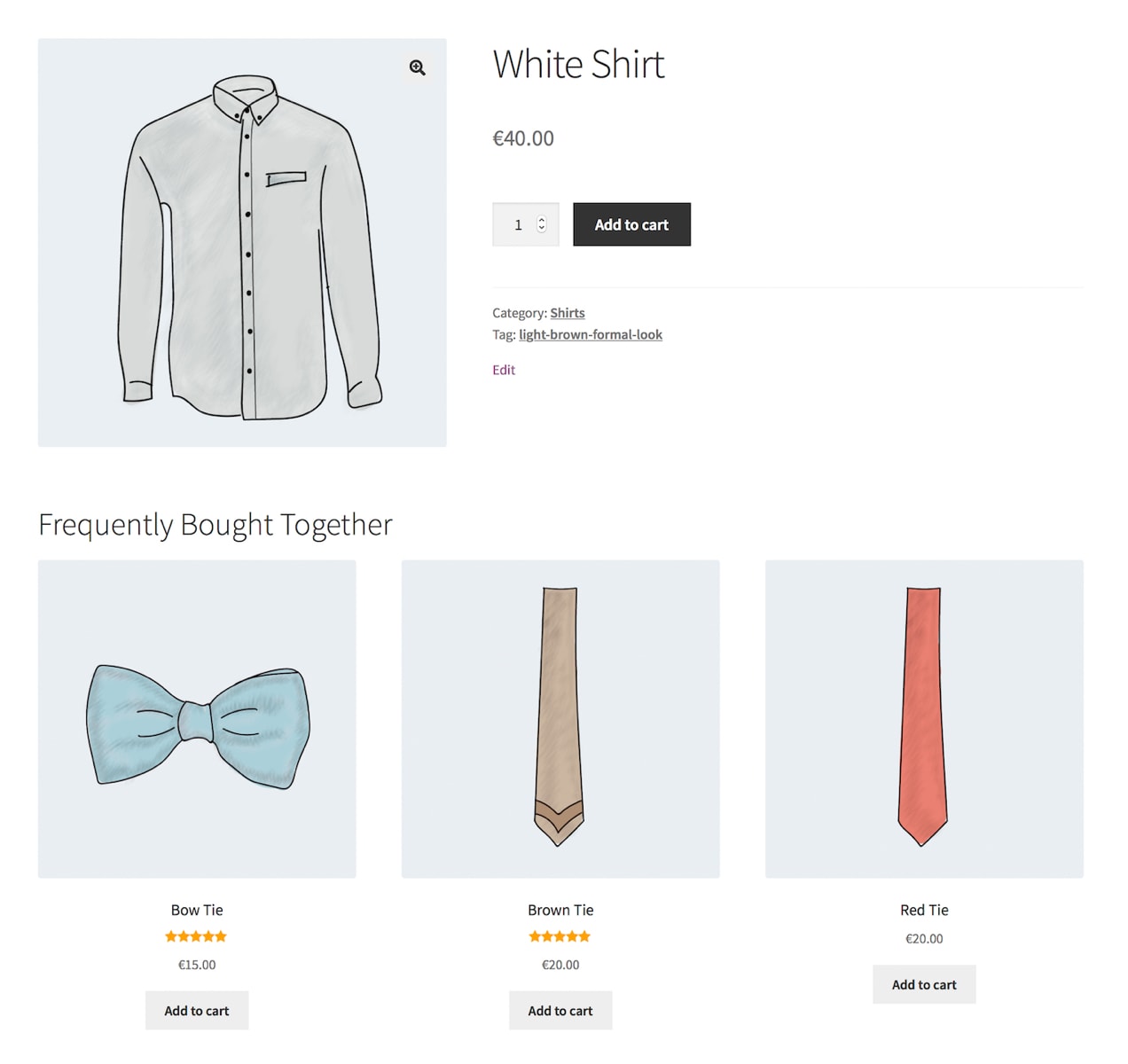 Ready to increase your average order size? Read more about cross-sells and upsells for eCommerce. Or, get started right away with the Product Recommendations extension.
More robust product pages
To an extent, the more information you provide on your product pages, the more likely customers will find answers to their questions and see the evidence they need to be comfortable with purchasing.
What should you include? Reviews, great product descriptions, detailed specifications, return policies, contact information, and images.
If you only have one image for each product, adding a second could lead to a quick boost in sales. People want to see most products in a variety of applications, angles, lighting, and more. They want to see the perfect studio-quality version and the real "lifestyle" version. Show your products in more than just one light (literally) and watch conversions improve.
People usually trust the opinions of others, even strangers, more than yours because they know you have a bias. Including reviews can work magic for your store. Try Product Reviews Pro to accept more robust reviews that include things like pictures and video clips.
Great product descriptions go well beyond technical information, but they're also not just packed full of fancy, meaningless words. There's a strategy behind all of this — one you can master. Learn more about the psychology of great product descriptions.
You're ready to win online
If you're using WooCommerce, you're already on the right track. If you've been in business for a while, adding new ways to reach back out to customers — through remarketing ads or email automation — could boost your conversions right away.
And if you're just starting out, implement these things from day one to make the most of your opportunity. You can drive quick traffic with Google Ads or garner instant credibility with an influencer's endorsement. But no matter what you do, understand that no eCommerce store is an overnight success. Keep learning, growing, and improving to find your winning combination.