You can never start planning too soon for the biggest holiday sales of the year: Black Friday and Cyber Monday (BFCM). Both shopping holidays have seen strong year-over-year growth, so you'll need to prepare yourself for the potential of more site traffic and increased advertising competition compared to years past. Whether this is your first time running BFCM sales or you've done it before, you'll want to start developing this year's strategy now.
Here's a handy checklist to help you get ready:
Does your site load quickly?
90% of customers will leave a site if it loads slowly. Site speed should be a top priority at any time of the year, but it's especially important when you are expecting increased traffic. There are a few quick and easy things you can do to help speed up your site:
Test your website performance: Find what areas of your site need optimization by running a speed test. Tools like Pingdom will tell you how fast it loads and how well it performs in certain areas.
Implement a content delivery network (CDN): A CDN serves your site's files from high-speed, dedicated, and geographically-distributed data centers. Visitors will be served cached content from the CDN server nearest them, which reduces page load time and conserves bandwidth and load on your server. Jetpack comes with a free CDN, and unlike other networks, you can install and set up Jetpack CDN in just one click.
Optimize your images: Even if you're using a CDN that optimizes your files for you, it's good practice to upload the smallest file size necessary while preserving a high-quality resolution. Exporting for web in Photoshop and using free image resizing and optimization tools like ImageOptim are easy ways to prepare your images for the web.
Upgrade your hosting plan: If you're on a shared server, your site may experience slower load times, especially if other sites on your server have spikes in traffic. Consider a virtual private server (VPS) or dedicated server.
Here are a few more ways to speed up your WooCommerce store.
Is your server prepared to handle an influx of traffic?
In addition to making sure your site loads quickly under normal circumstances, you need to be sure that it can handle a sudden spike in visitors without slowing down. Check with your hosting provider to see if there are any traffic limits on your account and whether you're close to meeting those limits each month. Depending on the answer you get, you may want to upgrade your hosting plan or ask your host for a temporary increase in server space during the time you expect a surge in visitors.
Does your site work on all devices and browsers?
Check that your site displays correctly on desktop, tablet, mobile, and all leading browsers. You can check on your own devices, but you'll also want to test how your store displays on a device and browser emulator like LambdaTest.
While you might not be able to ensure that your site looks and works flawlessly across 100% of devices and platforms, you can use tools like Google Analytics to discover what browsers and devices your visitors are using. You can then focus your energy on testing and revising your site to work best on those specific platforms.
Does all of your functionality work?
You should periodically check your navigation, add to cart buttons, and checkout process to make sure they're all working correctly. This is especially important to do just before a big sale event like BFCM. Back up your site and update your plugins to their latest versions, then test your site's functionality to make sure everything works.
If you do find problems, use browser inspection tools in Chrome or Safari to find additional errors. And check the WooCommerce System Status and Logs for any outdated templates, fatal errors, or other issues.
Is it easy for customers to find what they're looking for?
Customers use a variety of search methods to find products on a site. They might browse by category if they aren't sure what they're looking for, or might use your site's search tool to search by a specific keyword or if they know the exact product they're seeking.
Make sure your customers can easily find what they want:
Place a search bar in your navigation.
Use WooCommerce Product Search to improve visitor experience and get data on your customers' search habits.
Add a sidebar widget to your shop page with category navigation.
Use Product Filters for WooCommerce to add filtering by category, attributes, tags, price, and stock status.
Is your checkout quick and uncomplicated?
Your checkout may work, but is it efficient and intuitive? You want to keep your checkout form as simple as possible, with minimum distractions, to encourage customers to complete their purchase. A few things you can do to improve include:
Eliminate visual clutter. Eliminate header and footer menus, sidebar widgets, and other distractions from your checkout page so that your customer stays focused on completing their purchase.
Minimize checkout fields. Asking customers to re-enter details like email addresses or including unnecessary fields like "Company Name" may annoy them to the point of leaving your site. Remove unnecessary fields to speed the checkout process along.
Offer multiple payment options. Allow customers to check out with payment options that are convenient for them. WooCommerce Payments lets you accept payments in multiple currencies as well as Apple Pay.
Provide rush shipping options. Shipping times can increase during the busy holiday season and customers often expect expedited options. Giving them the option of faster shipping times might be just the thing to get them to buy, especially if they're comparing shipping times with other retailers.
Allow guest checkout. Minimize the amount of time it takes to check out by not requiring visitors to create an account or log in before completing their purchase. If the nature of your store requires that customers be logged into an account, WooCommerce Social Login gives them the option of a quick single sign-on through their Facebook, Twitter, Google, Amazon, LinkedIn, PayPal, Disqus, Yahoo, or VK account.
Learn more about optimizing your checkout.
Have you chosen your discounted products and offers?
Determine what products you want to put on sale and what type of discount to offer. If you have overstock, discontinued items, or seasonal items, you might want to include them in your BFCM sale.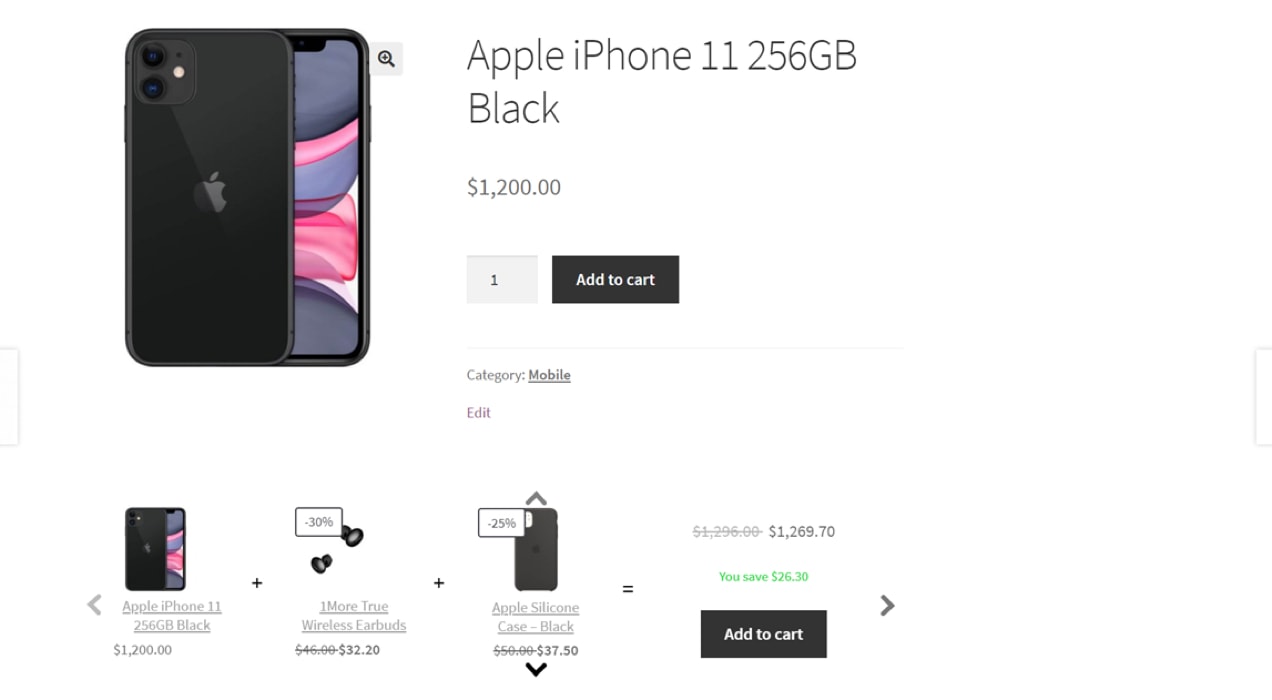 Offer types to consider:
Buy one get one (BOGO)
Percentage off a single item
Percentage off entire purchase
Free shipping for orders over a certain amount
Discount bundles
Free gift card with purchase
Have you set up or scheduled sales and coupons?
Take some pressure off your team in the weeks leading up to BFCM by scheduling your coupons and sales now. It's quick and easy to schedule a sale when creating or editing a product and doing so will save you the headache of having to remember to launch that midnight sale.
With Smart Coupons, you can set an expiration date and time for your coupon codes, restrict coupons by a variety of conditions, and display available coupons at checkout (or on any page).
Have you decided which promotions to run?
Depending on the customer you're trying to reach, you'll want to think about who gets what offer as well as where and when they'll see it. A few options to consider for BFCM might be:
Email marketing: One of the more economical forms of marketing, email is a great way to reach out to the people most likely to buy from you — your current customer base.
Social media ads: Take advantage of the power of likes and shares by promoting your products and sales on Facebook, Instagram, Twitter, and TikTok.
Paid search: Appearing above organic search results, paid search ads show up based on the terms a user enters. Create a promotion for your BFCM sale in paid search, then bid on your competitors' keywords so you appear in the search results before they do. The Google Listings & Ads extension makes it super easy to connect your store and get started. Plus, you get free ad credits!
Remarketing ads: A type of display advertising, remarketing targets users that have already been to your website. You can use remarketing ads to offer special coupon codes or other incentives to persuade customers to come back to your site and make a purchase.
Are sales highlighted in your store?
Customers can't take advantage of a sale if they don't know about it. Whether your customers come to your site organically or you drive them there with email marketing and paid advertising, you'll want them to be able to find your sales easily. There are several ways to do this:
Use the site-wide notice feature to add a sale announcement banner to the top of every page.
Implement a pop-up announcing your sale with a call to action and button that takes them directly to the sale.
Add a banner to your homepage promoting your sale.
Add a "BFCM Sale" menu item to your site's navigation.
Feature sale items in your shop page sidebar.
Display sale icons on your product thumbnails.
Display applicable coupon codes on cart and checkout pages with Smart Coupons.
Do you have tracking set up on your site?
You'll want to be able to track how well your marketing efforts perform during BFCM, so make sure to add a tracking code for Google Analytics and any platform that you're advertising on. Conversion Tracking Pro helps you connect with multiple ad platforms like Facebook, Google Ads, Twitter, Microsoft Advertising, and Perfect Audience. Start tracking now so you can tweak your marketing approach as you get closer to BFCM.
Are you using abandoned cart emails?
You should be. Abandoned cart emails are an inexpensive and extremely effective way to recover sales. AutomateWoo makes abandoned cart emails easy to set up. Send multi-step campaigns, offer coupons or other incentives, track conversions, and send unlimited emails.
Getting these set up in advance of BFCM will give you the opportunity to test your campaigns and see what strategies and offers work best for your store.
Is your site secure?
Your site's security is paramount every day — not just for big sale events. Make sure you have a valid SSL certificate and put protections in place to prevent spam and hacking attempts.
A simple and effective way to increase the security of your site is to install a security plugin. Jetpack includes free brute force attack protection, to stop one of the most common types of hacking methods, and two-factor authentication to protect your login process. And Jetpack's WordPress security plugin also offers automated backups, malware scanning, spam prevention downtime monitoring, and more.
Just starting? See eight things you should do to secure your WooCommerce website.
Is inventory synced with other locations?
Do you manage inventory between multiple warehouses or between your physical and online shops? Make sure you don't oversell products during your BFCM sale by putting systems in place to sync your inventory.
If you're using QuickBooks, you can sync your WooCommerce store with QuickBooks Sync for WooCommerce. Not only can you automate inventory tracking, all your sales and customer data can flow automatically into your bookkeeping process.
If you manage your own warehouses, Scanventory provides a great solution for tracking inventory using QR code labels and your smartphone. It also includes detailed reporting features so you know the status of your inventory in real time.
Read more tips for successful inventory management.
Have you set up expedited or express shipping options?
According to a 2021 Baymard study, 19% of cart abandonments are due to delivery times being too slow. Offering faster shipping options can reduce these lost sales and is an especially useful strategy during BFCM. Not only do quick delivery methods incentivize customers, they ensure that your products arrive on time during a season when shipping times may be a little slower due to the high volume carriers are processing.
No matter which shipping options you provide, you'll want to feature an alert on your website as it gets closer to the holidays. Let customers know the order deadlines for products to arrive by specific holidays.
Are your suppliers and dropshippers prepared to support an increase in orders?
If you need to increase production in advance of BFCM, make sure you place your orders with your material suppliers early. The same holds true if your products are manufactured by another company — especially if those items are created overseas. Other companies will be placing larger orders from vendors to prepare for BFCM sales as well, so make sure you lock your orders in well ahead of time. Otherwise, you could face premium prices or out of stock items.
If you're working with a third-party logistics provider (3PL) to ship your goods, review historic sales and shipping trends for your products and ask them to move inventory to warehouses that are closest to the areas where you tend to do the most sales. This will speed delivery for your customers. If quick delivery times are paramount to your business, ask your 3PL to send shipments more frequently and use carriers that offer the fastest shipping times.
Are you prepared to increase production?
Now is the time to review your capacity to see if you need to hire more staff or increase hours for current staff to cover your BFCM production. This is especially important if you're creating handmade goods or manufacturing products in-house. But even if your production is outsourced, you may still have increased demand for customer service, order fulfillment, marketing, and more.
Ensure that your team has the capacity to meet increased product demand for the holidays and start adding BFCM tasks into their workflows as early as possible. This way, your team won't face a crunch in the weeks leading up to your big sales.
Top Ten Tools to Help You Make the Most of Black Friday and Cyber Monday
Do you have the right staff and systems in place to handle increased support requests?
While you may need to add more staff to support your sales and customer service team during BFCM, it can be a pain to onboard and train a new person if they're only temporary.
Check for ways that you can increase efficiency in your customer support channels:
Offer several options for customer support.

FAQs or knowledge base: Help customers help themselves by offering an easily navigable and accessible FAQ page or knowledge base.
Use a customer service contact form: Let people get in touch with your customer service team via email with a contact form. Use conditional logic based on the user's question type to route customer service inquiries to the correct email address.
AI chatbots: Filter out some of the most commonly asked questions like, "How much is shipping?" or "Do you deliver to my country?" by using an AI chatbot. This will save your customer service team valuable time and provide customers with quick answers to basic questions.
Live chat: Some companies offer live chat options in lieu of phone support. This is especially helpful when dealing with detailed customer information like customer names, addresses and tracking numbers. It can be much faster to look up a customer's order if they're sending you the information in written form.
Provide phone support: If a customer is having trouble with your website or their email, being able to contact a representative by phone may be their only way to connect with you.

Use a customer relationship management tool (CRM). CRMs can help you track your customers' interactions with your company and quickly resolve support tickets, qualify leads, and upsell your customers. Jetpack CRM is a lean and accessible tool that integrates directly into your WooCommerce dashboard. There are no contact limits and it's one of the most affordable CRM options for WooCommerce stores.
Make sure your customer service procedures and FAQs are up to date: Regularly review your customer service procedures and make sure that they're accurate. If you have any special processes or offers your representatives need to be aware of for BFCM, document them and ensure your team has access. A quick meeting to go over your BFCM procedures a week or so before you launch your sales may help keep these new processes top-of-mind for your staff.
Once you've optimized the customer support experience for both your visitors and your team, you may find that you still need to add more people to help with the holiday season. But maximizing your current team's efficiency will minimize the number of seasonal hires you have to bring on.
This list may seem like a lot of work to prepare for a sale that only lasts a few days, but these tips aren't designed only for BFCM. These are systems and techniques that you can and should use in your store every day. If you stay on top of these checklist items throughout the year, you won't have to make extraordinary efforts when the holidays roll around.