Here at cPanel, our team mostly works together at our comfortable Houston office, where we enjoy the amenities and camaraderie of our company's culture. We are accustomed to a certain work style, and for many of us, this is the first time we're working remotely. Like most companies in this situation right now, we are adapting to this new way of working and collaborating and getting things done. We are using Zoom to have daily check-in meetings and remind ourselves and each other that we are a team.
Beyond the usual ups and downs of our new Zoom Culture, we've begun to glimpse more of the lives of our coworkers. We're meeting each other's children, partners, and pets. Having the opportunity to get to know our colleagues personally a little more is an unexpected benefit to this challenging situation. Hands down, though, my favorite part of Zoom Culture is meeting and greeting my teammates' four-legged family members.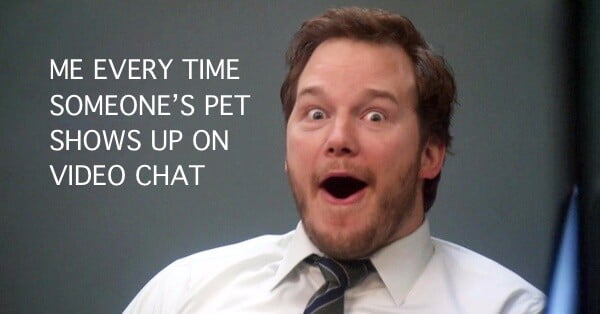 Using Business Tools To Create Opportunities to Connect
It's easy to be grateful for the way that Zoom and other tools like it have enabled distance and remote work. These tools offer an unexpected boon by connecting us not only for work but for our social and emotional well-being. People all over are using video conferencing tools like Zoom, Microsoft Teams, and others to host video calls with friends and loved ones. Most of these tools work on multiple platforms: desktop, mobile, tablet, laptop, with or without an installed app. These moments of connection have been great for my friends and me, scattered as we are; we even had a Zoom birthday party. So I talked to folks at work, and we came up with a list of suggestions to make virtual hangouts more fun.
Our Top 7 Ideas for Video Chat Activities
Play a Multiplayer Online Video Game.
Play a Multiplayer Tabletop Game using online tools.
Host a virtual happy hour.
Host a book club.
Schedule a Celebration.
Host a recurring creative event
Set up a 24/7 virtual hangout room.
Traditional Games, Meet Video Games
Online gaming has been around for decades, and most folks in our industry have played at least a few hours of some kind of MMO game like World of Warcraft, but so many other types of games can be played together virtually. New tools have popped up over the last few years to make it easier than ever to play together with technology. Jackbox Games are a favorite around our office, and some of our teams even use these games via Steam to have virtual team-building nights while we're working remotely. Others use Tabletop Simulator and Roll20 in conjunction with document sharing services like Google Docs to play old-school D&D and other Role-Playing Games. There are also ways to play card games with friends, like Evil Apples, a kind of mobile version of the ever-popular and completely NSFW Cards Against Humanity. So many more options exist for playing games remotely with friends that we could almost write a blog post all on its own.
Happy Hour From a Distance
If you and your friends or colleagues regularly meet after work for half-price appetizers and fancy drinks, don't stop now! You can meet up for snacks and a tasty beverage from the comfort and safety of your own home. If you miss that "go-for-broke," "who-knows-who-we' ll-meet" feeling, tell everyone to invite someone you don't know and ask a bartender friend to share drink recipes and listen to your problems for tips. Pick a theme and encourage everyone to dress up fancy. Give yourselves an excuse to get out of pajamas and wear that Ren Faire costume you've been keeping under wraps.
Remote Learning Together
There are many options for remote learning, from taking a free online class to hosting a book club discussion group.
Many companies offer free online learning tools for their products, and sites like Codecademy offer free programming classes. Now is a great time to learn a new skill or enhance your existing skillset with some online training. cPanel University also provides free online training and certification in web system administration. Khan Academy also offers free classes for students of all ages on a wide variety of subjects, including entrepreneurship and computer science.
Book clubs have been around as long as books, and I can think of no better way to get to know a person than to learn what they think of a book you've read. Especially if you like the book. This is a great way to start a regularly scheduled group video chat with friends. Some indie bookstores are starting virtual book clubs with curbside pickup, according to this New York Times article, and you can always order ebooks without even leaving the house. With book clubs, there are a few essential rules! Choose a schedule that everyone can stick to for both reading and meeting. At most, aim to meet every other week to leave time for everyone to stay caught up; we don't all read at the same rate! Choose a title that suits your group's dynamic, too. Humor during this time of stress might be an excellent palate cleanser; maybe now isn't the time to brush up on post-apocalyptic pandemic. I like Christopher Moore, personally. If you're really itching to read about the worst-case outcome of right now, try Octavia Butler's Parable of the Sower.
Throw a Party! It's Your Birthday!
One of the best things about this whole situation for me has been watching as friends get creative about how to celebrate each other. I heard from one coworker that they used a service called Paperstyle to design and send out electronic invitations to a video conference birthday party for their daughter. Another set up a fancy at-home date night with their spouse to celebrate their anniversary. They both got dressed up and made one of their favorite meals together. Last week, we threw a surprise party for one of my best friends by telling her that the scheduled call was just the three of us. We then invited half a dozen other people to the call without telling her. That was especially fun because she lives in Denver, and we are in Houston. Before the pandemic and quarantine, I'm not sure we would have thought of this way for us all to throw a party. We would have assumed that celebrating together meant a long drive or a plane ride. Okay, I'm grasping for silver linings, here, but this was a nice silver one for us.
Make Something Together
The quarantine has shown a bold spotlight on maker culture, too, and creative people are finding ways to connect over arts and crafts via video tools. YouTube boasts hundreds of thousands of tutorials on everything from building a birdhouse to fiber arts like crochet and embroidery to painting classes like the classic The Joy of Painting with Bob Ross (currently available streaming online on Hulu.) Schedule a Maker Monday or Fiber Friday with your crew, and sit together virtually while talking and working. This is a great time to try new things to help reduce your stress, even if they are things you might not consider trying in other circumstances.
Let's Get Together
We all recognize these as simple excuses to spend time with people we care about in creative ways while keeping one another safe through distancing. Of course, you don't actually need a reason to want human company. One member of our team has set up a recurring, 24-hour-long Zoom meeting with his paid account and shared the URL with his friends. Now they can come and go and hang out as they please even with no host present. He's created the virtual corner!
Right now, we stand united in feeling a little alone and a lot helpless about it. In our endless creativity, though, we have found a way to be alone together. Even as we observe physical distancing, we have found a way to maintain our social connection through technology.
Use these tools to support your friends and family. Be intentional with your time. Check-in on friends. Use this time at home to connect with someone you've missed. Go old-school, and dial 'em up! Many of these ideas can also be used as virtual team-building activities with your colleagues, depending on your team and their senses of fun. As always, if you would like to continue discussing this topic or have any questions, please make sure to join us on our official Discord channel, our cPanel Subreddit, or our official Forums!