Starting your own web hosting business is much simpler now that technology and customer reach is improving, but the model is still changing all the time. During the "Wild West" era of the internet 20+ years ago, users were confined to a small number of web hosting providers.
At that time, hard drive/storage space was quite limited, ranging from 35KB to 2MB, depending on the provider. For shared hosting, the average storage space was just 153MB. In 2002, one of today's large hosting providers was running off of three servers in a dorm room in Florida. Back then, 39 million websites were on the web. We're at 1.7 billion and counting today.
From storage to bandwidth, the hardware that powers the internet doubles every two years, according to Moore's Law. Although the web started out with just a handful of hosting providers, today there are thousands of hosting companies with very similar hosting plans. The days of offering cheap, shared hosting and dedicated servers are coming to an end with more custom and cloud-based/scalable options becoming more and more popular. Gartner, the world's leading research and advisory company, predicts 41% of enterprise workload will run on public cloud platforms by the end of 2020.
How Easy is Starting Your Own Web Hosting Business?
The short answer?
It's not.
The longer answer?
There have been several advances in the industry, making the process of building out the infrastructure of a hosting business considerably more accessible than in years past. Yet there are still stories of the "Summer Host", small startup hosting companies that usually pop up at the beginning of the summer, indicating a younger and less-seasoned entrepreneurial group. They have a bad reputation of creating a business but then abandoning their user base and company due to lack of resources or technical know-how as the summer draws to a close and they return to school.
Web hosting business changes in the new era of automation
Modern automation tools such as Docker, Openshift, CloudLinux, and of course, cPanel & WHM automate routines, maintenance, security, and repetitive tasks. These tools are relatively new in the hosting industry and designed to make the expansion of your hosting environment easier and more manageable with fewer people. Web hosting businesses no longer require a full team of system architects and administrators.
Easy outreach to potential customers is more practical than ever before, and can be done on a shoestring thanks to social media and social media marketing.
Paid advertising works for small startups and huge corporations alike. Whether you're a big business like Microsoft or a neighborhood rock-and-roll band, anyone can take advantage of paid advertising on platforms such as Facebook or Google Adwords and reach a defined, targeted audience.
The power of targeting gives new businesses advanced marketing capabilities that used to be only available through big agencies on a big budget. With paid advertising, you can segment your user base and create audiences targeted by interest and affinity. You can also segment based on whether they are potential customers who need more information. or customers who have added your product to their carts and need a reminder to come back.
SEO helps you reach the perfect audience who is interested in buying your services. With search engine optimization (SEO), you can immediately get seen by people who are already searching for what you offer, just by showing up as a result when they use Google or any other search tool. Additionally,  Google Search Console provides tools to improve the visual appeal and all-important speed of your site, as well as the SEO rankings to help you with your SEO and get seen by more people.
This is a high-level overview of just a few of the tools that entrepreneurs now have at their disposal, including some that weren't even around 10 or even 5 years ago. Things have definitely changed for web hosting businesses, both new and established, and every company must adapt to stay nimble and competitive.
Having an understanding of web hosting and experience in systems administration is going to be vital to even consider starting a web hosting business and being successful in a competitive market. That being said, the advances in automation and tools, as well as a lower entry barrier to paid SEO, marketing, and advertising, makes entering the hosting industry more approachable and affordable for small business.
Looking forward to 2020 and beyond, the hosting business is serving a very different landscape of customers. The most critical and complicated question is, "Who is your customer?"  Your web hosting business model depends on the type of customer you offer services for.
Let's look at some of the current popular customer-based hosting models.
SAAS hosting business model:
Just a decade ago, web hosting's biggest customer base was comprised of web developers and designers with a growing SMB (small business) market. Many solutions for a web presence today offer a SAAS (software as a service) model that is an easy starting point for the novice user and SMB market. It no longer takes a computer science or design degree to build a website. These SAAS platforms bundle domain registration, drag and drop website builders, e-commerce solutions, SEO optimization, and digital marketing.
To retain this market share, most hosting companies now provide a website builder and other managed solutions to their customers. Some of the world's largest hosting providers have started to focus on a complete website/services SAAS solution vs. the traditional web hosting model. Focusing on customer solutions is one clear winner for the current hosting business.
Web-centric hosting business model:
Web-centric hosting was another popular business model over the past decade and still offers an excellent solution for smaller shared hosting providers in the future. The web-centric model focuses on a single hosting market with the ability to put 100% of your time and support behind it. One of the most popular web-centric models is in the content management system (CMS) world, with companies focusing on managed hosting for WordPress, Joomla, or Drupal.
Agencies make up the largest customer base for the CMS hosting model. Web-centric hosts concentrate on adding value via CMS support, backups, security, themes, tools kits, and more. For example, here at cPanel we offer a complete suite of add-ons to add value and revenue to your business.  WP Toolkit for cPanel is an excellent example of a WordPress-centric tool set. In the past decade, WordPress has more Google searches than one of the largest hosting providers, as shown below.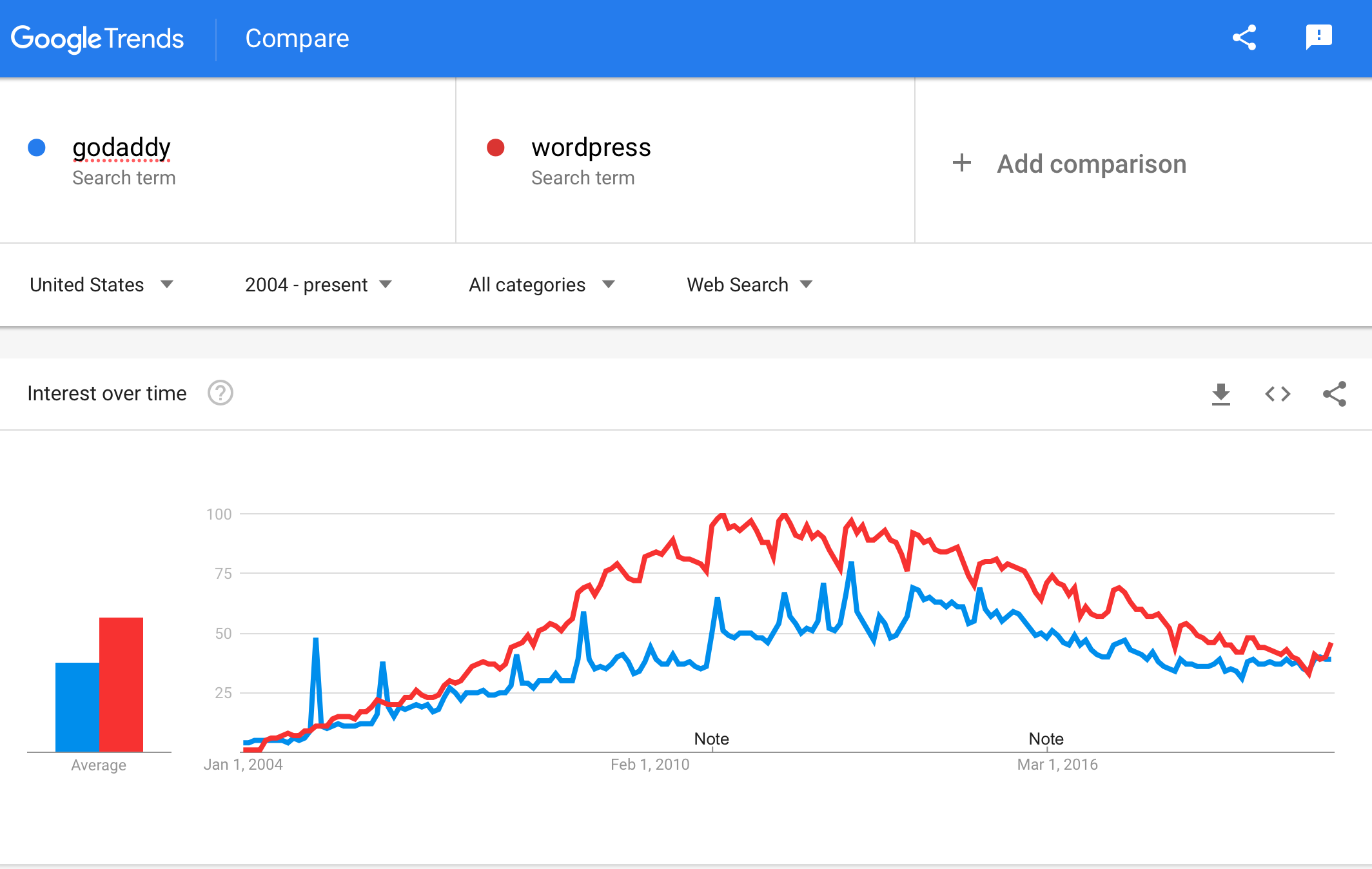 For your web-centric hosting businesses to be successful, you must recognize that roles are changing and in change lies opportunity.
For example, the role of Web Designer and Front End Developer has changed drastically. They bring together design and technology, taking design files and converting them into code, and are using technical and specialized solutions. They're working beyond CMSs and the traditional LAMP stack and require more customized servers to run APP packages and complex JavaScript programming.
The Linux Operating System, Apache HTTP Server, MySQL Database, and PHP Language stack currently power over 80% of the internet, but as JavaScript and APP based services grow, so will alternative server configurations.
Focusing on a single developer solution with a large user base has many advantages, from finding a customer base to hiring knowledgable employees. As the saying goes, it's better to be the big fish in a small pond vs. a small fish in an ocean.
Cloud hosting business model:
For large-scale hosting businesses, the future is moving to multi-server cloud-based AI solutions. Hyperscaling and cloud services are already attractive to mid-level and enterprise customers.
The flexibility and on-demand access to cloud services are quickly becoming an industry standard. Many business models are forming around cloud services, and the current cloud hosting reseller is one of the business models that will take us through the next decade. cPanel & WHM have already started partnerships with some of the largest hyperscalers. When we compare the Google search results for Web Hosting and Amazon's Cloud Hosting Services (AWS), we get the big picture of cloud hosting.
Hosting Models Pros and Cons:
Web Hosting Business Model
Pros
Cons
SAAS Model

Focuses on SMBs and SMEs.
All in one tool for website management.

Requires multiple software add-ons, extensions, and maintenance.
Large multilevel support staff needed.
Large overhead.

Web-centric Model

Focuses on a single customer base.
Less maintenance.
Small team/staff required.

Limited audience.
Bound to a 3rd party software platform.

Cloud Services

Scalable for the future.
Enterprise level customer base.

Requires multiple software add-ons, extensions, and maintenance.
Large multilevel support staff needed.
Large overhead.
Web hosting business changes constantly, and we're all forced to make business decisions we hadn't even thought of when we started.
Starting your own web hosting business is a more realistic option now than 20 years ago, but it's still not a simple business to enter.