5 Smart Social Media Promotions You need to Boost Sales
Social media marketing is still a must for building brand awareness and growing your audience. But, if you're not taking advantage of innovative sales opportunities to drive more business to your virtual doors, you could be missing out on lots of potential customers.
Social media has become a valuable sales platform for eCommerce businesses, thanks to savvy promotional tactics and features like shoppable posts on sites like Instagram, Facebook, and Pinterest. Even if you're not using social media to sell products directly to your customers, there are several smart social media promotions you can leverage to drum up new business and drive more sales from repeat buyers.
If you're looking for ways to boost eCommerce sales through social media, it's time to explore some creative promotional tactics to build excitement, create a sense of urgency, and send customers rushing to the checkout. These five social media promotions have proven successful for small eCommerce shops and major brands. They run the gamut from the simple and easy to execute to more complex promotions that require a bit more planning and management (but pay off handsomely in the end).
1. Flash Sales
One of the simplest and most effective sales strategies for both brick-and-mortar and eCommerce retailers is the time-tested flash sale. Flash sales create urgency, driving customers to make purchase decisions quickly to avoid missing out on a fantastic deal.
Plus, customers who are among those lucky enough to score a great deal benefit from a sense of exclusivity. They might even brag about the unbelievable deal they got, which in turn helps to boost brand recognition for your business.
Holding a flash sale is an easy promotion to execute. All you have to do is offer a special discount for a limited time, like Mixtiles does with this limited-time offer code promotion on Facebook:
Source: Mixtiles via Facebook
To build momentum, announce the upcoming sale a few weeks in advance, but don't disclose the date of the sale ahead of time. By adding this bit of mystery to your promotion, you'll keep your customers coming back to check your page for new details so they don't miss out.
If your flash sale is generating a lot of buzz, it's a good idea to ensure that your website can handle the impending sudden influx of traffic. The last thing you want is a crashing eCommerce site, leaving customers frustrated and possibly angry that they missed out on scoring a deal because your store crashed.
2. Exclusive Coupons for Followers
Another easy social media promotion to boost sales is to offer exclusive coupons and discounts to your social media followers. It incentivizes potential customers to like or follow you on social media, meaning your future promotions will reach an even larger audience.
Executing this promotion is as easy as offering a social-only discount code in your social media posts. For example, on Facebook, your followers (or those seeing your ad if you're promoting it that way) will click a button to get their code.
Take it a step further by cross-posting to encourage your Twitter followers to like your Facebook page or follow you on Instagram, or vice-versa. Use a clear call-to-action and a hashtag, such as #greatdeals or #savebig for greater reach. In the example below, Giselle's ad campaign offers exclusive follower-only discount vouchers for those who follow their official store: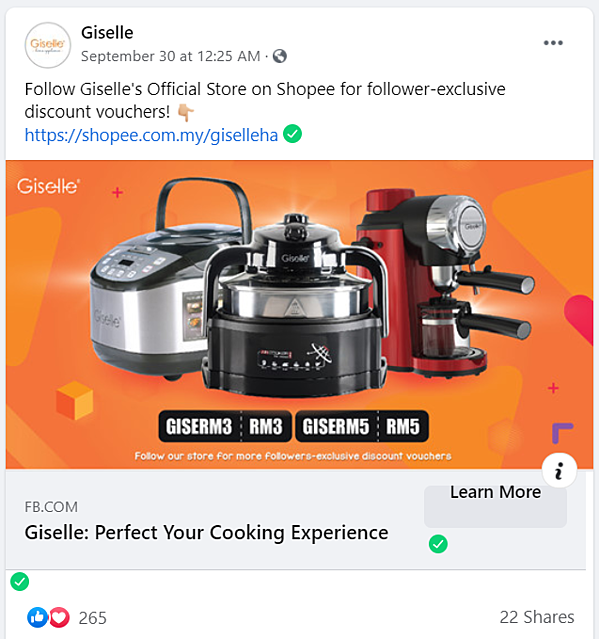 Source: Giselle via Facebook
The best thing about a coupon promotion is that you can easily measure your success by monitoring how many times the coupon is redeemed. When you use different codes for different platforms, you can even determine which social media network generated the most engagement.
3. Influencer Marketing
Influencer marketing is a highly effective strategy for boosting sales on social media, and it doesn't have to cost a fortune. There are many influencer marketing platforms that connect brands with relevant influencers, such as Upfluence and CreatorIQ. Most of these platforms also offer tools to help you manage your influencer marketing campaigns, from approving creative content to measuring results.
Here's the thing: You don't have to get the Kim Kardashians of the world to recommend your products to boost eCommerce sales. There are plenty of influencers with smaller, yet highly engaged and loyal audiences who will review and recommend your products at a reasonable cost.
Once you've established your budget and engaged relevant influencers, there are a few ways you can leverage influencers to boost sales, including:
Send sample products to influencers for product reviews
Have influencers create content that features your products
Have influencers create testimonials about your products
Offer a discount code exclusively through influencers
Have influencers promote your products through contests and giveaways
Give influencers early access to up-and-coming product releases to build pre-launch excitement
In this example, Kristin Rose Davis promotes Tula's limited-edition skincare product with a discount code that allows the company to track the number of customers Davis sends their way: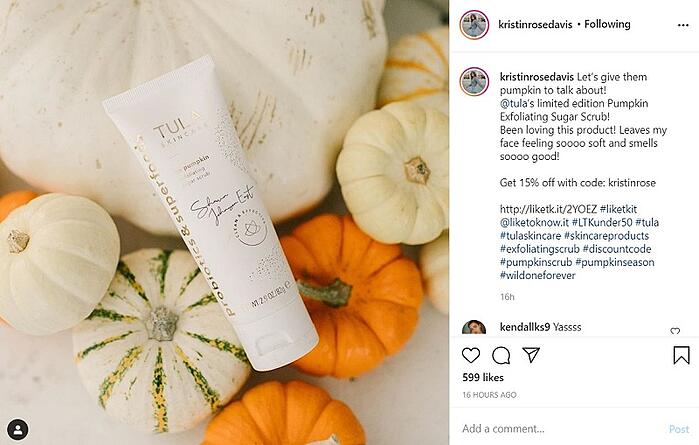 Source: @kristinrosedavis via Instagram
Whether you stick to a single influencer marketing tactic or experiment with all of these promotions, the key is to find what works for your business and what resonates most with your influencers' audiences.
4. User-Generated Content
You don't have to rely on influencers to attract new customers on social media. Why not tap into your existing customers to get some high-quality content that entices other prospective buyers to try your products? Run a promotion asking your fans and followers to submit photos of themselves using your products.
Ask your fans to tag their posts with a catchy hashtag for a chance to be featured, like Aerie does with its #AerieREAL, #goingoffline, and #aerieootd campaigns. In this example, Aerie Mall at Millenia shares an incredible user-submitted photo that shows off two cozy favorites from Aerie's fall collection:
Source: @aeriemallatmillenia via Instagram
A hashtag associated with your user-generated content campaign not only makes it easy for you to find submissions, but it also makes tracking participation a breeze.
Share the best submissions on your social media profiles. You can even use user-generated content to create shoppable posts, meaning other followers can simply click on a photo to buy the product featured in an image.
Some brands even create entire web pages dedicated to showcasing user-generated content, complete with click-to-buy-it capabilities. If you use this tactic, you can expand your reach by installing social media share buttons on your website. Share buttons make it easy for your visitors to share content featuring your products with their social networks with the simple click of a button. Image share buttons are another powerful tool for eCommerce retailers. Image share buttons are attached to the image itself, rather than the entire page, making it easy for your visitors to share images of their favorite products with their networks.
By making it easy for your customers to share their favorite products, you'll reach a larger audience of potential customers. It doesn't hurt that 93% of consumers trust recommendations from friends and family, so these shares add some social proof to the mix as well.
5. Shoppable Social Media Content
Shoppable content can consist of brand content or user-generated content, or even a combination of the two. It comes in a variety of formats such as text, video, photos, digital magazines, and more. Some of the most popular uses of shoppable content today are social media posts and ads.
The idea behind shoppable social media content is that when potential customers see ads, images, or videos featuring products that they immediately fall in love with, they can make a purchase instantly. In some cases, customers can complete the purchase without navigating away from the social media site. This allows customers to follow through with a purchase at the moment they're inspired to buy, making the purchase process effortless.
To cater to the demand for seamless shopping experiences, a growing number of social media platforms are rolling out features for advertisers that allow customers to purchase products without ever leaving the site. Here's a look at some of the shoppable content options on Instagram, Facebook, Pinterest, and YouTube.
Instagram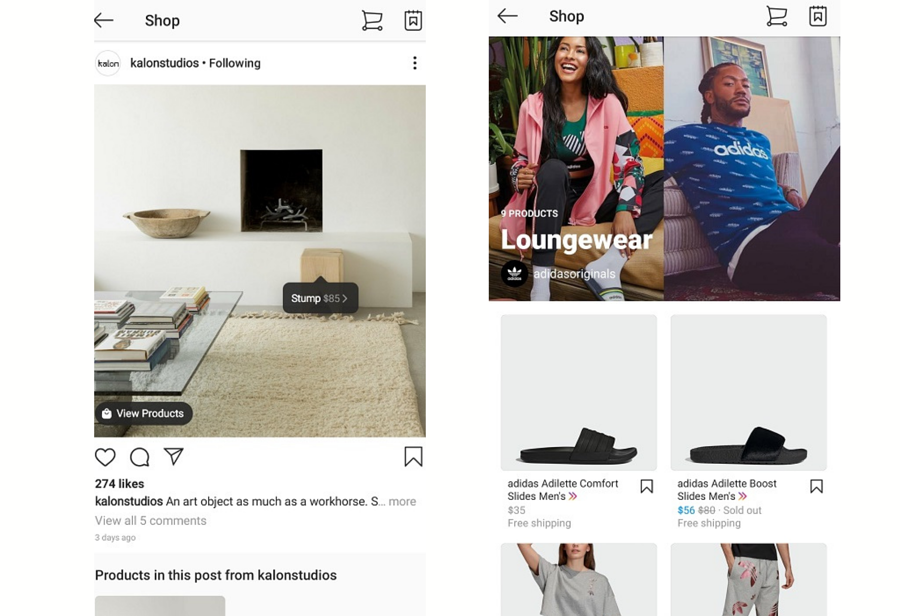 Source: @kalonstudios and @adidasoriginals via Instagram
A 2015 survey by Iconosquare found that 70% of Instagram users look up brands on the platform. According to Instagram, 90% of users follow at least one business. Falcon.io points out that 60% of users discover new products on Instagram, and more than 200 million Instagram users visit one or more business profiles every day.
In other words, Instagram is one of the best platforms for eCommerce businesses looking to boost sales on social media. So, what are your shoppable content options on Instagram? Perhaps unsurprisingly, Instagram offers many ways to sell to your followers:
Instagram Shops – A customizable in-app storefront allowing followers to shop directly from your business profile page. You can even customize your shop with curated Collections of related products to capitalize on cross-selling opportunities with ease.
Checkout on Instagram – A new feature rolling out to all eligible U.S. business accounts and content creator accounts with Instagram Shops that will allow you to sell your products directly on Instagram. Users can checkout seamlessly with Facebook Pay. Enabling this feature will allow access to other shoppable features, such as shopping looks from creators, which allows creators to tag products in their posts, and product launches, which allows you to notify people of an upcoming launch on Instagram.
Instagram Live Shopping – Checkout-enabled businesses can sell products through Instagram Live, giving viewers the ability to purchase products that inspire them in real-time while watching.
Shopping Tags – Businesses can highlight products in Stories and in their feeds, and checkout-enabled businesses can also use Product Mentions to highlight products in their captions and bios.
Product Detail Pages – These pages focus on a single product, showcasing all relevant information and pulling all media where the product is tagged on Instagram to give customers an easy way to discover all the possible uses for the product.
Shopping Ads – Boost your existing Shopping Posts in the Ads Manager to reach a larger audience. These ads can drive users to your website or to the native checkout on Instagram if you're a checkout-enabled business in the U.S.
Facebook
Having a Facebook Shop is a prerequisite to having an Instagram Shop. Facebook owns Instagram, so the Shops feature actually allows you to create a single online store that customers can access from both platforms. According to MarketingWeek, one survey found that 26% of online shoppers say they head to Facebook to browse for products.
If you haven't yet set up a Facebook Shop, you can get started in the Commerce Manager. Then, you'll be able to take advantage of a number of shopping features and tools to sell products directly through Facebook, such as:
Shopping Tags – Like Instagram, Facebook allows you to tag products in images and videos to create shoppable posts.
Facebook Live Shopping – You can tag products from your Facebook Shop or catalog before going live to allow viewers to purchase products they love in real-time. The products will be showcased at the bottom of your live video, and viewers can tap them to learn more or make a purchase.
Loyalty Programs – Facebook is exploring ways to enable businesses to create and manage loyalty programs on Facebook Shops.
Native Checkout – If you're in the United States and are a checkout-enabled business on Facebook, customers can place their orders and complete the checkout process without ever leaving the app.
Collections – You can create Collections of similar or related products in your Facebook Shop, and you can even choose a collection to feature or add a product grid that showcases the top four products in a collection that your customers are most likely to be interested in.
Featured Products – Choose a specific product to feature or choose the Dynamically Select Product option to automatically showcase a product that the customer is most likely to respond to based on their behavior, such as shopping habits and activity.
Pinterest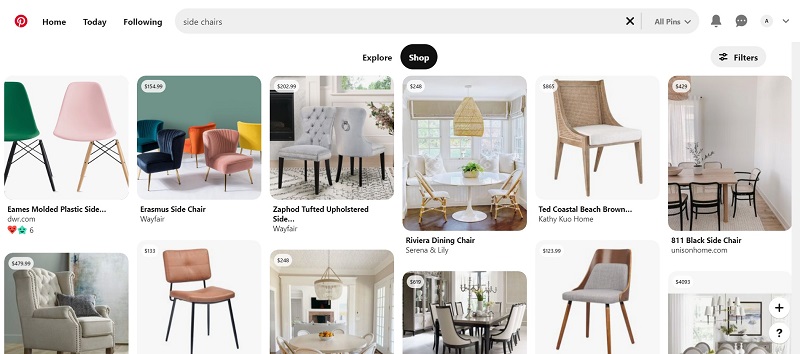 Source: Pinterest
Like Instagram, Pinterest is a visually oriented social media platform, and it's also a popular shopping platform. One survey found that 63% of millennial users say Pinterest helps them discover new brands and products, plus, millennial Pinterest users are 18% more likely to buy additional products to complete projects or ideas. More than eight out of ten (83%) Pinterest users have made a purchase based on brand content they saw on Pinterest.
To start leveraging Pinterest to boost eCommerce sales, you'll need a Pinterest business account. Then, you can take advantage of shopping capabilities such as:
Shopping Ads – Choose product groups that you want to promote with Shopping Ads, and Pinterest will automatically show your ads to the users who are most likely to be interested in your products. When customers click, they'll complete the checkout process on your eCommerce website.
Product Catalogs – Provide a data source to upload all your products, and Pinterest automatically creates product Pins for every product. From there, you can sort products into groups and choose products to promote via Shopping Ads.
Rich Pins – Rich Pins are a useful alternative if you don't have a suitable data source to upload your entire catalog, although Rich Pins can't be promoted as Shopping Ads – only organically.
Collections – Collections are an organic format allowing you to tag multiple products in a single lifestyle image, so they're ideal for fashion and home décor retailers. When a user clicks on a product, Pinterest shows them similar products to shop, as well.
YouTube
YouTube is one of the largest search engines in the world, second only to Google, which happens to be its parent company. According to Think with Google, more than 90% of people say they discover new brands and products on YouTube, and more than 40% of shoppers around the world say they've purchased products they discovered on the popular video platform. Here are a few ways to boost sales on YouTube:
TrueView Video Ads – The best way to boost sales on YouTube is with TrueView video ads. These ads play before, during, or after videos and allow viewers to click a link in the ad, which takes them to a product page where they can learn more or make a purchase.
Annotation Links – Another option is to use annotation links on your videos when you're showcasing or mentioning a product. This is a particularly useful feature when used in conjunction with influencer marketing. Your influencers can add annotations to the videos that feature your products, so viewers can simply click the link to complete a purchase.
Native Purchasing Features (Possibly Coming Soon) – Like the other social media platforms discussed above, Google is experimenting with new ways to make shopping more seamless for consumers on YouTube. Soon, users may be able to purchase products directly through YouTube while watching content such as unboxing videos, cooking videos, or makeup tutorials.
Conclusion
There are many social media promotions you can use to boost eCommerce sales. Whether you're looking for a simple, easy to implement promotion or are game for experimenting with more complex social commerce options, social media is a valuable tool for eCommerce retailers to reach a larger audience and create a seamless experience for shoppers across multiple channels.