Retouching product photos as a business owner can take time that you don't have – especially if you're not a professional photo editor. Luckily, there are several photo editing services to choose from that can help you edit all of your photos.
In this article, we have reviewed numerous reputable photo editing services for product photographers and named eight efficient companies in terms of quality, pricing policy and turnaround time.
These companies offer several retouching services, including Clipping Path, background removal/recoloring/replacement, color correction, etc. They can make your products look voluminous, apply the ghost mannequin technique, and edit images according to the requirements of a specific trading platform. Some services even offer a discount on bulk orders, which is a nice bonus.
Let's dive into the best photo editing services for product photography.
1. FixThePhoto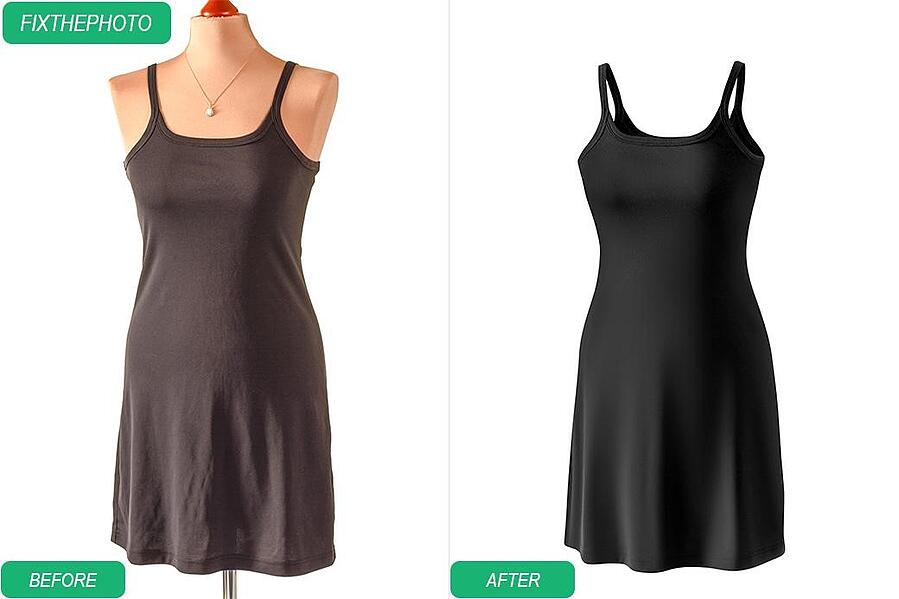 Price: Starting at $2 per photo
Time for Retouching: 1-3 days
Pros:
Cons:

Fast retouching time
Creative image processing available
SD photo effect available
Discount on orders over 50 photos
Provides DIY editing guides

Prices are higher than other services
Some reviews reference inconsistent quality
FixThePhoto is a photo retouching company that has been offering product photo editing services for over 15 years. On one end of the editing spectrum, they offer basic retouching if you only need to slightly enhance an image. On the other end, you can also order advanced options such as creating a 3D effect and adding shadows to make the picture look more natural.
FixThePhoto retouchers can also change the color of a product if you have several identical products in varying colors, as well as replace the background. Thanks to these edits, you won't need to constantly replace backdrops during shooting or photograph dozens of identical products.
For merchants who specialize in jewelry items, FixThePhoto offers online jewelry retouching service. This includes removing the background, improving colors, removing harsh shadows, etc.
On the FixThePhoto website, you can quickly find out the cost of your order by simply adding a couple of images, instructions and references – no registration required. They also offer discounts starting at 15% for bulk orders of 50 or more photos.
In order to check the quality of work offered by FixThePhoto and their product photo retouching services, we sent retouchers several product photos to edit. We received the finished photos in less than a day and were satisfied with the results. The retouchers worked on the lighting, corrected WB and shadows, and replaced the background. Overall, they did a quality job on our sample photo.
2. Pixelz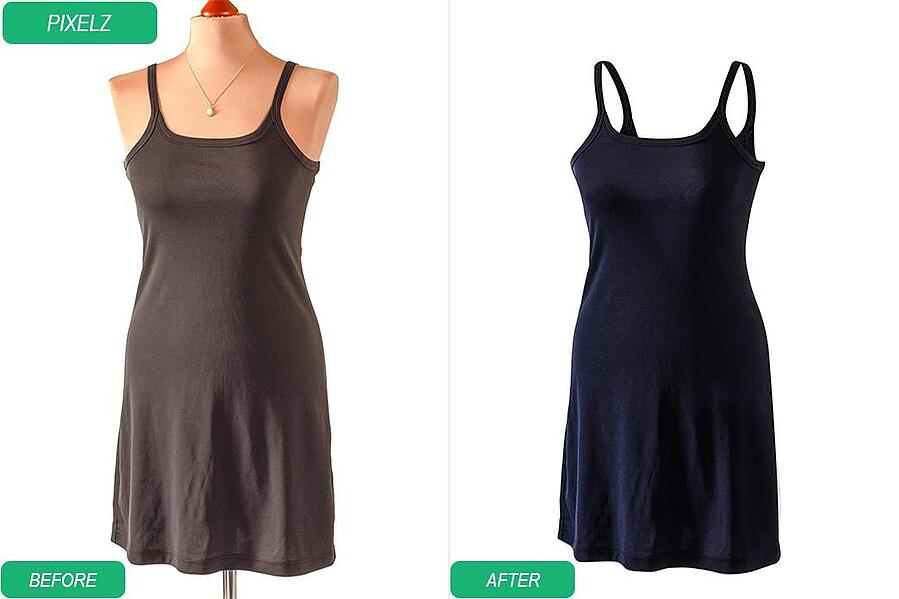 Price: Starting at $1.45 per photo
Time for Retouching: Up to 48 hours
Pros:
Cons:

Specialize in eCommerce photo editing
Automatic photo processing
Batch photo editing available
Background removal option
Fast retouching time

Charges monthly fees on top of editing fees
Isn't suitable if you need 1-2 photos edited
Pixelz specializes in product photo editing for eCommerce businesses. You submit your images for retouching, background removal or replacement, and get the result within 48 hours. The most unique aspect of this service is that, at first, a photo is processed automatically before being improved by a professional retoucher.
The list of adjustments available includes cropping, border adjustment and vertical alignment. You can order different types of editing of one photo for posting on various websites. However, the downside is that you have to pay not only for image editing, but also a monthly fee for using the service.
Our photos edited by experts from Pixelz were ready 28 hours after placing the order. But the editing was incomplete; retouchers replaced the background, but the product in the image turned out looking slightly unnatural. In addition, they distorted the original color of the product.
3. WeEdit.Photos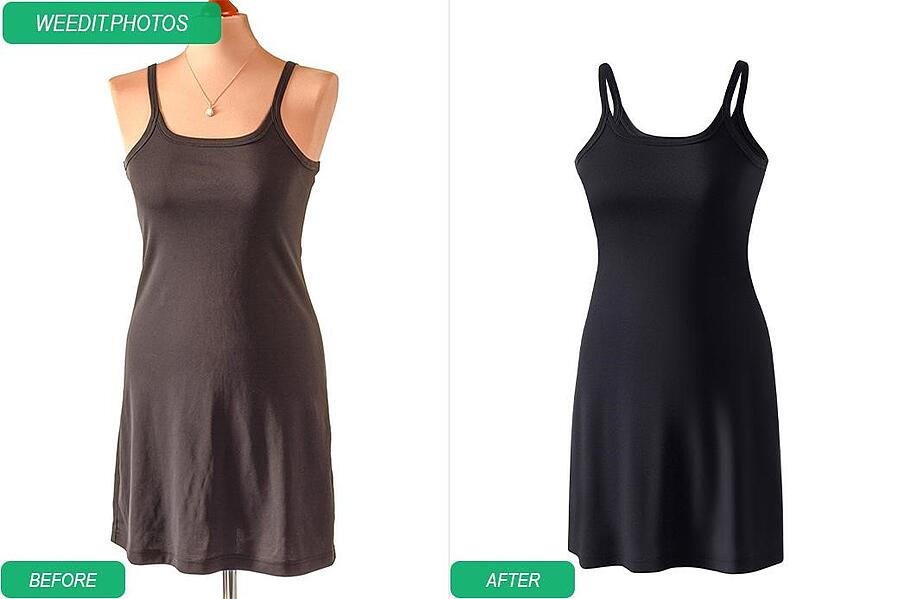 Price: Starting at $0.20 per photo
Time for Retouching: 2 days
Pros:
Cons:

Affordable services
Round-the-clock technical support
Reliable protection of photos
Guarantees top quality

Few samples of product photo editing
WeEdit.Photos has been providing photo editing services for product photographers since 2003. The list of services includes basic color correction, background removal, and image enhancement. Their services aren't limited to editing product photos, as you can also order professional enhancements for portraits and other types of images.
Repeat clients can enjoy sufficient discounts. Moreover, the company guarantees that your images will be edited at a professional level; if you aren't satisfied with the result, you can get a refund or free revisions.
You can contact the company at any time of the day because it provides customer service in a 24/7 format. They don't use photos without your permission either; the processed pictures are sent to client using encrypted protocols.
It normally takes retouchers from WeEdit.Photos two days to improve product images. We received the finished photos a day after placing the order. Typically, such prompt work means that the quality of editing is far from perfect, but that's not the case with this company. Retouchers replaced the background, improved colors and shadows, and resized the images. They also met all the requirements we specified while placing an order.
4. PixelPhant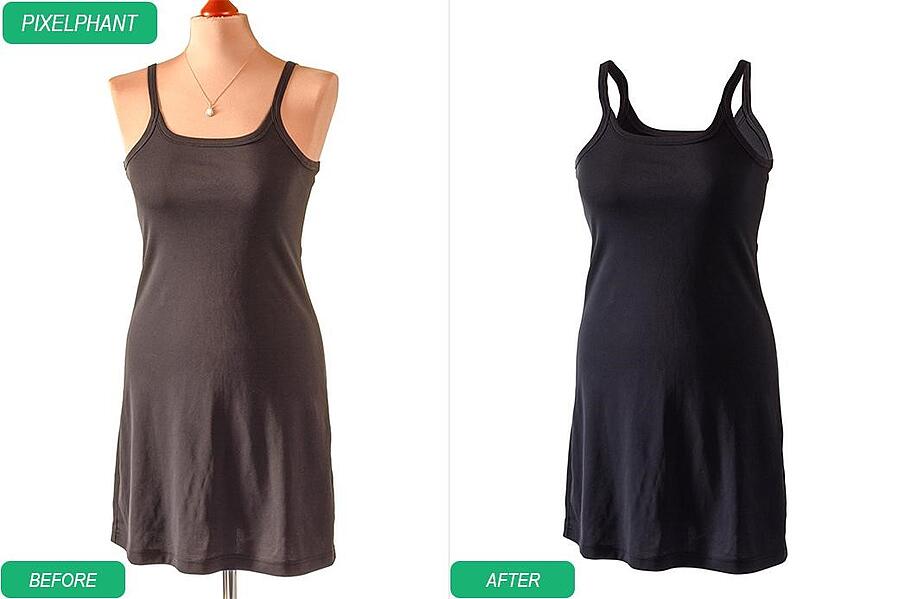 Price: Starting at $0.80 per photo
Time for Retouching: Up to 24 hours
Pros:
Cons:

Specialize in eCommerce photo editing
Extremely fast retouching time
Removes defects from the product
Dashboard lets you track your order status

Average photo quality
Charges extra for advanced retouching
PixelPhant, a photo editing service for eCommerce professionals and photographers, can be used for advanced product photo editing. With their service, you can order background replacement, precise photo cropping, elimination of visible imperfections, color correction, shade removal, etc. The result is sent back in JPG, PNG, TIFF, and other formats. It is also possible to select a preset size of images for publication on certain selling platforms.
After placing an order, you can track its status through your personal dashboard. In addition, you can get in contact managers or order other services.
Though this is one of the fastest photo editing services for product photographers, the quality of their work leaves something to be desired. The color correction resulted in distorted shades of the product depicted in the photo, so buyers may not fully grasp what their order will look like in real life. Besides, the company claims to work with all photo formats, but PSD is unavailable.
5. HighEndBeautyRetouching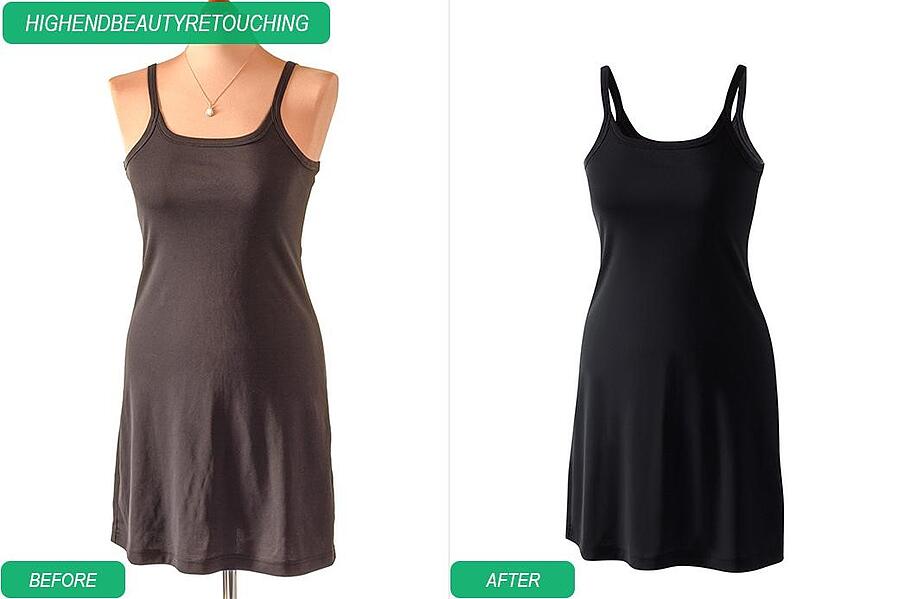 Price: Starting at $10 per photo
Time for Retouching: 2 days
Pros:
Cons:

High quality photo editing
Photography services are available
Can edit images for magazines and ads
Ensures absolute privacy

Prices can be expensive
Specialize in marketing/advertising photo editing
HighEndBeautyRetouching offers product photo editing services for magazines, newspapers, advertising campaigns, portfolios and social networks. With their service you will get high-end photos, even if you used poor equipment during shooting. In addition, the company offers photography services if you want professional photos taken of your products.
They also offer background or item replacement, removal or restoration of objects in photos, image merging, and more. Retouchers edit images based on your style references. In addition, the agency has services specifically for preparing photos for magazines or advertisements. They can also apply an HDR effect to images. Their portfolio contains examples of previous work so that you can evaluate the skills of their retouchers and understand how much your order is going to cost.
We addressed HighEndBeautyRetouching and ordered product editing according to the Basic Plan. It includes the removal of needless elements, background editing and lighting correction. The pictures we received were of a very good quality and the retouchers preserved the initial style.
6. EditProductPhoto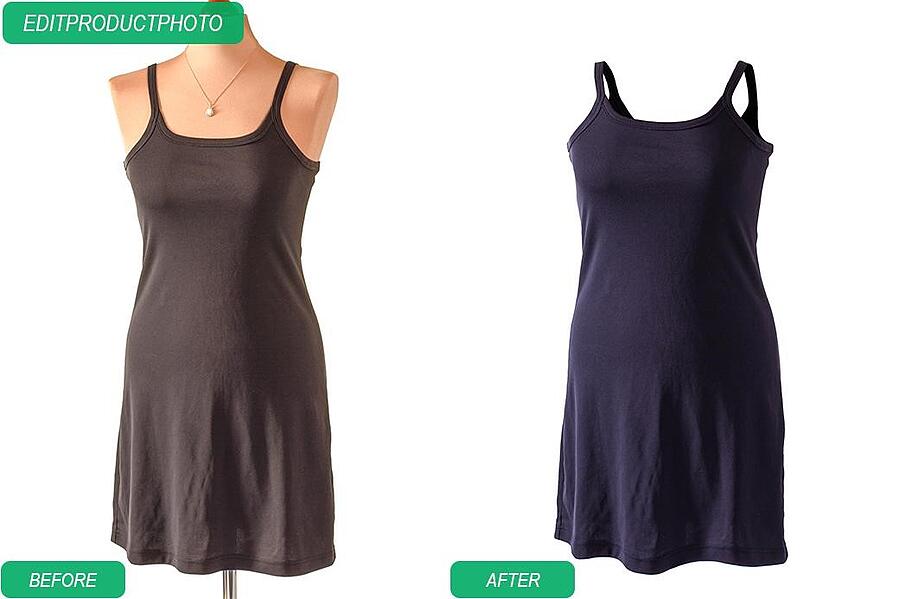 Price: Starting at $0.40 per photo
Time for Retouching: Per your personal request
Pros:
Cons:

Affordable prices for service
Offers test orders
Retouching time is customizable
Editing matches your personal request

Inconsistent editing quality
Managers have slow response times
EditProductPhoto, as the name would suggest, is mainly engaged in product photo editing. Their list of services includes background replacement, precise image cropping, work with shadows, color correction, high-end retouching, changing of image resolution and more. To make pictures of clothes look aesthetically pleasing, they can also apply the ghost mannequin technique, as well as remove stains, labels, and wrinkles.
We contacted EditProductPhoto with a request to edit images in accordance with the requirements set by Amazon. Online sites such as Amazon and Etsy have specific demands for images, such as a white background, certain resolution, etc.
We ordered product photo editing services and asked them to correct colors and remove visible defects on the product. The result that we received were quite nice photos that perfectly matched Amazon requirements. The only serious problem is that the color of the product looks slightly unnatural.
7. Wedding Retouching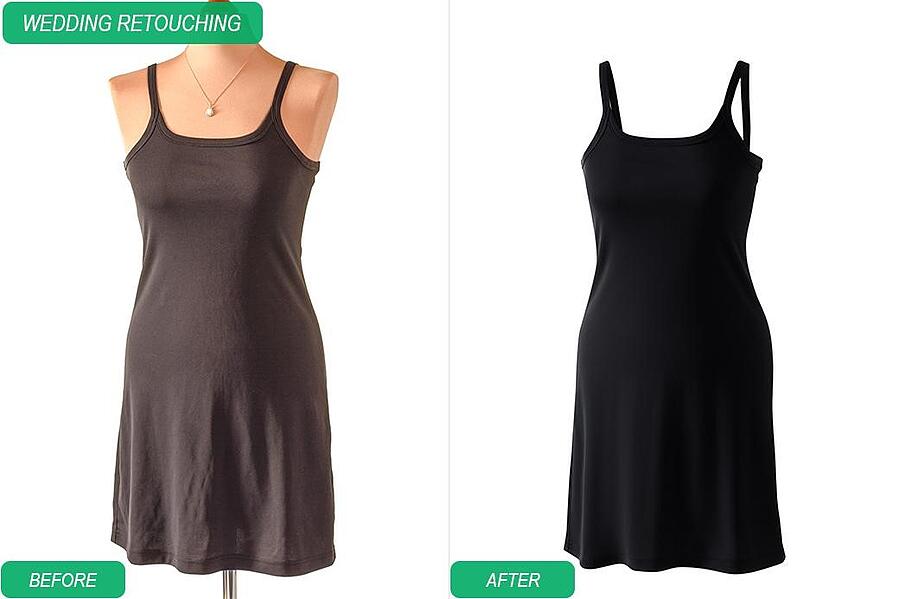 Price: Starting at $0.20 per photo
Time for Retouching: 5-7 days
Pros:
Cons:

High quality image editing
Support several ways to send in photos
Reasonable cost for bulk orders
Ready-made presets for quick image editing

Specialize in wedding photo editing
Average retouching time is long
Wedding Retouching offers editing of different types of images, including product photos. With their service, you can order photo culling, color correction, photo retouching, background enhancement and removal of unwanted objects.
To submit your product images, you don't need to upload them to the website. You can directly send them a link to a cloud storage folder. They also provide good examples on their website – you can look at the before & after image to track the changes. Additionally, this photo editing service, similar to FixThePhoto, accepts bulk orders of up to 700 photos, and offers generous discounts on them.
Retouchers from Wedding Retouching spent a bit more than a day editing our product shots. The end results were of good quality. They improved vibrance, contrast and saturation, focused attention on the product and worked on shadowed areas. They preserved the style in accordance with my requirements.
8. Paper Boat Creative
Price: Quote-based
Time for Retouching: 48 hours
Pros:
Cons:

Specialize in business photo editing
Offer photography services
Batch photo editing available
Fast retouching time

High price range
Ignored reference photos
Paper Boat Creative is a photo editing company that offers services for jewelry, eCommerce, fashion, kids, and architecture. With their service, you can order background removal, a ghost mannequin effect, color correction, removal of imperfections, composing and more. They also perform eCommerce image retouching, making it possible to highlight the smallest details that are important to clients.
There is a separate section with before and after image samples on their website that showcases to clients how their photos will look. However, we found that the result isn't always the same quality that you may expect from what's posted on their site.
We waited for our photos for 2 days, but the results didn't meet our expectations. Retouchers didn't follow the style of a reference image that we sent them. Aside from this issue, Paper Boat Creative charges several times more than other photo editing services that we've covered in this article.
Conclusion
Whether you're a product photographer or a business owner, hiring a product photo editing service may be beneficial to you. Not only can you save time on photo editing, but you can also receive great results that you may not have been able to produce yourself.
In this article, we've collected the best photo editing services for product photography. When compiling the overview, we focused on the results of testing, user reviews, and information on the companies' websites. With this list of good services, you should be able to make the best decision for your specific business needs.