Usernames have become necessary, and even critical, in today's digital world. Not only do usernames give you a unique identity online, but they create a level of security and confidentiality. And, in some cases, usernames actually become brands, as in the case of the hundreds of thousands of influencers found on YouTube, Instagram, TikTok and more.
Regardless of why you need to create a username, whether for digital access to online banking or for a social media network, making sure you do it right is important. Too difficult to remember, and you'll find yourself frustrated and constantly forgetting it. Too generic, and you risk blending in with the crowd — or having it be too easily guessed by potential hackers (or your kids). Your username can also be too revealing, providing others with more information about you than you might want them to know.
And considering that more and more employers take a deep dive into your digital personas before hiring, you'll also want to make sure that your usernames are appropriate — even tongue-in-cheek names can get you in serious trouble.
The key to creating a great username, then, is making sure that it's unique, easy to remember, and relatable to who you are and what you're doing. While your banking username definitely doesn't need to be catchy (just effective), any usernames you use for more visible accounts can and should be fun! Of course, you'll want to consider any "fun" username before attaching yourself to it, because changing your username down the road can lead to confusion. While you might love something trending right now and, therefore, put it into your username, it might be smarter to select a username that doesn't rely on fast-changing fads.
When to Choose a Secure Username and How to Select the Right One
While certain online account usernames don't need to be "secure", others definitely do, especially when they grant access to personal accounts and information. Anytime you need to create a username for a private account, such as for banking, insurance, or work, you'll want to choose one that's secure enough to keep your information safe. Now is not the time to be "cute" or to use something generic, like your last name and year of birth.
Below are some tips for making sure your username is smart and secure:
Make it memorable. While you don't want it to be easy to guess, you also want to make sure that your secure username is something that you'll remember each time you go to log in.
Simple is better. Your secure password shouldn't be simple, but your secure username absolutely should. While certain sites will have specific requirements (like a certain amount of special characters or numbers), it's always best to keep your username simple. The more capital letters and numbers you add, the more difficult it will be for you to remember.
Avoid sensitive personal info. One of the biggest mistakes when creating secure usernames is using sensitive personal data. While you might be tempted to use something like your social security number as a username because it's difficult to guess and easy for you to remember, this type of information, especially if your account gets hacked or your device lost or stolen, can put you at risk for identity theft.
Consider anonymity. Depending on the site you need a secure username for, you might want to consider leaving out any personal identifiers, such as your name, date of birth, hometown, etc.
Don't rush. While a secure username might not seem like a big deal, you definitely want to give yours some thought before making it official. In some cases, the username you create cannot be changed, so consider it carefully before attaching yourself to it.
If you're struggling to think of a great username for a new account, or are wanting to update one that has run its course, below are some of the best username generators to help you pick a name that's right for your account.
The 10 Best Username Generators Online
1. LastPass Username Generator
If you're looking for a secure username, then the username generator by LastPass is your best bet. Known for creating secure passwords and helping you instantly log in to multiple sites without ever needing to enter your information, LastPass can help you create a username that is nearly impossible for others to guess. While you might think your password is more important than your username, the latest data published by LastPass shows that usernames and email addresses can actually provide a lot of potentially dangerous information to hackers online.
2. SpinXO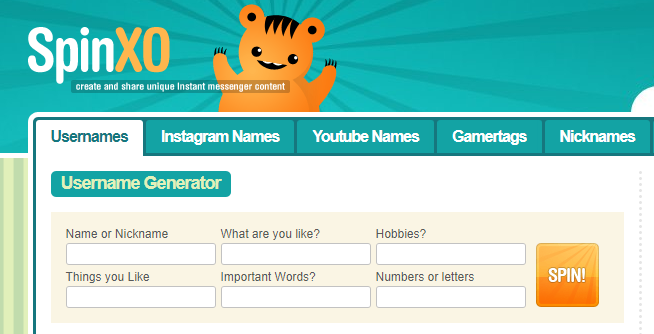 A fun way to generate a unique username, SpinXO actually creates 30 possible usernames at once so that you have plenty to choose from right away. In order to generate these names, the tool collects information from you, ranging from your interests to words you like, and then uses that information to give you username inspiration. SpinXO also gives you a way to check if the username you like is available on several different platforms, including YouTube and Instagram.
3. NordPass Username Generator
As a well-known password manager, NordPass has also developed a secure username generator. With their generator, you can create a random username and check its availability on sites like YouTube, Twitter, Reddit, Pinterest and Vimeo. You can add a keyword, determine username length, select a category, choose to replace letters with symbols, and more when generating your unique username.
4. Business Name Generator
Want to create a unique username without any work? Business Name Generator's Username Generator is the place to go. With usernames created at the push of a button, Generator Land provides you with instant ideas for online profiles. Just enter words into the text box and press "Generate" and you'll get a list of ideas inspired by your words. You can filter results by industry, character count, word count, and more. You can even save name ideas by clicking on the star icon next to the idea you like. This generator even allows you to check a name's domain availability with GoDaddy, which is useful if you'd like to use this name as your online business name.
5. Jimpix Username Generator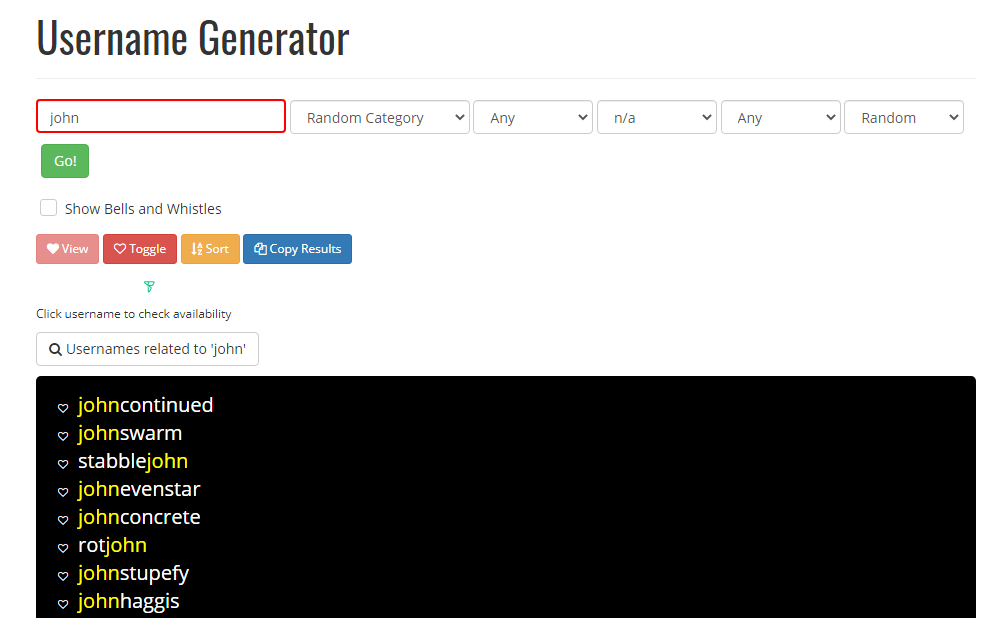 The great thing about the Jimpix username generator is that it allows you to choose elements you want in your username while still making it secure and, therefore, difficult to guess. To use the generator, you provide a word and let the generator select random words from a category you've selected to pair with it. Not only can this generator be fun, but the results often work both for being memorable and safe.
6. Rum and Monkey
Utilizing specific categories to help guide you to the perfect username, Rum and Monkey gives you the ability to choose from Minion and Greek names, to military codes and names in different languages. You can further customize the process by specifying your gender.
7. Masterpiece Generator
Want a username that's creative? Masterpiece Generator is one of the best username generators to use if you're looking for something that's out of the ordinary. Capable of customizing the usernames it generates, Masterpiece Generator lets you enter words you want included in your name, such as your favorite adjectives and nicknames.
8. Cute Instagram Names
While it might not be the most secure username generator available online, this generator definitely is fun when you're looking for a username to use on social accounts. Created by LingoJam, Cute Instagram Names is easy to use for anyone having a difficult time choosing what their online identity should be.
9. Screen Name Generator
Promising unique and secure usernames, Screen Name Generator can even help you create the perfect email account — or that elusive perfect name you've been trying to think of for your social media profile. If you have an idea for your username but you can't quite seem to get it right, then Screen Name Generator can definitely help. While you'll put in a specific word or two that you definitely want included, Screen Name Generator will add in other random words to help you create a username that's unique but still applicable to you.
10. BestRandoms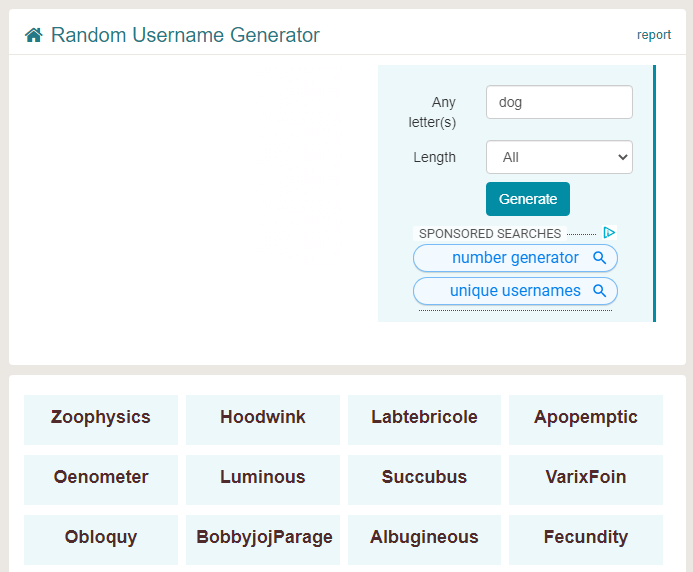 Another username generator fueled by the power of categories, BestRandoms gives you the ability to select a category, add unique words, and then select how many characters are in your final username. Once you enter your information, it will generate 80 different usernames at once, giving you plenty to peruse before making your final selection.
Conclusion
After you've generated the perfect username, there's still one potential problem: it not being available. If you find yourself in this situation, there are some creative solutions you can try. If you're familiar with other languages, you can try replacing a word in your username with the same word in another language. For example, white could become blanco or flower could become flor.
You can also avoid duplicate usernames by using symbols to replace certain letters or numbers in your desired username. Try using the @ symbol for the letter a ("hum@n") or the $ for the letter s ("$nake").
Most of the time, there's a way to use the username you want – it just might require a little bit of creativity on your part to get it just right.