Content marketing isn't just part of a smart marketing plan; it's a marketing plan in and of itself. Not only can content generate customers and grow your brand's visibility, but it's one of the most effective ways to boost SEO (search engine optimization), which, as any successful business knows, is critical in today's digital world.
And at the top of the content marketing industry is a widely used tool called BuzzSumo. For a lot of content marketers, nothing can compete with BuzzSumo in terms of content research, which is why it has gained such a reputation over the years for being the best tool available for developing a solid content marketing plan.
However, while BuzzSumo still seems to reign much of the digital content world, there are several new BuzzSumo alternatives that are giving marketers options — and solid ones at that.
Why is BuzzSumo So Popular?
In order to understand the benefits of the best BuzzSumo alternatives, you need to have a good understanding of why BuzzSumo is a staple in the content marketing industry. First and foremost, BuzzSumo is capable of providing incredible content insights that guide marketers in determining which topics need to be covered for their specific audience. Additionally, BuzzSumo allows marketers to discover the most powerful, niche-specific influencers, which provides further insight into what a particular market is looking for right now.
While these features alone have made BuzzSumo irreplaceable in the eyes of many content marketers, the popular tool also offers other features, including:
Analyses and comparisons of the competition
Alerts for new content
The ability to curate content specific to your niche and target audience
Overviews of all social media platforms
Filters and export tools to make organizing and reviewing data easy
BuzzSumo, like some of the other top content research alternatives, charges a monthly fee for users. Costs can range anywhere from $99 to $499 depending on which tools you need.
Now more than ever, however, business owners and marketers are looking for other ways to research content trends, and there are some fantastic tools available.
The 7 Best BuzzSumo Alternatives for Content Research
1. Topic
One of the reasons so many people love BuzzSumo is because it gives plenty of data and insights to create long-form content. When you're needing to create long, skyscraper-type articles in order to compete in your industry, BuzzSumo gives you everything you need to be sure that you're not wasting your time or money.
Thankfully, Topic, a solid BuzzSumo alternative, does the same.
Providing the same type of in-depth data for content marketers, Topic looks specifically at results generated on Google and then offers users a score that reveals how comprehensively that specific subject was covered in that piece of content. This score can show marketers how content for a specific subject, or keyword, needs to be created in order to compete with what's currently ranking on Google.
However, one of the best features Topic has is its "Writing Assistant", which determines how well your content was written and where it can specifically be improved. This feature is incredibly handy because it guides you in a practical way to make sure your efforts get real ranking results.
Other features include a smart Research Mode, which offers statistics and ideas, as well as a Link Sharing feature, which gives writers hired to create content the ability to access specific data and the Writing Assistant.
A solid content research tool that can easily replace BuzzSumo entirely, Topic is free for its basic plan, but goes up to $200 per month for the Pro version.
2. Social Animal
Designed to be a smart assistant for all content marketers, Social Animal offers features like language processing and machine learning. These features help it to better understand content in general, including what makes great content different than the rest. Providing users with article keywords and comparison tools, one of Social Animal's best features is its "Deep Keyword Search". This part of the tool allows users to do in-depth research on the real meat of content that's ranking, rather than just the title, which is what many other content research tools provide.
Designed to be practical for content creators, Social Animal gives users guidance for how long a title and the content itself should be, as well as which day the content should be posted. Social Animal also looks at how well content performs over six-month periods, which allows marketers insight as to which type of content sticks — and which will be replaced quickly by the competition.
Offered at three different levels of plans, Social Animal can be used for $49, $199, or $499 each month depending on your specific needs.
3. ContentStudio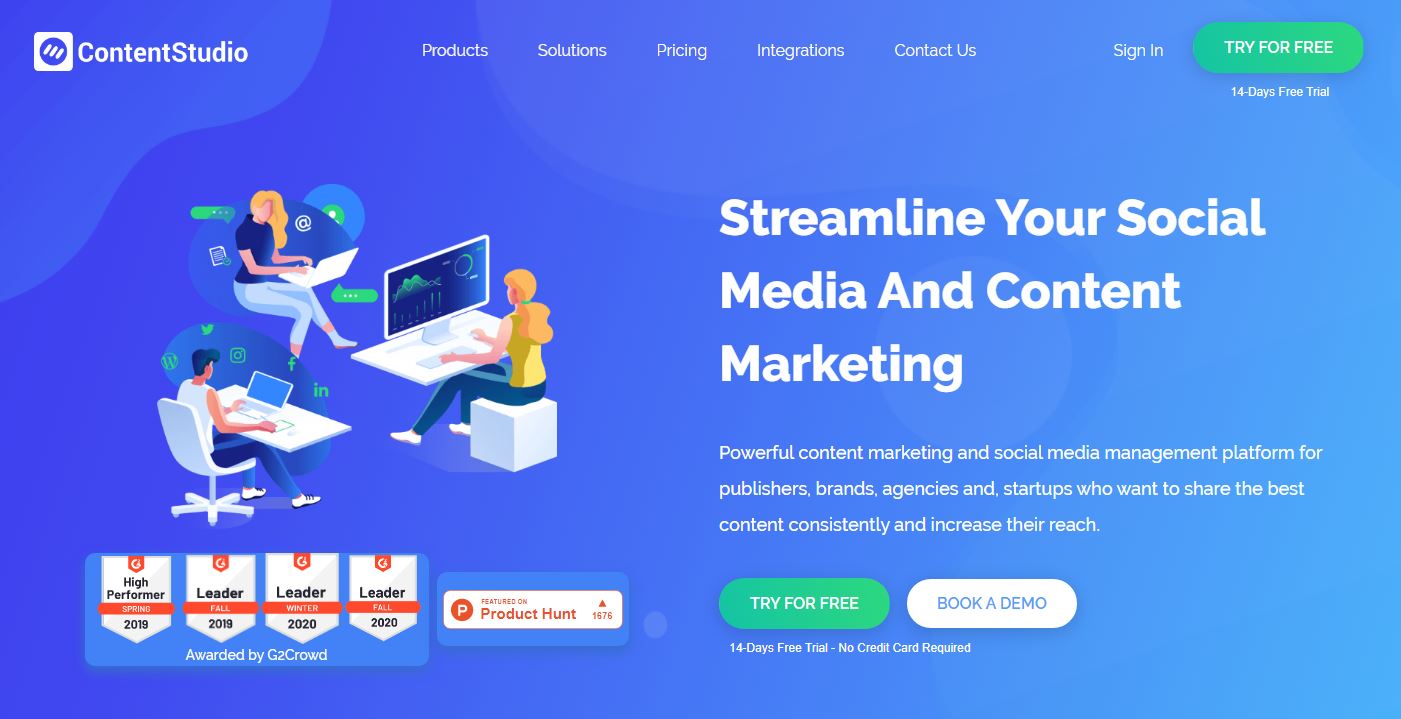 Capable of helping marketers interested in upping their content game, as well as managing social media, ContentStudio offers users a predicative application. This means you can submit content and then get feedback as to how well it should perform. Using social engagement data and other analytics, ContentStudio not only helps you create more shareable content, but it also has the ability to automate the scheduling of your content, too.
Like other content research tools, ContentStudio allows you to engage with influencer partners, specifically on Instagram and Twitter, to help your brand increase its visibility while simultaneously leveraging trust. And, because ContentStudio offers advanced analytics, you can keep tabs on how well your content is performing so that you can stay on track.
Lower in cost than other content research tools (some packages start at just $39 each month), ContentStudio is easy to use and affordable. However, it does not allow you to post automatically to Instagram, which is one of the main complaints.
4. Hootsuite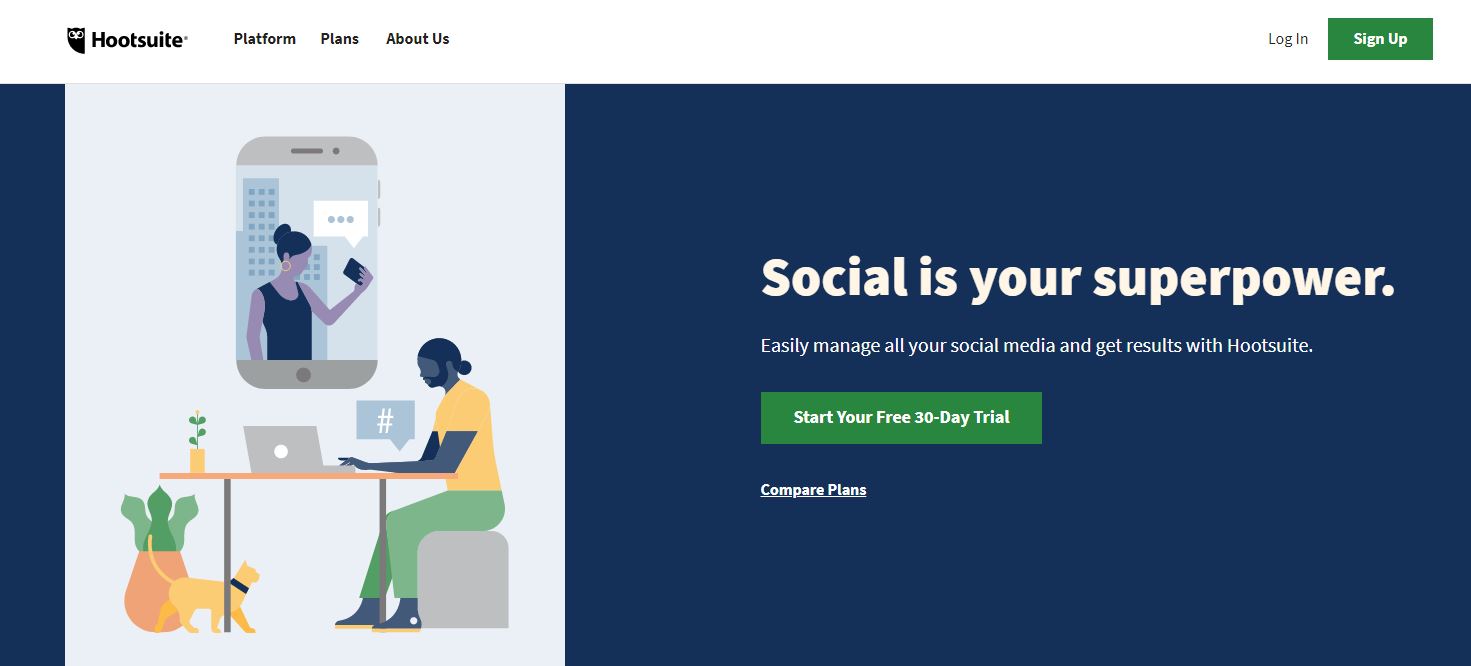 While mainly used as a content scheduler and organizer for marketers and businesses, Hootsuite also offers the ability to discover new content, which is a great tool for initial content research. By using advanced searches created by hashtags, location, and keywords, Hootsuite enables you to see what kind of content is being created in your niche — and how you can add your voice in the most effective ways.
Marketers who rely on Hootsuite love that there is a shared content library that can be accessed by everyone on the team, which means less back and forth communication. And, of course, the scheduling aspect of Hootsuite is what brings many marketers to the platform. Through content calendars, teams can stay organized about what content is being pushed out, when it's going to be published, and who is going to see it.
Ideal for collaboration, research, and scheduling, Hootsuite is a solid choice for many businesses. Although there is a free version, most teams enjoy the features that come with the monthly subscriptions, which start at $29 a month and reach up to $599 a month for larger organizations.
5. Ahrefs

An advanced SEO tool, Ahrefs provides many of the same content research features that BuzzSumo does, making it a solid alternative, if not arguably better in terms of overall capabilities. Packed with incredible tools, one of the most powerful in terms of content research is the "Content Explorer" tool that allows you to search thousands of topics that are currently trending in your niche.
Because of the data provided by Ahrefs, marketers can not only look at how much content is being shared, but also the traffic it's receiving and which domains are referring that traffic. Like other content research tools, Ahrefs gives you the ability to connect with influencers and look at influencer analytics, such as how many followers they have and more.
But the features don't stop there. In terms of SEO, Ahrefs gives you a whole lot more than BuzzSumo does, including the ability to research keywords, build links, track competitors, monitor ranks, and audit websites. Plans for Ahrefs range from $99 to $999 monthly depending on your needs.
6. ShareIt
Completely free to use, ShareIt gives you the ability to research content and search for influencers in your market. By keeping up to date with the latest content being published, you can stay on trend and make sure you're giving your audience what they're looking for.
While not advanced as some content research tools, many marketers find ShareIt useful because it provides them with the ability to brainstorm together, find top influencers, and gain insight on how popular certain types of content are right now.
7. SproutSocial
Designed specifically to compete directly with BuzzSumo, SproutSocial finds its strength when it comes to creating content for social media platforms. Giving marketers the ability to track their performance on social media, SproutSocial provides analytics and reports that help to drive future decisions.
Additionally, the tool makes interacting with audiences on social platforms easier. It allows for communication and responses across social media accounts to happen all in one place — no switching back and forth between accounts and platforms in order to reply to comments.
Conclusion
While BuzzSumo continues to be a popular choice for content research, there are plenty of other solid options available that can provide the same type of features. Depending on your business and its needs, it's always a good idea to look into the content research tools available in order to make sure you're using the smartest tool for what you want to achieve.