Online ordering is important for your restaurant now more than ever. In a recent poll, 33% of consumers said they're getting more takeout than before the pandemic, and 13% said they'll continue to rely on off-premises dining after it ends. If your restaurant doesn't currently have an online ordering system, you're missing out.
Benefits of your own online ordering system
Building an ordering system in which you have complete control can benefit your restaurant in a variety of ways, including:
Attract new customers. Many people only get food for delivery or pickup, especially during the COVID-19 pandemic. Online ordering reaches these people, who may otherwise not have tried your food.
Make your food more convenient. Make it easier for existing customers to order your food for lunch at their home office or after a long workday.
Keep more of your hard-earned money. Avoid paying costly commissions to third-party services like DoorDash.
Make orders more efficient. Fulfill pickup and delivery orders without the need for time-consuming phone calls or lost physical tickets.
Tips for setting up online ordering with WordPress
If you already have a WordPress restaurant website, adding an ordering system is simple!  All you need is WooCommerce and the Restaurant for WooCommerce extension. When combined, they create a powerful system for accepting orders efficiently and effectively.
But how do you make your online ordering process as successful as possible? Here are a few tips.
Choose high-quality images
People eat with their eyes first, so make sure the pictures you use to represent your food draw them in. If you take photos yourself, use good lighting, make sure images aren't blurry, and represent the size, color, and quality of your menu items as accurately as possible.
You don't necessarily need to hire a photographer or buy special equipment, though those are both options. You can take great photos with a smartphone and a little practice. This article provides simple tips that will improve your photography.
Write clear descriptions.
Don't just settle for a picture and title; take the time to write a brief description of each dish. What sides are included? What are the primary flavors? Does it contain common allergens? What does it pair well with?
Appeal to your customers' senses with descriptive language — think through what your food tastes, looks, and smells like. Want ideas and examples? Read our post about writing effective product descriptions.
Make it easy for diners to edit their order.
If your customers want to remove or add an item to their cart, make it as easy as possible. They shouldn't have to start their order all over again!
With the Restaurant for WooCommerce extension, diners can add an item, remove an item, or increase the number of items they want all on the same page. No frustration and no wasted time.
Make your hours and requirements clear.
Avoid confusion and frustration by adding your restaurant hours and order deadlines to visible locations on your website. At a minimum, they should be in your footer and on your ordering page.
Do you only deliver within a certain area? Do you require a minimum order total for delivery? Make those requirements readily available as well.
Sort menu items into categories for easy ordering.
If you have more than a few menu items, make it easy for customers to find what they're looking for using categories. This is probably no different than how you already set up your menu: divide items into groups like appetizers, salads, sandwiches, entrees, desserts, etc.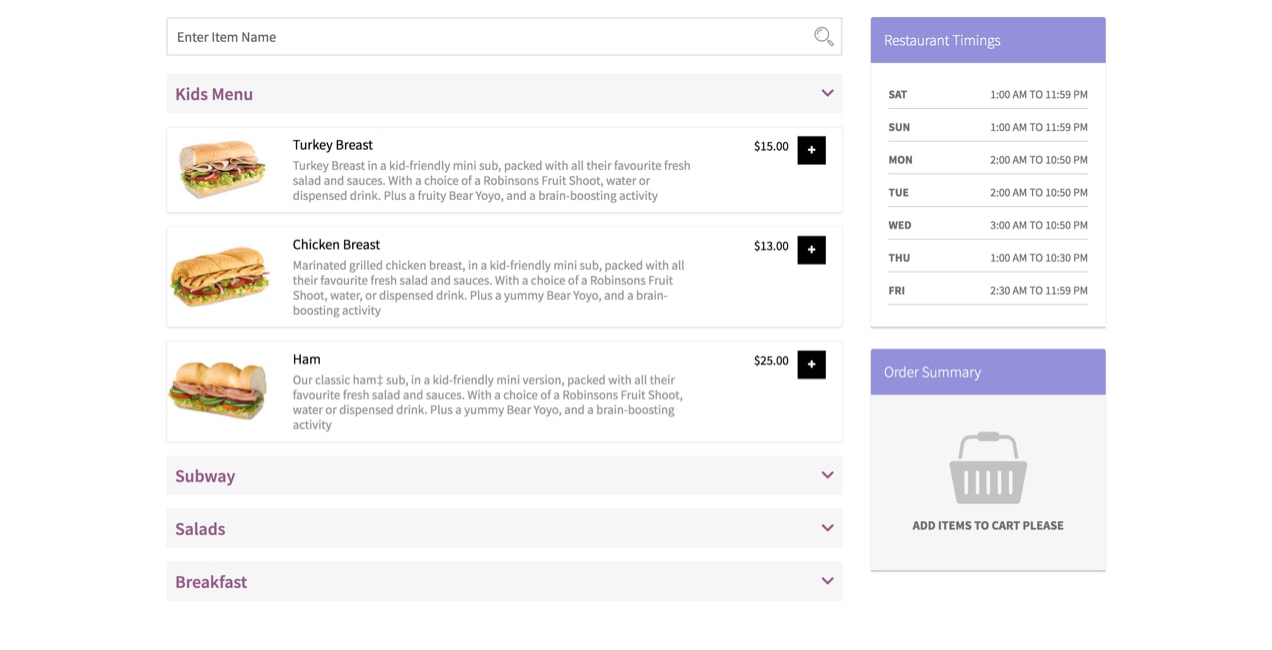 With the Restaurant for WooCommerce extension, you can turn these categories into toggles, so customers can expand only the ones they're interested in. This helps them find what they're looking for right away without getting overwhelmed, especially if you have a large menu.
Consider offering multiple delivery options.
Different customers have different needs; meet as many as possible by offering a variety of delivery and pickup options. For example, you might have curbside pickup, regular delivery, and express delivery available for different prices.
Let diners add notes and special requests.
Sauce on the side? Burger cooked medium-well? No-contact delivery? Let diners make these types of special requests when placing their order. This makes for happy customers that will keep coming back time and time again.
Offer upsells and customizations.
By adding the WooCommerce Product Add-Ons extension, diners will be able to customize their order and even offer upsells for certain items. Here are a few examples of how you could use this functionality:
Offer a custom pizza and allow people to choose from dozens of toppings. Some toppings could be free and others could have an upcharge.
Let customers choose from several cheese or bread options on their sandwich.
Suggest sides or drinks that would complement a main course.
Let diners add extra sauces or seasonings on the side.
With checkboxes, dropdowns, and text inputs, you can truly create something as unique as your restaurant.
Offer a discount for first-time customers or large orders.
You may want to consider offering a discount for people that order for the first time, or for particularly large orders. You could do this by offering 10% off, for example, or even free delivery. This is a great way to encourage diners to try your food or groups to order something for everyone.
Basic discount functionality is built into WooCommerce, but for advanced rules, try the Smart Coupons extension.
Think beyond meals.
Your loyal customers may want to order more than just food, however. They might want to show their love for your restaurant with branded T-shirts, hats, and stickers. They might want to keep bottles of spices and sauces in their pantry. Or they might want to give a gift card to their loved ones for a birthday or holiday.
With WooCommerce, you can offer your online menu alongside physical products, digital gift cards, and culinary classes. Make the most of all your opportunities!
Get started with online ordering
Get started with the WooCommerce Setup Wizard, which walks you through all the initial steps needed to set up your store. Then, follow the detailed documentation for WooCommerce and the Restaurant for WooCommerce extension and you'll be ready to fulfill orders!
And if you run into any questions along the way, don't worry — the support team is available to help. Want some inspiration? See how four food businesses have adapted during the COVID-19 pandemic with the help of WooCommerce