Most businesses spend the majority of the year trying to do two things:
Sell more to existing customers
Acquire new customers
But during the holiday marketing season, your audience shifts, and neither of those goals applies in quite the same way. Now, you're selling to the gift giver, not just your usual customers.
Suppose that, for 11 months out of the year, you sell hiking gear to outdoor enthusiasts. But during the holidays, you sell to their friends, family, and coworkers who want to buy them gifts. These people may have no interest in your product, but they know someone who does.
This audience shift is more pronounced in some industries than others. If you want to maximize your sales during the most lucrative time of year, you need to make a few changes to your marketing strategies.
And you should make plans for these changes now – not at the end of November. Here are eight shifts that will make your holiday marketing speak to the gift giver, not the gift recipient.
1. Focus on headline language: identify your audience
Gift givers are looking for quick and easy. Whether you're sending paper catalogs, posting social media or search engine ads, doing email marketing, or just trusting that people will find your products organically, your headlines have to clearly and quickly speak to this new audience.
The other seven items on this list all depend on getting this first one right. A good headline during the holiday marketing season should accomplish several things:
State the offer — this could be a sale price, a product, a service
Speak to the intended audience — the gift giver who will be sending you money
Include at least one benefit
Identify the product or type of product
For example, suppose you sell portable heaters and air conditioners. You might normally use this headline: "Infrared Heating Systems — Save up to 40% and Stay Toasty All Winter Long."
Notice the details. The offer is "save up to 40%." The audience is anyone looking for a portable heater. The benefit is staying toasty all winter long.
But during the holiday season, you might shift it to this: "Is Your Partner Getting Cold Working at Home? Save up to 40% on Infrared Heating Systems."
This is a problem-solution headline, with the solution being the offer. Another headline could be:
"Great Gift Idea! Stay Toasty and Save up to 40% on Infrared Heating Systems."
The point is, you must speak to the person giving the gift, not the person receiving it.
2. Sell gift cards
Gift cards are a great holiday present, especially if you're sending it to someone you don't know super well. And with the Gift Cards extension, any business can sell online gift cards and let customers track how much they've spent.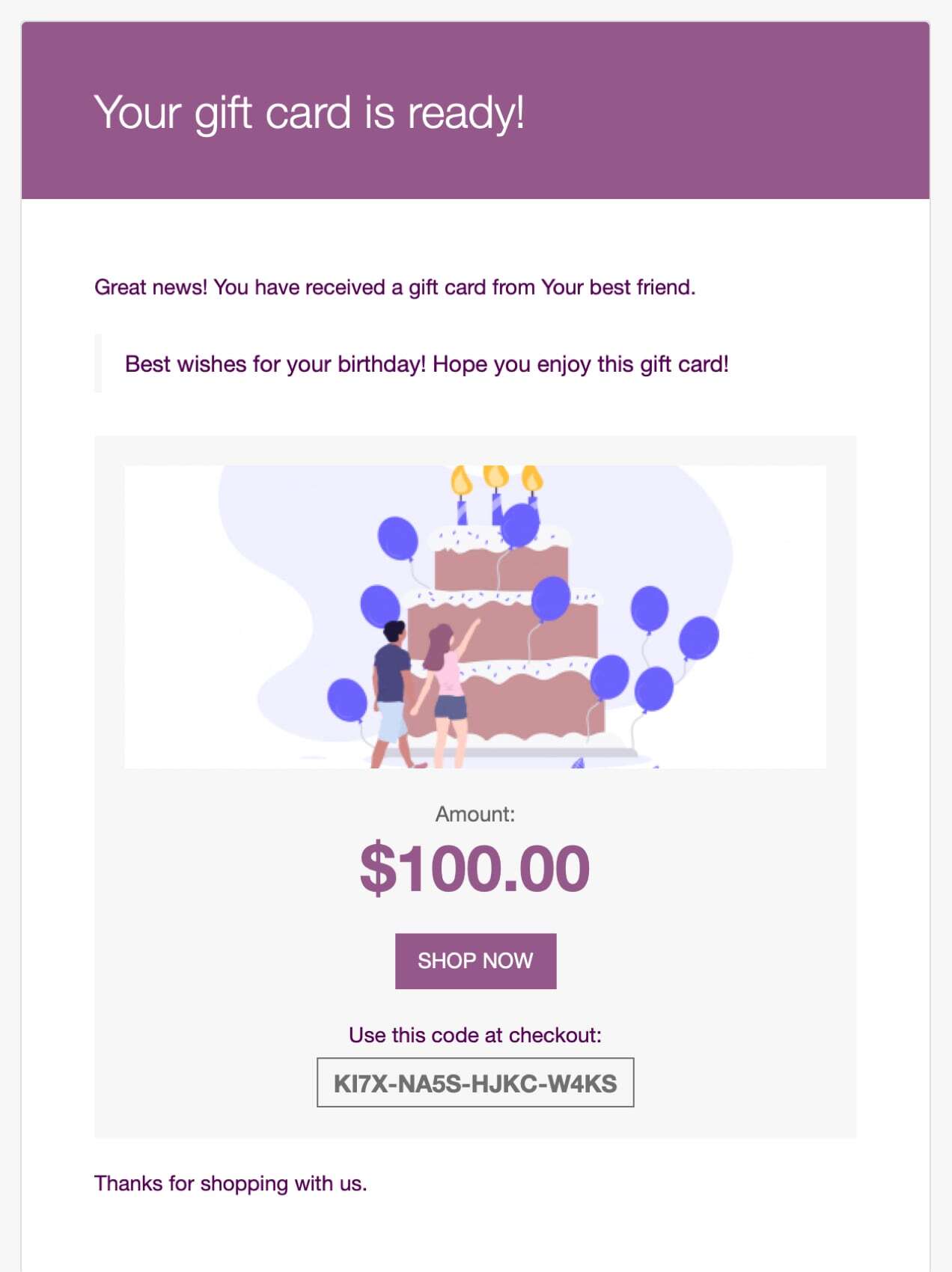 These are a great way to win new customers. The gift giver will buy the gift card. But the person using the gift card may become a repeat customer for years afterward. Another benefit of gift cards is that, unfortunately, some people never use theirs and forget they have them. While this isn't why you promote gift cards, it is a reality, and your business still gets the money.
3. Offer coupons to new customers
Gift givers are often first-time customers because they're buying your products for loved ones, not for themselves. Want them to shop at your store rather than somewhere else? Offer coupons for their first purchase!
With the Smart Coupons extension, you can set an offer amount — say, 15% off — and apply it only to orders from new users. Or, you might consider giving first-time customers free shipping.
4. Create packages, bundles, and gift baskets
This is a way to get super creative with your holiday marketing. Create special baskets and bundles that are available only for a short time, and pepper your headlines and ads with language about gifts.
A business that sells survival gear could put together an emergency package with tools, food, fuel, and clothing items. Or, give customers the chance to choose from several options and customize their product bundle.
You can do this and so much more using the Product Bundles extension.
5. Target friends of people who like your Facebook page
Facebook allows you to send marketing campaigns to the Facebook friends of anyone who has liked your page. This is a terrific way to reach out to people who are buying gifts for people who have already expressed an interest in your products or services. Here's documentation from Facebook explaining a bit more about what they call "Connections Targeting."
In your campaign, once again focus your headlines on this new audience. For example: "Survival Gear Gift Basket — Makes a Great Gift!"
Someone might see that ad on Facebook and think of their friend who they know that is a survivalist.
6. Include plenty of product details
On your product pages, but also on your other marketing materials, be sure to include extra details that the gift-giving audience will need.
A friend of a model train enthusiast probably won't understand all of the technical jargon typically included in a product description, so leave it out of your holiday ads aimed at this audience. No acronyms. No slang. No niche-level language.
And make sure you clearly explain what's great about each product. Don't just list a bunch of specs and features. If you normally write at a 10th-grade level, lower it to 7th. If you normally write at a 7th-grade level, lower it to 5th. Make it as simple as possible so that a person who knows almost nothing about your products will still know what they're buying, and will believe it's a good deal that their friend will love. Yes, this will mean more writing, not less.
7. Offer recommended products and cross-sells
Gift givers are searching. It's unlikely that the first product they view on your site will be the one they buy. Include recommended products, similar products, and cross-sells. This provides gift givers more choices so they stay on your site and don't go somewhere else. Make it easy for them.
Does this sound familiar? Yes, Amazon does it. If Amazon does it, you can bet that it works.
8. Write blog posts and guides that answer common questions
Gift givers are searching, but they don't always know what they're searching for.
By writing blog posts and guides that answer common questions from new customers, you can attract more visitors to your site. And, you can link to these resources from relevant product pages, for people on your site who need a little more detail.
Think about shoppers who come to your business and know nothing. What kind of questions do they ask about your products? Write about that, because that is your gift-giving audience.
Speak to the right people this season
What's the common thread here? Focusing on the gift giver. This doesn't mean that you should desert your typical customers. It just means that you should think about how your marketing, advertising, and website can speak to the gift giver's goal: Finding something amazing that will thrill the recipient.