The Best WordPress PDF Viewer Plugins
What is a WordPress PDF Viewer Plugin and When Would You Use It?
A WordPress PDF Viewer Plugin is a tool that allows you to integrate a comprehensive PDF viewer directly into your WordPress website. With this plugin, users can view PDF files seamlessly within a WordPress page, gaining access to all the functionalities of a PDF document.
In essence, the PDF viewer plugin provides users with a user-friendly interface to interact with PDFs, simulating the experience of having the file stored on their personal computer. Along with the essential features of a PDF, the plugin developers have added some additional useful functionalities to enhance the viewing experience for WordPress users.
There are several scenarios where utilizing a PDF Viewer Plugin proves beneficial:
Preserving Document Format: When you already have a well-formatted and finalized document in PDF format, it saves time and effort by using a PDF viewer plugin instead of rewriting or reformatting the content.
Displaying Large Documents: Some documents, such as lengthy reports or manuals, may appear cumbersome and unappealing when presented as a regular blog post or page. A PDF viewer plugin allows you to showcase these large documents in a visually pleasing and easy-to-navigate format.
Protecting Document Integrity: If you need to share documents that should not be modified by recipients, a PDF format provides a level of security. A PDF viewer plugin ensures that the document's content remains intact and discourages unauthorized editing.
Collecting Signatures and Dates: In situations where multiple individuals need to sign and date a document, such as contracts or agreements, a PDF viewer plugin simplifies the process. Users can conveniently download the document, sign it, and send it back without the need for physical copies.
Restricting Search Engine Access: Some content, like exclusive eBooks or private documents, may not be intended for public discovery through search engines. Using a PDF viewer plugin allows you to share this content online while maintaining its privacy and limiting access to a select audience.
Creating PDFs from Website Content: If you wish to transform specific website content, such as a collection of blog posts, into an eBook or downloadable PDF, a PDF viewer plugin can generate PDFs based on your existing web content, streamlining the process of content conversion.
The Best WordPress PDF Viewers
1. PDF Embedder
The PDF Embedder plugin has gained a reputation as a dependable solution for seamlessly integrating PDFs into websites. Its user-friendly interface and comprehensive feature set make it a popular choice among users. Even the free version of PDF Embedder provides all the essential tools necessary for effortless PDF upload, embedding, and navigation. Whether you need a convenient upload button or the ability to embed PDFs with ease, this plugin offers the functionality you require. With PDF Embedder, you can enhance your website's content by seamlessly incorporating PDF files into your web pages.
If you're looking for advanced features like mobile-friendliness, a fullscreen button, and page jump technology, the premium version of PDF Embedder is the perfect choice. Upgrading to the premium version allows you to enhance the functionality and user experience of your PDF viewer, ensuring seamless navigation and optimal compatibility with mobile devices.
The benefits of PDF Embedder include the convenience of quick and easy PDF upload with a single click, responsive design that adapts to different screen sizes, and a smooth viewing experience thanks to its use of JavaScript. The premium version offers additional features such as full-screen mode, PDF security, and continuous scrolling through pages. Plus, the pricing for the premium version is affordable with a small one-time payment.
However, it's important to note that the free version of PDF Embedder has limitations when it comes to content security. Without upgrading to the premium version, there is no protection for your PDF files, allowing anyone to access and download them. Additionally, some users may find the placement of the page flip buttons at the bottom left-hand corner of the screen unconventional.
2. Google Doc Embedder
The Google Doc Embedder plugin offers a notable advantage by supporting a diverse range of file types. Unlike some other plugins, you don't need to convert your files to Google Docs format. While this might have been a requirement when the plugin was initially developed, it is no longer necessary.
One of the key benefits of the Google Doc Embedder is that all of its features are available for free. There is no premium version or additional costs associated with accessing advanced functionalities. This ensures that you can take full advantage of the plugin's capabilities without any limitations.
By utilizing the Google Doc Embedder, you can seamlessly embed and display various file types on your website, enhancing the user experience and providing easy access to important content. Whether it's PDFs, Word documents, Excel spreadsheets, or PowerPoint presentations, the plugin supports a wide range of file formats.
Overall, the Google Doc Embedder is a valuable tool for seamlessly integrating and displaying files on your website without the need for file conversion or additional costs. Its free nature and broad compatibility with different file types make it an attractive choice for users looking for a straightforward and accessible solution.
The Google Doc Embedder plugin offers several advantages that enhance the file embedding experience on your WordPress website. Here are the pros of using the Google Doc Embedder plugin:
Quick Embed Button: The plugin provides a convenient embed button within the WordPress post editor, allowing you to easily add PDFs and other files while writing your post, streamlining the process and saving time.
Wide File Support: Google Doc Embedder supports a diverse range of file formats, including PDFs, Word documents, PSDs, and OTFs. This extensive file support makes it a suitable choice for users who need to embed different types of files on their website.
Multi-Language Support: The plugin is currently available in ten different languages, making it accessible to users from various regions and enabling them to use the plugin on their websites in their preferred language.
Shortcode Compatibility: For users who prefer working with shortcodes, Google Doc Embedder offers the option to utilize shortcodes to embed files, providing flexibility and convenience in embedding documents.
Despite its advantages, there are a few downsides to consider when using the Google Doc Embedder plugin:
Reliance on Google Hosting: The functionality of the plugin heavily relies on Google hosting your documents. While this is generally not an issue, it means that you don't have complete control over your content since the PDFs and files are not hosted on your own server. As a result, there might be potential security concerns.
Lack of Local Document Upload: The plugin does not offer an upload feature for pulling local documents directly. Instead, you are required to upload your documents to Google, then copy and paste the URL. This method can be considered somewhat outdated and might be less convenient for users.
Considering these pros and cons, the Google Doc Embedder plugin proves to be a useful tool for embedding files on your WordPress website, with its extensive file support and ease of use. However, it's important to be aware of the reliance on external hosting and the absence of direct local document upload.
3. PDF Viewer for WordPress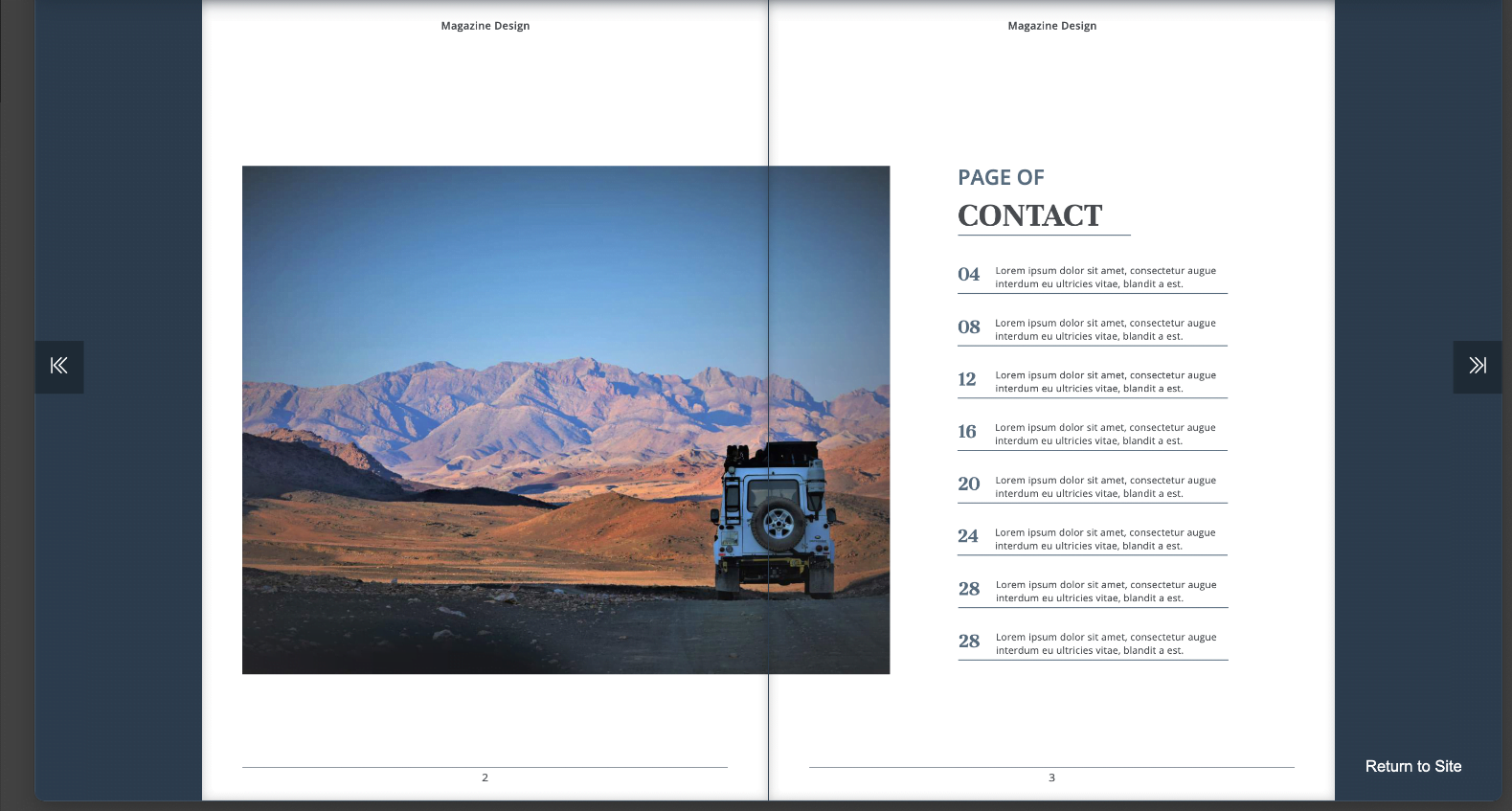 With PDF Viewer for WordPress, you can unlock a wide range of powerful features for an affordable one-time payment of $40. This plugin stands out as one of the most robust and feature-rich PDF viewer solutions available for WordPress.
By integrating PDF Viewer for WordPress into your website, you provide your visitors with a seamless and immersive PDF viewing experience. The plugin offers a comprehensive set of features that cater to both your needs as a website owner and the expectations of your visitors.
Some of the key features include advanced navigation options, such as zooming, searching, and thumbnail previews, allowing users to easily navigate through PDF documents. Additionally, you can customize the viewer's appearance to match your website's branding and design.
PDF Viewer for WordPress also supports various viewing modes, such as single page, double page, and presentation mode, providing flexibility in how your visitors interact with PDF content. Furthermore, the plugin ensures a responsive viewing experience, optimizing PDF display across different devices and screen sizes.
With its extensive feature set, PDF Viewer for WordPress empowers you to create an engaging and user-friendly environment for showcasing PDF documents on your website. Enhance the way your visitors interact with your content and elevate the overall browsing experience.
Make the most of your investment by leveraging the comprehensive features and functionalities offered by PDF Viewer for WordPress. This plugin is a valuable tool for any website owner looking to provide a top-notch PDF viewing experience to their audience.
PDF Viewer for WordPress offers numerous advantages that make it a top choice for managing and displaying PDF documents on your website. Here are some of the key benefits:
Multilingual Support: The plugin provides translation capabilities, allowing you to localize your PDF viewer in more than 100 languages. This ensures that users from diverse backgrounds can access and interact with your PDF content in their preferred language.
Integration with Google Analytics: By connecting to Google Analytics, you gain valuable insights into how your PDFs are being accessed and utilized by your audience. This tracking functionality helps you measure the reach and engagement of your PDF documents, enabling you to make data-driven decisions to optimize their performance.
Support for Bookmarks and Links: PDF Viewer for WordPress fully supports bookmarks and links within your documents. This means that users can easily navigate through the PDFs, quickly jump to specific sections or pages, and access external links embedded within the document.
Flexible Shortcode Integration: The plugin offers the option to insert PDFs using shortcodes. This allows you to have more control over where and how the PDFs are displayed on your website. With shortcodes, you can seamlessly integrate PDFs into your posts, pages, or custom areas of your website.
Excellent Support and Documentation: PDF Viewer for WordPress stands out for its exceptional support and comprehensive documentation. The developer provides timely assistance and guidance, ensuring that any issues or questions you may have are promptly addressed. The detailed documentation offers step-by-step instructions, making it easy to set up and configure the plugin.
While PDF Viewer for WordPress offers numerous advantages, it's important to note that the plugin does not provide specific tools for securing your PDFs. If you require advanced security features to protect your PDF content from unauthorized access or modifications, additional measures may be necessary.
Overall, PDF Viewer for WordPress is a powerful and versatile solution for seamlessly integrating and managing PDF documents on your website, with a range of features that enhance the user experience and provide valuable insights into the performance of your PDF content.
4. Flowpaper
Flowpaper offers an impressive WordPress PDF viewer that comes with a price tag of zero. The viewer has a sleek and modern design that can enhance the visual appeal of your PDFs. However, it's important to note that the back-end controls and customization options may not be beginner-friendly. Advanced developers who are comfortable with code customization will find this plugin more suitable for their needs.
On the other hand, if you're a beginner or less experienced with coding, you may encounter challenges with customizing the viewer and managing storage limits. It's important to consider your technical proficiency and comfort level with code editing before opting for Flowpaper.
Ultimately, Flowpaper can be a great choice for advanced developers seeking a visually appealing and free PDF viewer. However, beginners may find it more challenging to navigate and customize. Consider your skill level and requirements carefully to determine if Flowpaper is the right fit for your WordPress PDF viewing needs.

Flowpaper WordPress offers users three options for publishing their PDFs online, providing flexibility in hosting. You can either host the PDF elsewhere and insert the link, upload it directly to your WordPress website, or upload it to the Flowpaper cloud.
Embedding a document is a simple process with Flowpaper WordPress. Once the PDF is uploaded to your WordPress website, a shortcode will be generated. Copy and paste this shortcode into the desired location on your website to display the file.
However, there are a few downsides to consider. If you choose not to host your PDFs on the Flowpaper cloud, you will be limited to a maximum file size of 15MB per publication. Additionally, Flowpaper may not support all browsers and devices by default, but there are solutions available to address this compatibility issue.
It's important to note that the PDF embed process in Flowpaper WordPress requires the use of shortcodes, which some users may find less convenient compared to a quick upload button that directly inserts the PDF into the post without the need for code.
Lastly, customization options in Flowpaper WordPress are limited to editing code. If you prefer a more visual and user-friendly customization interface, this may be a drawback.
Consider these factors when deciding whether Flowpaper WordPress is the right choice for your PDF embedding needs.
5. EmbedPress
With EmbedPress, you have a comprehensive plugin that simplifies the process of adding and displaying PDF files within your WordPress posts and pages. This user-friendly tool allows you to effortlessly upload your PDF documents through the media library and seamlessly place them anywhere on your website.
But that's not all – EmbedPress goes beyond PDFs and empowers you to enhance your WordPress website with various other types of media. You can easily incorporate videos from popular platforms like YouTube, Vimeo, and Twitch, enabling you to engage your audience with rich multimedia content.
In addition to videos, EmbedPress supports a wide range of media types. You can effortlessly embed Google Maps to provide location information, include Google Docs or Forms for easy collaboration, integrate Google Sheets for data visualization, showcase Facebook posts to boost social engagement, and even include audio files to enhance the auditory experience on your website.
With EmbedPress, you have a versatile plugin that caters to your multimedia needs, allowing you to create dynamic and engaging content for your WordPress site. Simplify the process of embedding various media types and make your website more interactive and immersive.
Start leveraging the power of EmbedPress today to seamlessly embed PDF files, videos, Google Maps, social media posts, and more within your WordPress content.
6. E2Pdf
If you're seeking a hassle-free solution for creating impressive PDF documents on WordPress without the need for coding, the E2Pdf plugin is a perfect choice. It offers a range of unique and powerful features to enhance your PDF creation experience:
Seamless Integration: With E2Pdf, you can easily merge WordPress data or web forms into your PDFs. This allows you to dynamically populate PDF documents with the information collected through your website.
Interactive PDFs: The plugin enables visitors to interact with your PDFs by sending editable versions that include signatures and images. This feature enhances collaboration and makes it easier for recipients to provide their input.
Customization Options: E2Pdf allows you to personalize your PDFs by adding images, text, and form fields. This level of customization ensures that your PDF documents align with your brand and specific requirements.
Additionally, E2Pdf comes equipped with a built-in PDF document and forms editor, providing a user-friendly interface for creating and modifying your PDFs.
The best part? E2Pdf is available for free, making it an accessible and cost-effective solution for WordPress users. Experience the convenience and power of E2Pdf as you effortlessly create compelling PDF documents to enhance your website's functionality.
Take advantage of the E2Pdf plugin today and unlock the potential of professional PDF document creation on your WordPress site.
DK PDF is a renowned WordPress plugin that offers a convenient post-conversion button, allowing you to effortlessly convert your pages into PDFs. This plugin provides extensive customization options, enabling you to personalize the appearance of the PDF button, the overall look of the PDFs, and the header of the files, all within the DK PDF Settings tabs.
Within the PDF Button tab, you have the flexibility to modify the button text according to your preferences by simply typing your desired text in the provided field. Additionally, you can specify the post types where the button will be displayed, such as posts, pages, attachments, and docs. The Action option allows you to choose whether the documents should open in a new window or be downloaded. Furthermore, you can define the alignment of the button and its position relative to the content.
Moving on to the next setup tab, you can select the desired orientation for the PDF, whether vertical or horizontal. It also provides options to customize the font and document margins to suit your preferences. Another essential feature is the PDF Header and Footer customization. Simply upload your desired image for the header logo and configure the display of the header and footer title and pagination.
With DK PDF, you have the power to tailor the appearance and functionality of your PDFs, ensuring a seamless and personalized user experience. Explore the various customization options available and create PDFs that align perfectly with your website's branding and style.