Due to the COVID-19 pandemic, consumers are shifting their buying habits from in-store to online. Businesses everywhere have adapted and, for many, that means increasing their online presence. According to eMarketer, eCommerce sales have grown 32.4% year over year, reaching a level not previously expected until 2022 — and much of that growth is predicted to stay even after the pandemic ends. As consumers go digital, Facebook Messenger can serve as a way to stay connected with them, drive sales, and deliver the personal touch normally associated with shopping in-store.
Drive sales by moving customers from consideration to action
Picture this moment: You're in the store looking for a gift for a friend or spouse. You're stressed out and on the brink of frustration, when a sales agent saves the day by asking if you need help and directing you to the perfect gift. Facebook's Chat Plugin provides this same type of experience.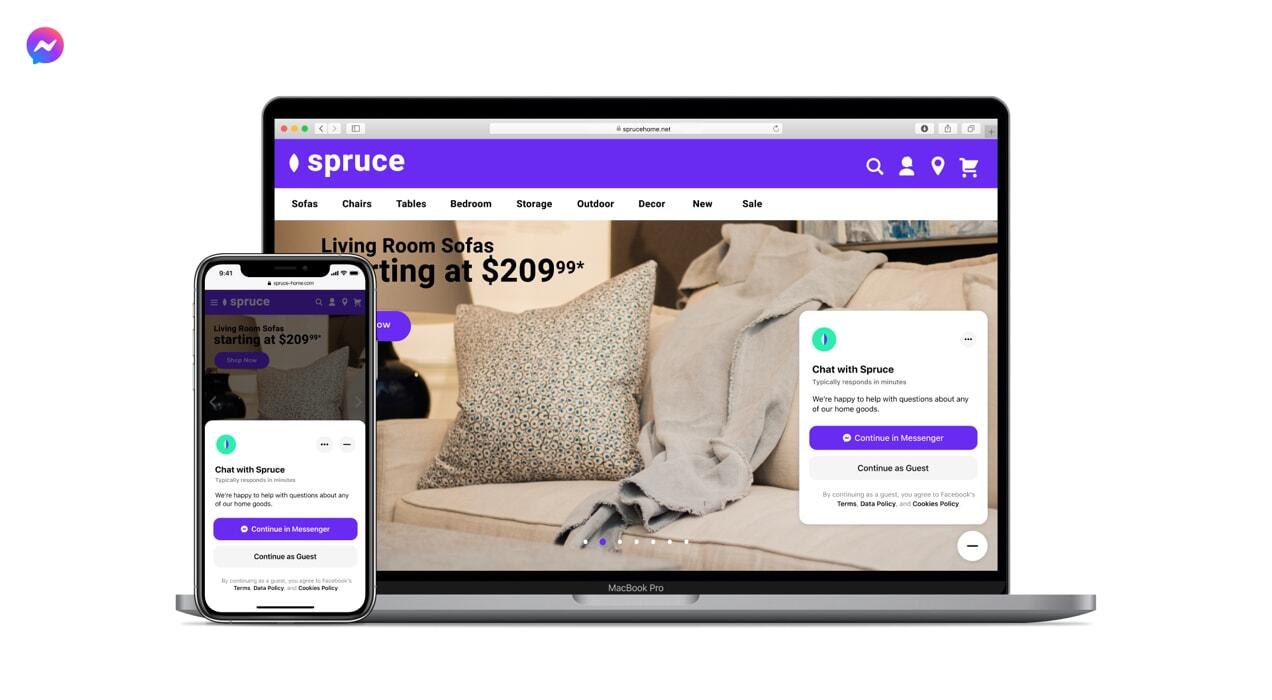 It gives you a direct line to high-intent customers at critical moments in their purchase journey. In fact, site visitors who use web chat are 2.8 times more likely to convert than those that don't and half of US online adults will abandon their purchase if they can't find a quick answer to their question. Ultimately, if you don't have clear communication with your customers, you risk losing sales.
How to use Facebook and WooCommerce to help drive full-funnel growth
Provide seamless and affordable real-time customer support
Chat solutions also enable you to answer questions and provide customer support after the sale is made. Messaging has become integral to our communication: 80% of adults message every day, and this number is only increasing. This benefits your customers, because they can ask a question without the hassle of finding a phone number and waiting on hold. It also makes your business more efficient and saves you time because one employee can speak to several customers at once.
Build long-lasting customer relationships
More than 66% of people say that messaging a business makes them feel more confident about the brand. Positive interactions can also add a bit of delight to your customers' day. And with Facebook's Chat Plugin, the experience will feel more personal and convenient, since they can connect with you using their real Facebook identity. Messenger also allows you to continue the conversation through your Facebook Page Inbox, while customers can pick up the conversation in their Messenger app, even after they leave your website.
Facebook's Chat Plugin allows you to add Messenger to your website through the WordPress plugin repository. Not only will you benefit from all of the functionality we've talked about, you can also personalize everything to fit your brand, including the appearance, language, and voice.
To add Facebook's Chat Plugin to your website:
Log into your WordPress dashboard.
Click Plugins → Add New.
Search "Facebook Chat Plugin"
Select the plugin authored by Facebook and click Install Now.
Click Activate.
You should now see a tab that says "Customer Chat" and you can connect your Facebook by going to Getting Started and clicking Edit Chat Plugin.
More than a billion people use Messenger every month — no matter which audience you want to reach, you'll be able to connect with them. Learn more about how to chat with customers using Messenger and set up an instant greeting for people who reach out.